---
Posted on May 31, 2023 by Thomas Becnel
Thomas Becnel
---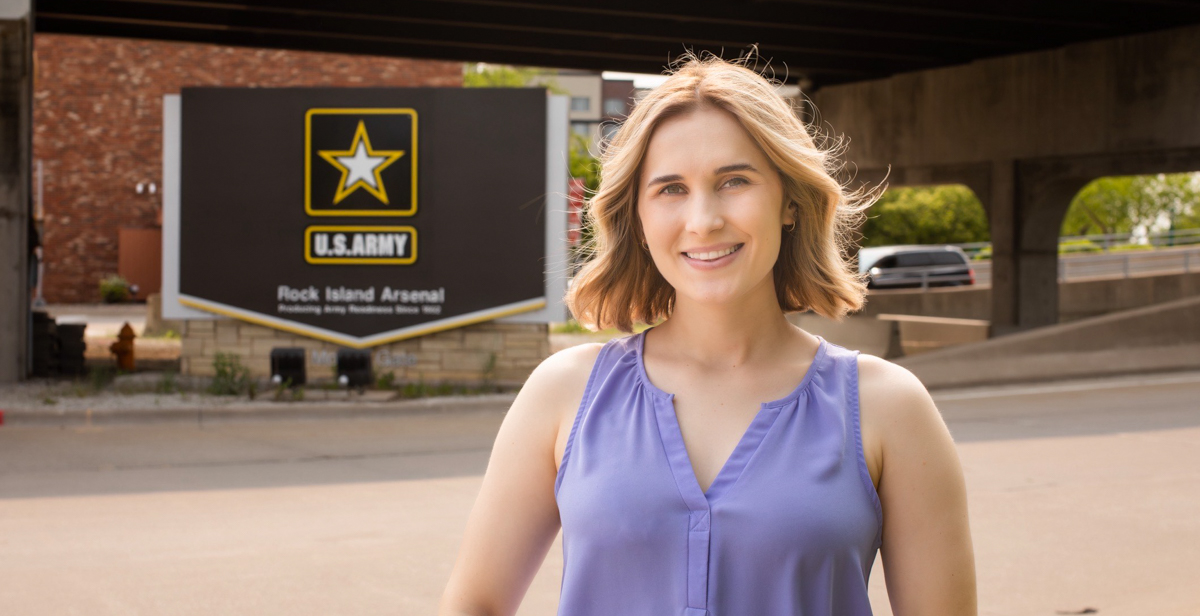 Sarah Patterson, a 2021 University of South Alabama communication graduate, has been named Army Civilian Videographer of the Year. Photo courtesy of Sarah Patterson.
---
Sarah Patterson grew up on U.S. Army bases and went to high school in Italy, then returned to America for college at the University of South Alabama.
She found a home in the Department of Communication and broadcast journalism.
"It gave me a community," she said. "It gave me something to be involved in. The communications building was my safe space. I took school very seriously. I took my job very seriously. I put everything into JagTV."
Patterson became manager of the student television station and produced segments such as "Students of South" and "That's What South Said." Her career plan was moving to a big city for video work, but she wound up attending a job fair and landing an internship with Army Sustainment Command at the Rock Island Arsenal in Illinois.
After graduating in 2021, she returned to Rock Island for a civilian job as public affairs specialist. She appears on camera in monthly news programs, engages on social media and produces video features on everything from "Why I Serve" to Best Warrior competitions and 9/11 ceremonies.
In just her second year, she was named Department of the Army Civilian Videographer of the Year.
"When I got the phone call, I was beyond shocked, because I had only won second place in the competition for our major command," Patterson said. "So that was a great surprise. My boss thinks it was the 9/11 story that was so moving and helped me win the award."
Dr. George Bovenizer, assistant professor of communication at South, taught Patterson in a newscasting course that produced a television broadcast each week. She made a strong first impression.
"What I remember is her just taking over," Bovenizer said. "It was my first semester, and she knew how everything worked, and she was someone the other students would listen to. Just a natural leader and a talented videographer. She actually helped with my Communication Day videos and the stuff she shot blew mine away. She's got a great eye and she's a great editor.
"So her success does not surprise me in the least. I always told her that she could do anything she wanted in broadcasting. She was a sponge, taking everything in, and she was always pushing forward."
Head Start in Video
Growing up, Patterson's family moved from Army base to Army base. Stops included St. Louis, Washington, D.C., and Huntsville, Alabama.
She described that experience in a story about Army families:
"I am a military brat myself," Patterson wrote. "In my 22 years of life, I have moved seven times, attended six different schools, and lived on three continents. That means that, every few years, I had to pick up my life and start fresh in a new place with new cultures, new people, new schools, new houses, new gymnastics teams and even new languages.
"It is a terrifying, yet invigorating, way to live."
In middle school, she took a literature class with a teacher who allowed students to substitute short films for book reports. "I would always take the video option," she said, laughing.
Patterson enjoys fast-paced programming. She prefers documentaries to movies.
"Real things," she said. "Real people."
At Vicenza High School in northern Italy, she found a mentor who taught video production. Recently, she wrote a letter thanking him for believing in her and contributing to her career.
"He basically taught me everything I know about video communication," she said. "I got super-passionate about it. By the time I got to South, I already knew what I was doing and how to edit. By the end of my freshman year, I was manager of JagTV."
Now Patterson lives and works three hours west of Chicago. She misses the heat and humidity of Mobile. She would like to work on an Army base overseas, with Germany as a dream posting.
At South, Patterson sharpened her skills and learned how to manage peers and projects. She worked closely with professors on the finer points of video storytelling. She discovered new media and new ways to reach an audience.
This experience helped make her Army Videographer of the Year.
"It was always, 'How can we make this story shorter? How can we shorten this script?'" she said. "That's something I use often in my job. I remember my social media class being really hard, but that's exactly what I do now. The challenge is always to get the message across in as few words as possible."
---
---