Speakers Set For Communication Career Day
---
Posted on October 19, 2021 by Amber Day
Amber Day
---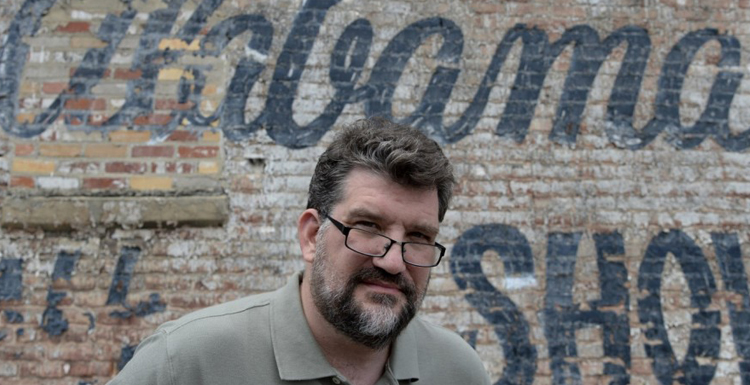 John Archibald, a Pulitzer Prize-winning journalist and columnist of Alabama Media Group, will be the keynote speaker at the University of South Alabama College of Arts and Sciences Communication Career Day event to be held Thursday, November 4, 2021, at the USA Student Center.
---
The Department of Communication in the University of South Alabama College of Arts and Sciences hosted Communication Career Day on Thursday, Nov. 4, at the Student Center. This event was free and open to all majors.
Participants learned about careers in communication studies, journalism, digital cinema, television and strategic communication. The event featured keynote speaker John Archibald, a Pulitzer Prize-winning journalist and columnist of Alabama Media Group, and an alumni panel that included seven communication graduates. Students also attended "Networking and Mentoring Hour" and two Career Services workshops titled "Your Job Search and Social Media" and "Resume Development and Interview Success."
Archibald spent the last year as a Nieman Fellow at Harvard University, where he taught column writing at Harvard Summer School. His columns appear regularly on AL.com and in The Birmingham News, The Huntsville Times and the Press-Register in Mobile. He won the Pulitzer Prize for commentary in 2018. His critically acclaimed book, "Shaking the Gates of Hell," about his family, civil rights in the South and the church's role in a conspiracy of silence, was released March 9. He created, wrote and co-hosted the podcast "Unjustifiable," this year's winner of the Edward R. Murrow national award for best podcast by a small digital news operation.
The Communication Career Day alumni panel featured Carrie Cox (welcome speaker), Ashley McGee Flores, Shelby Myers, Megan Corley, Connor Bradford, Drew Hall and Guy Busby.
Cox earned a Bachelor of Arts in Communication, with a focus in print journalism. In 2015, she opened Crew Fitness, an original-concept boutique fitness studio in Mobile and later opened a second location in Houston, Texas. In 2019, Cox filed a franchise disclosure document with the FTC, making it possible to sell franchises anywhere in the country. Her vision has always been to establish a fitness community that can grow in multiple cities with varied demographics and to begin selling franchises throughout the Southeast in 2022. She currently handles all branding, advertising and communications for the company and runs the day-to-day operations of the Mobile location. Additionally, she worked at St. Paul's Episcopal School for nine years, where she taught Spanish, public speaking and mass communication. She also served as the chair of the world languages department and was twice recognized as a Microsoft Distinguished Educator.
In 2009, Flores earned a Bachelor of Arts in Communication, with a focus in print journalism. She later earned a master's degree in executive leadership from Liberty University. Flores serves as a digital content creator who pours into her community as a speaker, entrepreneur, youth mentor, international Holy Yoga instructor and crisis pregnancy center advocate. Her social media expertise has been used for campaigns featuring Hollywood greats such as Yvonne Orji and hip-hop artists Lecrae and KB. She is a frequent speaker at professional events such as WERK University Business Conference, Black History Now – Port City and UNIQUE Women's Conference.
Myers earned a Bachelor of Arts in Communication, with a focus in broadcast journalism. She started her career in Biloxi, Mississippi, as a multimedia journalist and later became a nightly news anchor. Myers quickly developed a passion for investigative journalism and started a weekly program highlighting crime and cold cases on the Mississippi Gulf Coast. Through her program, Myers received an award for her fight against crime from the Mississippi Gulf Coast Crime Stoppers organization. She was also recognized as the 2021 Nappie Award winner for best investigative journalist.
Corley graduated from South in 2020 with a Bachelor of Arts in Communication, with a focus in strategic communication. She currently serves as the marketing coordinator at Oyster Shell Strategy in Mobile. Her responsibilities include building unified brand experiences, creating hand-drawn logos and patterns, developing and implementing social media strategies and creating marketing plans and presentations. During her time at South, she served as a marketing and communications student assistant for the College of Arts and Sciences and College of Education and Professional Studies.
Bradford recently earned a Bachelor of Arts in Communication, with a focus in strategic communication. He completed a summer internship with the Economic Development Association of Alabama and Spire Natural Gas. He also had an opportunity to participate in Auburn University's two-week Government and Economic Development Institute program for economic development. As a student at South, Bradford was actively involved as the president of Sigma Chi and served as an athletic marketing student worker with Jaguar Pride.
Hall graduated from South in 2001 with a bachelor's degree in communication. He has more than 20 years of experience in video production and advertising. Hall has directed five award-winning feature films, notably "Convergence" (featuring Clayne Crawford and Ethan Embry) also written by Drew and "Sasq-watch" (featuring Tim Meadows and Neil Flynn). Hall has written and sold treatments to domestic and international production companies and produced a variety of short films, documentaries and motion pictures. In 2016, he created Craftshow Digital, a motion picture production and advertising company. Craftshow has won multiple awards for its cinematic approach to advertising by creating short narrative films for brands like Panasonic, Oracle, Starbucks, University of South Alabama and Duke University.
Busby graduated from South in 1986 with a Bachelor of Arts in Communication. He was a reporter, columnist, editor and page designer with the Press-Register for more than 20 years, working primarily in Baldwin County. Currently, he is an editor with Gulf Coast Media in Baldwin County and a Gulf Coast correspondent for Alabama Public Radio. His awards include a national Sigma Delta Chi award from the Society of Professional Journalists and regional Edward R. Murrow Award for his work on the Alabama Public Radio series "Oil and Water," on the anniversary of the Deepwater Horizon oil spill.
The Bachelor and Master of Arts in Communication degree programs prepare students for jobs in many professional settings. Communication majors are taught by talented faculty and field experts in the College of Arts and Sciences. Many of the students in these degree programs are working towards communication careers, which may include jobs in broadcast and multimedia journalism, advertising, public relations, radio, video production, marketing or social media management. Students study media, oral, written and interpersonal communication and the presentation of each for a variety of audiences.
Questions? Contact the Department of Communication at departmentofcomm@southalabama.edu.
---
---