Team-Based Learning Paying Off in As and Bs
---
Posted on October 3, 2016 by Alice Jackson
Alice Jackson
---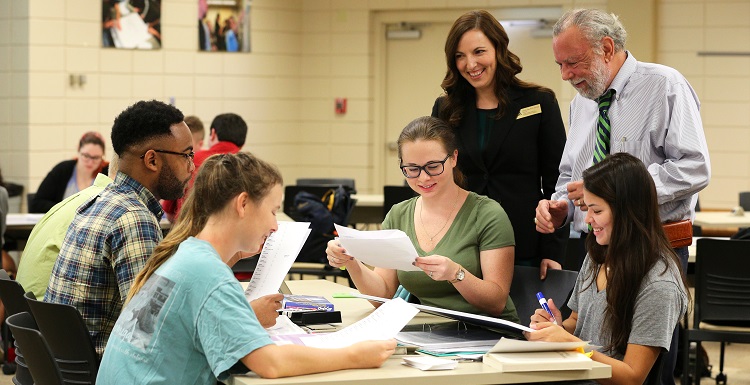 USA students, from left, Aaron Howard, broadcast journalism major; Ayla Oden, strategic communications major; Jordan Lang, strategic communications major; and Kaylee Henry, strategic communications major; work together on a classroom assignment as Dr. Julie Estis, director of QEP, and Dr. James Aucoin, chair of communications, talk with them about their work.
---
Inside University of South Alabama classrooms, students are working together and earning better grades, thanks to professors who have embraced a new and increasingly popular method of learning.
For three years, faculty members have attended workshops and professional development sessions to lead team-based learning under USA's Quality Enhancement Plan, which includes new ways to engage, share knowledge and help students retain what they've learned. Rather than memorizing material for a test, they are working together to apply course content to realistic situations and to solve complex problems.
As a result, the program's success has surpassed expectations. Dr. David Johnson, provost and senior vice president for academic affairs, said he is "extremely proud of how USA's faculty and students have responded to the project."
"Faculty members have been willing to invest the time to learn the techniques and have shown a willingness to change how they teach. And, the outcomes have been outstanding," Johnson said.
Opportunities Through Changing Technology
Known as TeamUSA, faculty members focus on creating a team-based learning environment, or TBL, where students are held accountable for coming to class prepared and ready to participate in discussions. Team-based learning includes reading before class, taking tests as individuals and teams, using the latest audiovisual technology, discussing challenging questions, practicing by doing and, finally, students solving real-life problems in teams.
"Students often have preconceived ideas about group work, but this isn't the type of class where you work on a big group project or paper outside of class. With TBL, your team works together during class time with support from the professor or facilitator,' said Dr. Julie Estis, director of QEP since 2015.
Estis, who began using team-based learning in her speech-language pathology courses, described how changing technology led educators to look for new ways to share knowledge with their students, part of the most technologically advanced generation in history.
"Today, students have access to an almost endless amount of information available to them in ever-increasing new ways. The role of the faculty member shifts from providing information to helping students acquire reliable information and use it effectively," Estis said. "Our faculty members truly care about their students, and they wanted a powerful learning environment for their students."
During the program's development, emphasis was placed on attributes employers said they want to see in job applicants. These include, among others, the ability to work well with others, leadership, organizational ability, communication skills, flexibility and a strong work ethic.
More Collaboration, Retention and As
Since the program began as part of a five-year Quality Enhancement Plan, almost 300 faculty members have been trained, with an average of 84 instructors using team-based learning each semester. To date, faculty members have led more than 20,000 student encounters with team-based learning inside the classroom.
The results, according to Estis, have meant:
Significant increases in student collaboration, problem-solving and critical thinking
Significantly fewer Ds and Fs and more As and Bs in team-based learning courses
Increased retention for team-based learning courses
High mastery of student learning outcomes
Team-based learning has become so popular with the faculty that initial training courses, usually held only during the summer, are being scheduled year-round, along with advanced training courses.
"Our faculty participation is overwhelmingly higher than we anticipated at the program's outset, and TBL has spread across our University's colleges, schools and disciplines," Estis said. "The success has included more than 45 faculty presentations and publications related to team-based learning."
Dr. Laura White, assistant director of clinical education in physical therapy, is among team-based learning's most enthusiastic supporters. Earlier this year, she and Dr. T.J. Hundley, assistant dean for medical education and student affairs as well as associate program director for internal medicine residency, were honored for their outstanding involvement at the QEP Celebration of Success held in the Faculty Club.
"One of the greatest benefits of TBL is the opportunity for students to apply new knowledge and skills to solve specific problems in the classroom. By solving problems in class, students can learn both the content and the process for solving real-world problems and receive immediate feedback from their peers and the instructor. Often, the problems are 'real-life' scenarios, so the students can immediately see the relevance of the course content," White explained. "I enjoy teaching in this format because it challenges me to 'think on my feet.' I can immediately evaluate the effectiveness of my teaching and make adjustments based on students' performance and questions about the activity. It makes for an active learning environment with rich class discussions and impromptu 'mini-lectures' to clarify concepts."
White said her students tell her they enjoy 'learning with and from their peers in a collaborative context," and they especially like that they can immediately 'do something with the content that they have learned.'"
Empowering Effective Leaders
Estis is in the process of obtaining certification as a trainer-consultant from the Team-Based Learning Collaborative, an international professional organization composed of volunteers who support the learning process. Recently, she was elected as a Team-Based Learning Collaborative Steering Committee member-at-large, and she also serves on the group's program and scholarship committees.
"TeamUSA is continuously growing in the number of faculty participating in the project, the disciplines involved, and the quality of instruction. Our TeamUSA initiative is a reflection of outstanding faculty working together to create engaging and impactful learning opportunities," Estis said. "Our students gain skills and confidence as they work together to think critically and solve realistic problems, empowering them to become effective leaders as they transition into their careers."
---
---