41st Annual Dean's Lecture and Faculty Awards Ceremony
---
Posted on November 21, 2022 by Arts and Sciences
Arts and Sciences
---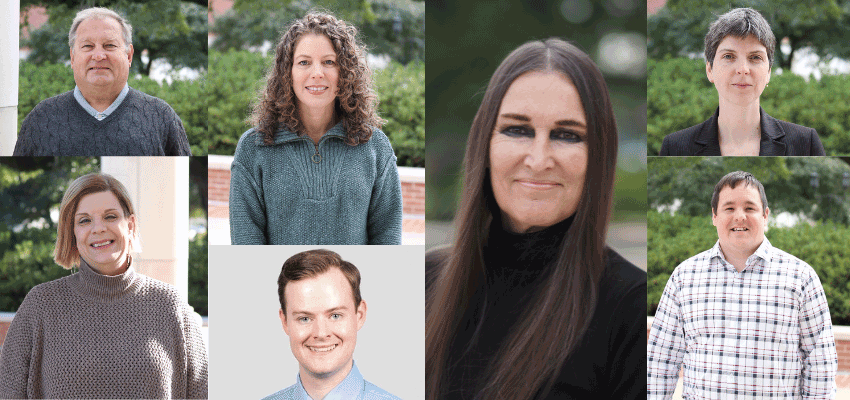 ---
The University of South Alabama College of Arts and Sciences hosted its 41st Annual Dean's Lecture and Faculty Awards Ceremony on Nov. 9, in the Grand Ballroom of the MacQueen Alumni Center. Seven faculty members were recognized for their many achievements.
The College of Arts and Sciences is at the center of academic life at the University of South Alabama. With approximately 250 full-time faculty members in nineteen departments, the members of the Arts and Sciences faculty teach the core of the liberal arts curriculum for all majors at the University. They are committed to helping students reach their full potential.
Scholarship broadly defined to include the creative arts is an important part of any academic community. In making the College of Arts and Sciences Dean's Lecture Award, the college is recognizing and rewarding one of its own faculty members for academic excellence. The award is intended to enhance scholarship, increase collegiality and reward success in the college's academic community. This year's recipient is Dr. Becky McLaughlin, who serves as a professor in the Department of English.
McLaughlin earned a Ph.D. in English from State University of New York at Buffalo in 1996 and then joined the English department at South. She teaches courses in critical theory, drama, early American literature, film and gender studies. McLaughlin has published essays on a wide range of topics—apotemnophilia, perversion, feminine jouissance, paranoia, and epistemological trauma, to name a few—across a wide range of periods and genres, such as medieval literature, Restoration comedy, modern poetry, contemporary film and the fairy tale. She has also published creative nonfiction based on her childhood in the Belgian Congo, her cousin's suicide in a Memphis jail cell, her experience as an English as a second language teacher in China just before the Tiananmen Square massacre, and the death of an aerobatic pilot in the Arkansas Delta.
Because of her interest in pedagogy, McLaughlin has edited a collection of essays on the relationship between pedagogy and critical theory titled "Theory Lessons" and co-edited (with Dr. Bob Coleman) a critical theory reader titled "Everyday Theory." More recently, she published a monograph titled "Hysteria, Perversion, and Paranoia in The Canterbury Tales," a collection of essays (co-edited with Eric Daffron) titled "The Body in Theory: Essays after Lacan and Foucault," and a literature textbook titled "American Fanatics, Heretics, and Rebels: Hot Protestants and Religious Strife in Early American Literature, 1620-1865." Her current projects are an essay collection titled "Autotheory and Its Others," co-edited with Eric Daffron, Maria Gil Ulldemolins, and Kris Pint, and a monograph that examines the relationship among gender, sex, and representations of madness in film.
"What I love about teaching at South is that I am always learning," Mclaughlin said. "There is a dialectical relationship between the act of teaching and that of learning, and because I've been given the rare opportunity to teach nearly every literature course our department offers, I've gotten to learn so much."

The Outstanding Service Award is given to recognize outstanding career achievements in service to the academic or disciplinary profession, the College, the University, and the greater Mobile community. This year's recipient is Dr. Kelly Major, who serves as a professor of biology and assistant chair of the Department of Biology. She earned a bachelor's degree as a dual major in biology and secondary education with a minor in botany from Elmira College and a Ph.D. in Biological Sciences from the University of Maine, Orono. Major has been a member of the faculty at South since 2001. Her research has focused on natural and anthropogenic disturbances and their influence on interactions between native and invasive aquatic plants in the Mobile-Tensaw Delta. She has served both the University and broader community through her academic and many service endeavors.

The Early Career Faculty Award is given to an early-career faculty member (assistant professor or associate professor) to recognize excellent scholarship or academic achievement. This year's recipient is Dr. Brandi Kiel Reese, who serves as an associate professor in the School of Marine and Environmental Sciences and a senior marine scientist at Dauphin Island Sea Lab. She earned a bachelor's degree in geology from Southern Methodist University, master's degree in soil and water sciences from University of California - Riverside, and a Ph.D. in Oceanography from Texas A&M University-College Station. She joined the faculty at South after a successful early career at Texas A&M University-Corpus Christi. Among her distinctions, Kiel Reese was awarded the National Academies of Sciences Gulf Research Fellowship, has been named a National Academies of Sciences Kavli Frontiers of Science Fellow, and named an International Ocean Discovery Program Distinguished Lecturer. Her research uses advanced molecular techniques to explore microbial life in some of the most remote places on the planet. She has research projects that extend miles below the seafloor (e.g., Antarctica, Mariana, Mid-Atlantic Ridge) to miles above the earth on the International Space Station. She is also committed to improving Diversity, Equity, and Inclusion in oceanography and at South.
The primary mission of the University is to provide the highest quality education for students to promote thinking critically and analytically, communicating effectively, acquiring information and applying it to problem solving, and understanding global complexity and diversity. The College of Arts and Sciences has many outstanding educators, and the Teaching Excellence Award recognizes faculty members for their hard work and dedication.

One of this year's Teaching Excellence Award recipients is Dr. Elena Pavelescu, who serves as an associate professor in the Department of Mathematics and Statistics. She earned a bachelor's degree in mathematics from the University of Bucharest and a Ph.D. in Mathematics from the University of Pennsylvania. Pavelescu's research is in graph theory. She studies properties of graphs in three-dimensional space. At South, Pavelescu enjoys teaching a variety of mathematics undergraduate courses and graduate courses in combinatorics and graph theory. A laureate of the Rosenthal Prize for Innovation and Inspiration in Math Teaching, Pavelescu takes pride in her work with the Mobile Math Circle and the Girls in Math at South.

Another recipient of this year's Teaching Excellence Award is Dr. Vasiliy Prokhorov, a professor in the Department of Mathematics and Statistics. He received a master's degree from the Moscow State University and a Ph.D. from the Steklov Mathematical Institute. Prokhorov's research focuses on complex analysis and approximation theory. In 1993, he proved Gonchar's famous conjecture on the degree of rational approximation of analytic functions. Since fall 2000, Prokhorov has been the co-organizer and co-leader of the Mobile Math Circle and the Mobile Math Olympiads. The Mobile Math Circle is a program offered to middle and high school students from Mobile and surrounding counties. The mission of the Mobile Mathematics Circle is to introduce students to mathematics as a creative thinking tool through problem solving.
"My favorite part about teaching at South is the enjoyment I receive from teaching the students of the Mobile Math Circle," Prokhorov said. "This program increases the knowledge and conceptual understanding of students in mathematics and helps influence young students to pursue further education in mathematics and science."

Dr. Jason Strickland, who serves as an assistant professor of Biology, also received the Teaching Excellence Award. Strickland earned a bachelor's and master's degree from Angelo State University and a Ph.D. from the University of Central Florida. He started at South in 2020 and leads the SSSTING (Snakes, Scorpions, Spiders, Toxins, Informatics, and Genomics) Lab, where he and his team use venom to understand the evolutionary mechanisms that generate variation within and among species. Strickland has contributed to several peer-reviewed articles, including identifying two new species of snakes. He's also had two papers published in the "Proceedings of the National Academy of Sciences." Strickland earned a $150,000 grant with collaborators from Mexico, and he and Dr. Meghan Hermance from the Department of Microbiology and Immunology earned a USA Research and Scholarly Development grant for $25,000.
"The best part about teaching at South is the students," Strickland said. "Here, more than anywhere else I have taught, the students recognize the opportunity they have to get an education and match their effort levels to mine."

The Excellence in Academic Advising Award is given in recognition of outstanding faculty performance in academic advising. This year's recipient is Dr. Ryan Williams, who serves as an assistant professor in the Department of Political Science and Criminal Justice. He serves as the University's pre-law advisor. Williams earned a Ph.D. in Political Science from the University of North Carolina at Chapel Hill in 2019. His research and teaching focus on American judicial politics, criminal justice and the scholarship of teaching and learning. Williams' work has appeared in peer-reviewed journals, such as "Studies in American Political Development," "PS: Political Science and Politics," "Justice System Journal," and the "Journal of Political Science Education." He has also contributed to edited volumes published by Routledge and Palgrave Macmillan. Williams is a member of his department's Diversity, Equity, and Inclusion committee and the College of Arts and Sciences Diversity, Equity, and Inclusion committee.
---
---