Tucker and Frye Featured on NPR 'Books We Love' List
---
Posted on July 18, 2022 by A&S Marketing and Communications
A&S Marketing and Communications
---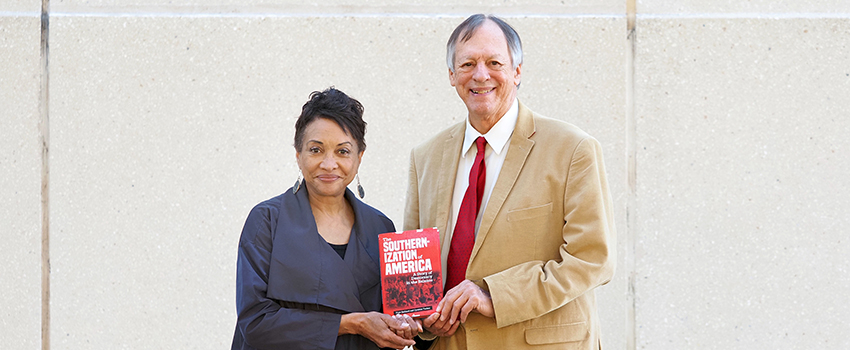 ---
University of South Alabama Journalist in Residence Cynthia Tucker, a Pulitzer Prize-winning commentator, and Writer in Residence Frye Gaillard, an award-winning author, published a new book in March 2022 titled "The Southernization of America: A Story of Democracy in the Balance." The book was recently selected by National Public Radio for its 2022 "Books We Love" listing.
"Cynthia Tucker and I are grateful to the editors and correspondents at NPR for taking note of our work," Gaillard said. "Congratulations also to our friend, Ben Raines, another Mobile author, whose book, 'The Last Ship,' was also on this list of NPR's favorite books so far in 2022."
NPR also listed Gaillard and Tucker's book as the "Book of the Day" on June 22, 2022. The two were interviewed by Debbie Elliott on NPR's Weekend Edition Saturday.
Published by NewSouth Books, "The Southernization of America" features alternating essays that consider the role of the South in shaping America's current political and cultural landscape. Issues examined include voter suppression, immigration and the Jan. 6, 2021, at the Capitol. The authors find hope in the South too, a legacy rooted in the civil rights years.
NPR's "Books We Love" listing is a reading guide created by NPR staffers and critics.
"We reached out to our staffers and trusted critics and asked them to nominate their favorite books from the first half of 2022," NPR said on their website. "They responded with hundreds of titles. Then, the editors and producers at NPR Books sat down with a huge spreadsheet of responses; we resolved duplications, noted omissions, considered the overall mix and balance of books recommended and then made assignments."
The Departments of English, History, Political Science and Criminal Justice, and Communication in the College of Arts and Sciences held a book launch and reception at the Marx Library in March 2022 to honor the work of Tucker and Gaillard.
"Having nationally recognized writers and commentators Cynthia Tucker and Frye Gaillard be part of the USA campus community creates a tremendous opportunity for students," said Dr. Ellen Burton Harrington, chair of the Department of English. "We are proud of their success and delighted to be able to support their significant ongoing work in this area."
---
---