South Alumnus Sings Figaro in Santa Fe Opera
---
Posted on August 12, 2021 by Micaela Pickering
Micaela Pickering
---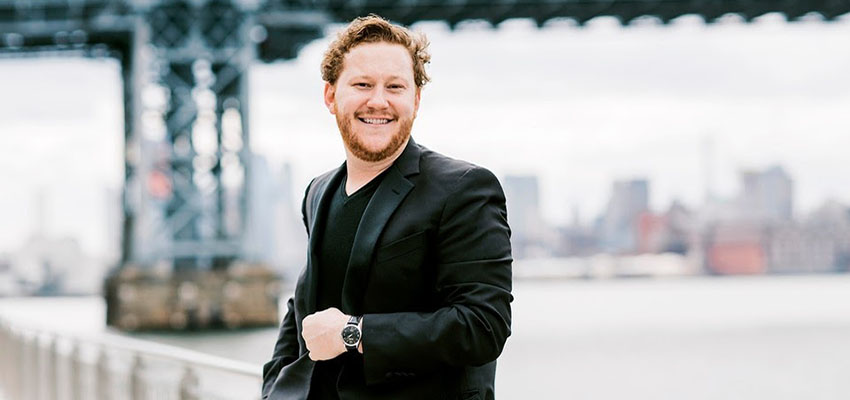 Photo courtesy of Fay Fox
---
Nicholas Brownlee, an alumnus of the University of South Alabama College of Arts and Sciences, is singing Figaro in the 2021 season production of "The Marriage of Figaro" in the Santa Fe Opera. Brownlee majored in music performance and graduated in 2012 from South.
A bass-baritone and former Santa Fe Opera apprentice singer, Brownlee replaced British baritone Ashley Riches, who is unable to travel to Santa Fe due to international travel restrictions. ⁠Brownlee was very excited about the opportunity.
"As a working music professional, you quickly realize that your favorite opera is the one that's paying the rent, but Mozart just hits differently," Brownlee said. "Playing Figaro in 'The Marriage of Figaro' is like being able to climb into Rembrandt's 'Night Watch' as it comes to life for four hours. It's an immense honor and privilege to bring this piece to life and to do it at Santa Fe Opera, one of the most important opera houses in the world. This is one of the most exciting experiences of my career thus far."
The bass baritone has been described as "charismatic and charming" (New York Times) with a "handsome mahogany tone" and a "starry future in store" (The New Yorker).
Brownlee was a voice student of Dr. Thomas L. Rowell, who serves as graduate coordinator in Music, coordinator of vocal studies, and director of the USA Opera Theatre. When Brownlee first came to South as a freshman, Rowell knew that he had a voice student that would go incredibly far as a performer. Brownlee was pretty reluctant at first in considering a career path as an opera singer. He wanted to be a choral director, but soon changed his mind when he became involved in productions at South and with the Mobile Opera.
"Brownlee's entire experience boiled down to his teachability, and that is the one trait he possessed in such measure that no matter how intense things got, his ability to rein himself in and be taught always made the difference," Rowell said. "There is so much more that I could say about watching him grow through those years of learning the ropes of how to sing and be in 'the business' as we call it, but suffice to say that it was a great adventure full of wonderful memories."
Rowell was the first voice teacher that Brownlee ever had. Brownlee gives credit for where he is today to Rowell.
"I still remain in contact with a ton of faculty from my time at South, but I am proud to call Dr. Thomas Rowell, who was my first voice teacher ever, a great friend," Brownlee said. "He is, without a doubt, the reason I am an opera singer today. He sparked my interest in it, and after some serious convincing—thank God he's as persuasive as I am stubborn—I was standing on stage in La Traviata at Mobile Opera...and the rest is history. It's also worth mentioning, he married my wife and I, and so far, so good."
In addition, Brownlee sang in both of Dr. Laure Moore's choirs and the opera theater programs. while a student at South. He always took every opportunity that he could to sing in recitals, masterclass or with the Mobile Opera.
"I was fortunate to be able to accompany him in both of his student recitals as well as his first appearance at the Metropolitan Opera District Auditions, and it made me proud that he was constantly learning and refining his craft," said Dr. Laura Moore, who serves as chair of the Music Department and director of choral activities. "The department is very proud of him and his accomplishments, and are extremely thankful that he is returning his gifts to South in the form of coaching, masterclasses and benefit recitals for current students."
Brownlee enjoyed his experience at South for many reasons, including his classmates and mentorship from the faculty.
"I deeply enjoyed my time at South," Brownlee said. "The Laidlaw Performing Arts Center became a second home to me...sometimes literally. My classmates became a second family. The patience, mentorship and high level of performing among the faculty was also something that made my time at South so special. The further I get away from my time at South, the more I realize how special of an experience it was. I think that's a sign of a great period in one's life. I exclusively have fond, cherished memories from my time at USA."
---
---