Dr. Ruth Carmichael Studies Human Influences on Marine Animal Habitats and Food Resources
---
Posted on July 29, 2020 by Amber Day
Amber Day
---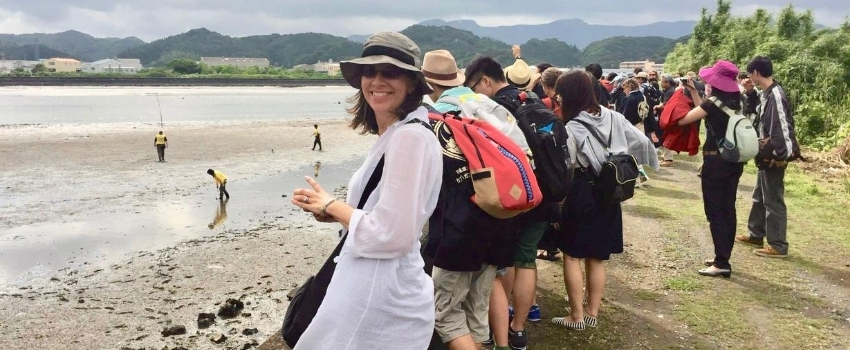 ---
Dr. Ruth Carmichael is a professor of marine sciences at the University of South Alabama and a senior marine scientist at the Dauphin Island Sea Lab. Carmichael has served as a faculty member at South since 2009.
"My research focuses on understanding how things people do on land and in the water affect habitat and food resources for marine animals, from bottom-dwelling invertebrates to highly mobile top predators, and how those animals respond," Carmichael said. "The responses vary and can include changes in physiology, growth, survival, and movement patterns that ultimately impact food web structure, migration patterns, and population dynamics."
Carmichael earned her master's and Ph.D. in marine biology from Boston University. She earned an undergraduate degree from the University of Chicago.
In her research lab at South, Carmichael studies human influences on a range of species, from shellfish such as oysters and horseshoe crabs to marine mammals such as manatees and bottlenose dolphins.
Her research combines traditional biological sampling with stable isotope and trace element analyses, sclerochronology, satellite/GPS, acoustic and radio telemetry, and photo-identification.
"These approaches allow us to examine how local stressors such as human wastewater or a large regional oil spill affects local water quality, whether animals were exposed to contaminants, and if that exposure had a measurable biological or ecological effect," Carmichael said.
Sclerochronology, according to Carmichael, involves studying the chemical composition of depositional layers in the hard parts of animals (shell, teeth, bones, ear bones).
"This enables detection of changes in an animal that can then be linked back to environmental conditions during the same time period to historically reconstruct biological responses through time," Carmichael said.
At the Dauphin Island Sea Lab, Carmichael runs the Manatee Sighting Network, the first formal manatee-sighting network in the United States. In addition, her lab runs the Alabama Marine Mammal Stranding Network.
"We started the manatee sighting network to help us understand when and where manatees occur in local waters as a first step to support subsequent ecological research," Carmichael said. "Over the years, we expanded to provide response to all stranded marine mammals in the state to ensure collection of the biological samples needed to understand causes of death for these important and protected species."
In addition to her research, Carmichael loves teaching. During the academic year, she teaches "Scientific Communication" and "Marine Conservation Biology" for graduate students. In these small courses, lectures combine philosophical discussion of conservation and science, and the classes include activities and field trips. In the summer at the Dauphin Island Sea Lab, Carmichael teaches an intensive Marine Invertebrate Zoology class for undergraduates from all over Alabama.
Carmichael grew up in the Midwest and did not see an ocean until she was a teenager. But in high school, she took a career placement test and oceanographer/marine scientist was listed as a possible career option. According to Carmichael, she thought being a marine scientist sounded "cool" and decided to major in biology at the University of Chicago, where she specialized in molecular biology and immunology.
For her master's degree at Boston University, Carmichael studied chemical sensory cues in lobsters and then worked for an environmental consulting firm. Because she was "frustrated with how marine conservation decisions are made," Carmichael said she decided to get her Ph.D. in marine ecology.
"If I were not a marine scientist, I would likely be pursuing a career in paleoecology-geology or forensic pathology, which are fields dedicated to solving some pretty cool scientific mysteries," Carmichael said. "I'm psyched about forensic pathology right now with all the 'cause of death' cases related to human interactions in marine mammals."
When not teaching and doing research, Carmichael enjoys time with her family and loves to read mysteries, science fiction, superhero or fantasy books and movies. In addition, she and her son love to attend comic cons together.
---
---