South Alumna Moving to Italy to Start Human Rights Program at Padua University
---
Posted on September 2, 2020 by Amber Day
Amber Day
---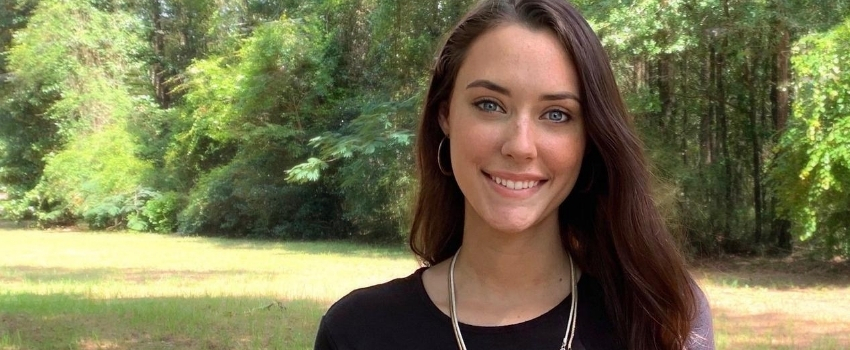 ---
University of South Alabama College of Arts and Sciences alumna Marilena Caviness is flying to Italy next week to start the human rights graduate degree program at Padua University.
"I was actually hesitant on starting a master's program right after graduating," said Caviness, who graduated from South in May 2020 with a degree in Spanish and sociology. "Although I know I want to work in the human rights field, specifically with refugee/asylum seekers, I still wasn't sure in what area, whether it be as an immigration lawyer, an asylum officer, working with a NGO, etc."
Caviness' mother, Dr. Gabriella Segalla-Pickett, was an assistant professor in the USA Department of Mathematics and Statistics. Segalla-Pickett, who was born in Italy and passed away in June 2019, attended Padua before coming to the United States to complete her Ph.D. at Tulane University.
"Enrolling in the master's degree program is an incredible opportunity," Caviness said. "They really focus on preparing students to work with the U.N., and human rights is an international issue, so I'm excited to broaden my horizon in that aspect. I am also excited to be part of a program with students from all over the world, who each will have a different perspective."
In reflecting on her time South, Caviness is glad that she did a double major. She decided to major in Spanish because of her desire to work with immigrants. Given this goal, Dr. Zoya Khan, associate professor of Spanish, recommended that Caviness double major by adding either sociology or social work.
"Sociology is often overlooked, maybe because it is seen as a degree that often requires following up with graduate school," Caviness said. "But obviously, it's a really important basis for a lot of things, and having that background makes it easier to understand why some of the things that happen in our society happen. It's changed the way I understand and look at our world."
Caviness recommends that others consider a double major.
"It opens many doors for a graduate, especially internationally, and especially in a foreign language," Caviness said. "Any job you look for in your field, automatically you have more of an advantage if you're also fluent in another language. I benefited from the fact that both of my majors had many of the same prerequisites. I have had classmates who are pre-med, finance or business double majoring with Spanish, which I think is incredibly ambitious albeit terrifying."
Among her highlights at South, Caviness lists participating in study abroad. She went to study in Alcala de Heneres, a city outside of Madrid, Spain, in the summer of 2018.
"The trip was hands down the educational highlight of my college career," Caviness said. "The University of Alcala is one of the oldest universities in Spain, and the USA study abroad students got to travel to Toledo, Segovia and Madrid. It was a great experience studying in a foreign country, and although it was only six weeks, it's definitely made me feel more comfortable and prepared for this master's program in Italy. I also made some amazing friends there. I've been incredibly blessed so far with the opportunities I've had in my academic career."
The COVID-19 pandemic meant that Caviness had to complete her last semester of college by shifting from in-person classes to online instruction.
"My professors were fantastic at transitioning to the online format, but the community vibe of having small-class discussions could not quite be replicated through Zoom," Caviness said "Also, there's something really sad about realizing the last time you were in class you didn't even know was your last class, or maybe even the last time really being on South's campus. The University ... handled it really well. With the transition to online classes I was able to set a more 'normal' schedule for myself."
Now, Caviness hopes the pandemic continues to get better in Italy, and she looks forward to starting her classes at the end of September at Padua University.
"I have a flight scheduled for Monday, and I'll quarantine the first two weeks there," Caviness said. "Being half Italian, living in Italy has always been a dream of mine. I can't wait to live there while also furthering my education in a field I'm passionate about."
---
---