School of Marine and Environmental Sciences Hosts Community Partners Meeting
---
Posted on December 8, 2022 by Amber Day
Amber Day
---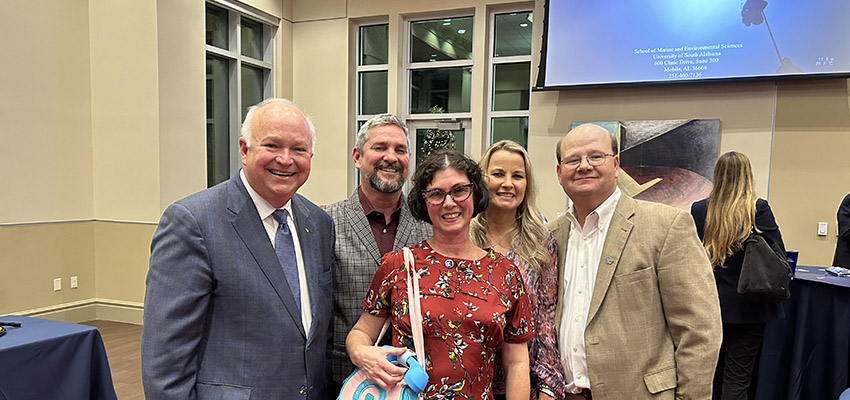 Pictured left to right: University of South Alabama President Jo Bonner; award-winning environmental journalist, documentarian and author Ben Raines with his wife Shannon; Executive Vice President and Provost Dr. Andi Kent; and Professor and Director of the School of Marine and Environmental Sciences Dr. Sean Powers.
---
The University of South Alabama School of Marine and Environmental Sciences hosted a community partners meeting on Tuesday, Nov. 29 at the MacQueen Alumni Center. After the meeting, the school also hosted a presentation and screening of the documentary "The Carnivorous Kingdom," a new film by Ben Raines, an award-winning environmental journalist, documentarian and author of "Saving America's Amazon" and "The Underwater Forest."
More than 18 marine and environmental sciences related organizations attended the annual partners meeting to discuss current and future opportunities for students. Special guest appearances from University President Jo Bonner and Executive Vice President and Provost Dr. Andi Kent created a welcoming atmosphere for guests.
"Everyone seemed to be happy to 'catch up with Jo' or simply meet the president," said Dr. Sean Powers, who serves as a professor and director of the School of Marine and Environmental Sciences.
Dr. Andrzej Wierzbicki, dean of the College of Arts and Sciences, and Dr. Lynne Chronister, vice president for Research and Economic Development, also participated in the meeting and emphasized what measures the University is willing to take in order to have a strong relationship with local partners on behalf of students and their future careers.
As a result of this year's partners meeting, new internship opportunities were identified for students, in addition to connections the school already has with The Nature Conservancy of Alabama and Alabama Coastal Foundation.
"Each potential internship is one more graduate student we can host in the Marine Conservation and Resource Management graduate program or one more undergraduate that finds a job," Powers said.
Faculty, staff and students who may want to partner with environmental industry organizations and companies can look forward to a similar meeting and reception with potential industry partners early next semester.
The School of Marine and Environmental Sciences trains the next generation of marine and environmental scientists, conducts cutting-edge research, and extends the impact of this training and research through service activities.
The undergraduate program offers two new majors, including marine sciences and environmental and sustainability sciences. The graduate program offers a master's in marine conservation and resource management, master's in marine science, master's in environmental toxicology and Ph.D. in marine science.
Due to South's location on the northern Gulf Coast, students gain field experience in many diverse habitats, including the Mobile Delta, Mobile Bay, Mississippi Sound and numerous barrier islands. In addition, these programs have an exceptional record at placing students into career positions.
Learn more at SouthAlabama.edu/MarineSciences.
---
---