Alabama Deep Sea Fishing Rodeo Provides Unique Opportunities for South Students and Faculty
---
Posted on August 16, 2022 by Zoe Blair
Zoe Blair
---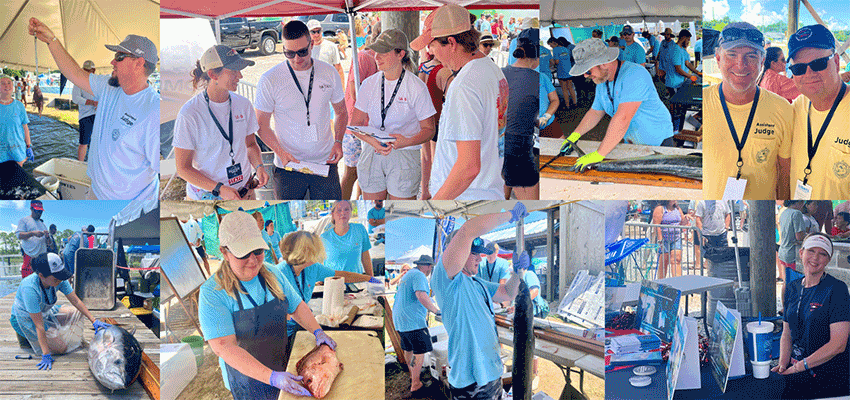 ---
The Alabama Deep Sea Fishing Rodeo held its 89th annual tournament last month on Dauphin Island. The rodeo contributes to local conservation efforts and many of the fish caught are used for research purposes. The research is spearheaded by the Dauphin Island Sea Lab and the University of South Alabama School of Marine and Environmental Sciences.
"The rodeo represents a unique opportunity to sample more than 30 species of fish and train the next generation of fisheries scientists in processing scientific samples and communicating with the public about the importance of their work," said Dr. Sean Powers, who serves as professor and director of the School of Marine and Environmental Sciences. "For many of these young scientists, this is the first chance they have had to work on this scale."
With more than 3,000 anglers and 75,000 spectators, the Alabama Deep Sea Fishing Rodeo is the largest fishing tournament in the world, providing a vast array of fish to gather data from.
"Imagine me telling my graduate students to collect over 1,200 samples from 33 species in one weekend and then on top of that I only want samples from the biggest fish in the population - they would say I'm crazy," Powers said. "Yet, we have about 4,000 of the best fishermen along the Gulf doing precisely that for us for free. It really is an amazing opportunity to look at the dynamics of a very important part of the fish population that our random scientific sampling just won't encounter."
The research conducted at the rodeo helps scientists better understand a diverse array of topics concerning how fish grow, mature and adapt in different environments, among many other things.
Dylan Kiene is pursuing a Ph.D. in Marine Sciences at South. Kiene used the rodeo as an opportunity to gather data for his thesis on the growth and maturity rates of flounder. At the rodeo, he was able to pull the otoliths for age analysis and the gonads for maturity analysis in order to further his research.
"The University of South Alabama has been instrumental in my development as a scientist," Kiene said. "The resources made available by the University are top notch and the faculty even more so. The professors at the School of Marine and Environmental Sciences have provided me with a well-rounded education and the skills I've needed to succeed in the field of marine sciences."
Most of the fish that are caught are tagged and undergo research before being returned to their anglers, but some fish are tagged and released to contribute to future research.
Jessica Gwinn is pursuing a Ph.D. in Marine Sciences at South. She is collecting fish tissues to analyze for various environmental toxicants and pollutants. The data collected will help provide information on environmental contamination in fish collected from the area. The information will help inform anglers and resource managers of potential risks associated with fish collected from the northern Gulf to better protect human health.
"My Ph.D. is focused in marine ecotoxicology, so I've grown a passion to better understand the prevalence and potential impacts of environmental contaminants and how this information can be used to better serve coastal communities reliant on marine resources," Gwinn said. "Opportunities like the rodeo are critical for collecting a large sample set that would be difficult and costly for scientists to collect on our own, and for engaging with communities who may have a more vested interest in the resulting information."
The University of South Alabama has a history of investment in marine sciences education and research, supporting a faculty of renowned experts in a range of marine-related disciplines. The School of Marine and Environmental Sciences is designed to address pressing environmental concerns of the coastal regions. The school trains the next generation of marine and environmental scientists, conducts cutting-edge research, and extends the impact of this training and research through service activities.
The undergraduate program offers two majors, including marine sciences and environmental and sustainability sciences. The graduate program offers a master's in marine conservation and resource management, master's in marine science, master's in environmental toxicology and Ph.D. in marine science.
---
---