From South France to South Alabama
---
Posted on September 5, 2023 by Acacia Stanley
Acacia Stanley
---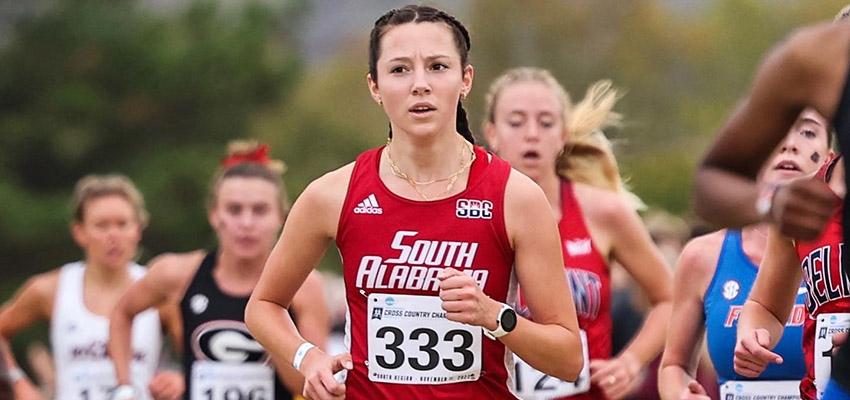 ---
Adele Magaud arrived at the University of South Alabama in 2019 as a freshman who struggled with English, but she was determined to join the track and cross country teams and study geology. Originally from Marseille, France, Magaud's determination to overcome barriers led to a bachelor's degree and the confidence to pursue a life in the United States.
"It was really hard at first," Magaud said. "When I arrived, I knew some English, like the basics to survive in a foreign country. Although I studied English for seven years in school, I really could not maintain a one-to-one conversation when I first arrived. It took me like a month to be able to talk one-to-one, two months to understand what was going on most of the time, four months to understand everything in the classrooms, and a whole year to be comfortable talking in a group setting. Now it has been four years, and English is as easy to use and understand for me as French."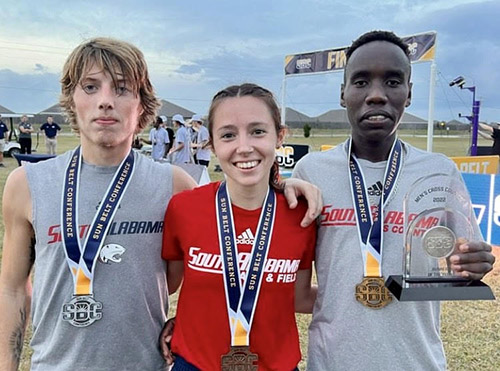 Despite her unfamiliarity with the language and the region, Magaud was very involved as a student and achieved her academic goals. She is now attending Northwestern University in Evanston, Illinois this fall, where she is pursuing a Master of Science in Energy and Sustainability.
"Jim and Mary Mather have this organization called Friends of Internationals, and they were the most warm and welcoming people," Magaud said. "They help all international students from day one, and they are doing an amazing job. They definitely changed my experience and made it so easy to be in the U.S."
Friends of Internationals at USA, a community and student organization in Mobile, operates with a vision to provide a 'home away from home' and facilitate the growth of genuine friendships across the various cultures represented at South.
"Students are often searching for direction in their careers and lives in general," said Jim Mather, senior pastor of Friends of Internationals. "Mary and I enjoy listening and offering our own experiences and perspectives having lived abroad ourselves in various nations. We already miss Adele, who will now move on to Chicago to study at Northwestern University."
Magaud became a leader as a student athlete. She not only accomplished her personal goals, but she also helped her teammates with homesickness, injuries and other personal challenges.
"Adele was committed to not just academics but to the importance of healthy relationships with her teammates on the track and cross country teams," Mather said. "She wound up moving into a rental house in our neighborhood, and we would frequently plan meals in our home for Adele and her teammates."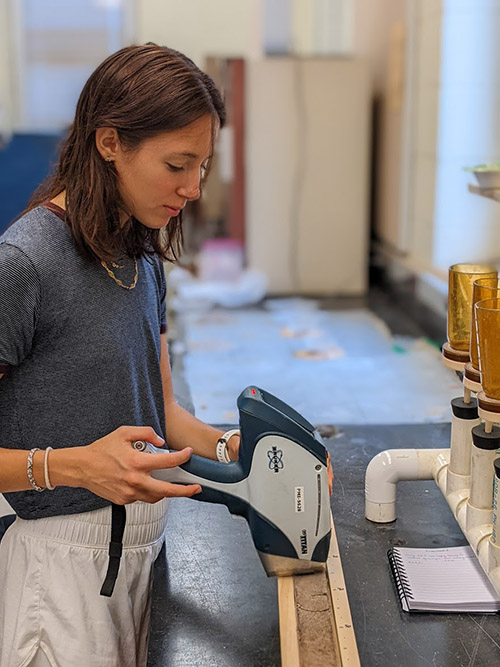 In addition to looking for guidance from organizations on campus, Magaud also sought support from professors and worked on geological projects along the Gulf Coast.
"Adele has been an absolute joy to work with both in and out of the classroom, and I'm really looking forward to seeing what she will accomplish next as a master's student at Northwestern University," said Dr. Alex Beebe, an associate professor of geology at South.
As an undergraduate researcher, Magaud worked in South's geochemical lab under the supervision of Drs. Ben Linzmeier and Beebe to analyze a soil core sample from Gulf Shores using portable X-ray fluorescence and other techniques.
"Her results help answer important questions about the causes of harmful algal blooms along the Gulf Coast," Beebe said. "I loved the fact that she always had new ideas to add to our weekly research meetings and was willing to go the extra mile, pardon the pun, when it came to interpreting her work, even to the extent of writing and coding custom statistical scripts to create stunning and intuitive core plots."
As an athlete, Magaud won various athletic awards during her time at South. In the Sun Belt Conference Championship for Track and Field, she placed 5th in cross country in 2021, 3rd in the 3,000 meter indoor track in 2022, 10th in cross country in 2022 and 3rd in the 5,000 meter indoor track in 2023. In addition, she broke the 5,000 meter outdoor school record twice this past spring and was nominated for outstanding performer for cross country at South in 2022 and 2023. She was nominated for South's indoor track athlete of the year in 2022.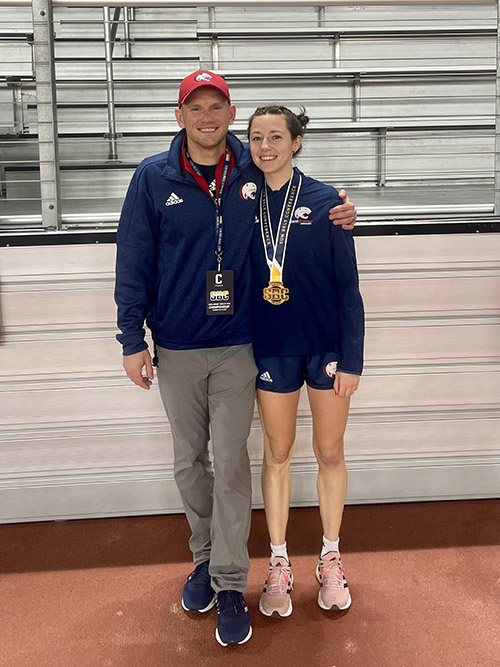 "I really saw Adele grow during her four years at South," said Parker Cowles, head coach of cross country at South. "It was a lot of fun seeing her transform from being a very quiet freshman into the outspoken and positive leader she became by her junior and senior years. Athletically, she got a lot stronger, but more importantly, she cared about the development of her teammates and made those around her better."
Magaud graduated in May 2023. She looks forward to starting a new chapter in her academic journey at Northwestern University next month. Northwestern, a school with a mere seven percent acceptance rate for undergraduates and a 29 percent acceptance rate for graduate students, is a prestigious opportunity.
"Coming to the U.S. and to South was scary at first," Magaud said. "I was not familiar with the language. I struggled to make friendships because I could not communicate. At times, I truly felt I had made a mistake. However, I treated every day like a stepping stone to the next breakthrough. I relied on my teammates in track and field, and I slowly gained the confidence to embrace new experiences. Every day that I have been here, I felt like I was at a summer camp rotating from one activity to the next and learning from the adventure. I am extremely grateful and humbled by the opportunity to have called myself a Jag."
---
---