Jags Click to Deliver Red Cross Aid for Puerto Rico
---
Posted on September 29, 2017 by Alice Jackson
Alice Jackson
---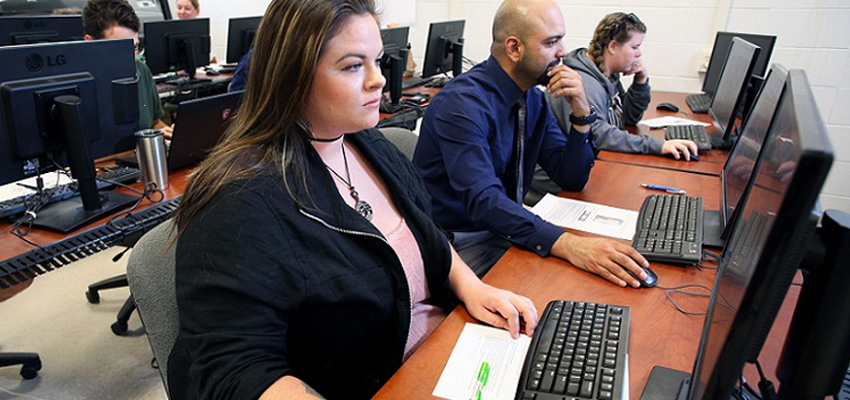 USA senior German Cruz-Torres, center, a native of Puerto Rico, concentrates on mapping areas of the island during the GeoClub's Map-a-thon.
---
University of South Alabama students and faculty provided the human link between satellite maps and computer software programs Friday to help the American Red Cross deliver food, medicine and other life-saving supplies to Hurricane Maria victims in Puerto Rico.
The Map-a-thon, sponsored by the GeoClub, linked with other universities around the country to outline structures shown on satellite maps at www.openstreetmap.org. Once outlined, the images were uploaded so the Red Cross can use them to determine how much aid will be delivered into areas of the devastated island.
"This is necessary because computer software programs can't identify structures on satellite maps," explained Frank Skewes, a senior minor in geographic information systems. "This turns the satellite image into actual countable structures for the Red Cross so they can estimate the amount of supplies to send into a certain area."
By the end of the afternoon, the 30 or so USA volunteers had uploaded a total of 5,442 images. Still, more help is needed to map the island.
"The Red Cross learned during the Haiti earthquake how vital this is for their relief efforts," said Dr. Steve Schultze, assistant professor of earth sciences. "People around the world have been helping with this effort, including my own mom in Sunrise, Fla. It's easy to do, and it's something almost everyone can do to help with the relief effort."
Among the volunteers was senior German Cruz-Torres, a native of Toa Alta, Puerto Rico.
"I have talked to most of my relatives there, and they are fine. I have only an aunt I haven't heard from," he said. "It is difficult there. People have to stand in line for hours to get gas, or in the case of my sister to get diapers for her two children. Nothing is easy for them now."
Schultze said help is need for the mapping until all of the island is completed.
"Anyone who does this will be helping people who really need it now," he said. "Plus, this is a good way for geographers to show people what we really do."
---
---