Giannini Accepted to NIH Medical Scientist Training Program, Headed to Vanderbilt
---
Posted on May 12, 2022 by Amber Day
Amber Day
---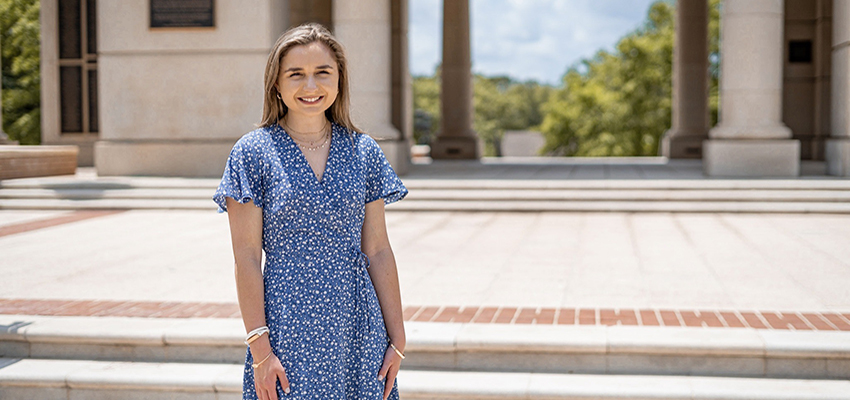 ---
Orange Beach, Alabama, native Hannah Giannini, who recently earned a bachelor's degree in chemistry from the University of South Alabama, has been accepted to the National Institute of General Medical Sciences Medical Scientist Training Program for dual-degree training that will lead to a clinical medical degree and a research Ph.D.
The program provides Ruth L. Kirschstein Institutional Predoctoral Training Grants to trainees that include a stipend and tuition allowance.
"I will not have to pay for medical school, and I will have a stipend and benefits for the next eight years," Giannini said. "It's really quite remarkable. Although I am going away from South, I am so grateful for the experiences I've had and hope to be able to help other people someday in the same way South has contributed to me and my future. Because of South, I was able to see that medicine is my path."
Giannini was accepted to the USA College of Medicine Early Acceptance Program and Stanford University School of Medicine, but ultimately chose Vanderbilt University. The national Medical Scientist Training Program currently has 50 participating programs and supports nearly 1,000 trainees. Giannini was selected to be part of Vanderbilt's training program among 15 other students. Her goal is to become an oncologist.
"When I was growing up, cancer was a recurring theme throughout my life," she said. "My aunt got cancer when I was five, and she passed away. In elementary school, my kindergarten teacher was diagnosed with cancer, and my school principal ended up getting cancer as well. I was seeing cancer at so many stages in life, and then I was able to intern at the MCI. I like to believe all of those experiences were leading me to the type of research I want to do professionally and what type of doctor I want to become."
Giannini attended Gulf Shores High School and she fell in love with South's campus after a few on-site experiences.
"I chose chemistry because I loved the challenge, and I really enjoyed coming to campus for the Chemistry Olympiad," she said. "Also while in high school, I started an internship at the USA Mitchell Cancer Institute. That's when I first became interested in medical research."
Giannini was an undergraduate research assistant at the Mitchell Cancer Institute through the University of South Alabama Summer Undergraduate Research Fellowship program. In January 2020, Giannini began another internship as an undergraduate research assistant in the USA College of Medicine Department of Biochemistry and Molecular Biology with Dr. Richard Honkanen.
"I've really enjoyed working with graduate students, postdocs and technicians as part of Dr. Honkanen's research group," Giannini said. "Our most recent project included studying PPP2R5D, a regulator of a protein phosphatase. Phosphatases are enzymes in the body that regulate many different reactions. Our group focuses on Jordan's syndrome, a rare genetic disorder where kids have a single amino acid variant in the PPP2R5D protein. We work as a team with scientists across the world in this study."
Honkanen's group continues to learn more about this phosphatase in order to identify treatments for PPP2R5D-variant patients.
"I have worked at USA for more than 25 years, and during that time I have worked with many exceptional medical, graduate and undergraduate students," said Honkanen, professor and chair. "Hannah is among the best students I have had the pleasure of working with. Her hard work in the lab helped us develop novel cell lines that will allow us to explore the cellular mechanisms altered in PPP2R5D variant cells. In turn, this will help identify treatments for the PPP2R5D children"
Although Giannini spent much of her time at South doing research, she also found time to be part of several organizations. She taught yoga at the USA Student Recreation Center and served as president of the Sally Steadman Azalea Chapter of Mortar Board and secretary for USA Southerners and the USA American Chemical Society. Giannini also volunteered at Wilmer Hall and in the chemotherapy infusion room at the Mitchell Cancer Institute.
Giannini credits several mentors at South that helped her along the way, including Honkanen; Dr. Sally Steadman, a faculty member in the USA College of Engineering and national board member and advisor for Mortar Board at South; Dr. Richard O'Brien, associate professor of chemistry; Dr. David Forbes, professor of chemistry; and Dr. Erin Ahn, a former associate professor of biochemistry.
"I feel like I've made a life here at South, and it's been really great," she said. "Dr. Richard O'Brien served as my academic advisor. He always pushed me. When I would come into his office, he would give me a pep talk, but he would also tell me what could be improved upon. I am super grateful for his mentorship because he's been with me for the past four years."
Giannini received the Goldwater Scholarship during her sophomore year at South and said her mentors played a large role in helping build her application. Other scholarships included the USA College of Medicine Dean's Merit Scholarship, Dr. Hiram W. and Mrs. Margaret L. Mendenhall Scholarship in Pre-Medicine, Wierzbicki-Salter Chemistry Endowed Scholarship, Whiddon Honors College Scholarship, Chemistry Department Endowed Scholarship, University of South Alabama Freshman Leadership Scholarship and the Presidential Scholarship.
---
---