Students Conduct Bioarchaeological Research with Dr. Lesley Gregoricka using Bronze Age Bones from the United Arab Emirates
---
Posted on March 11, 2020 by Arts and Sciences
Arts and Sciences
---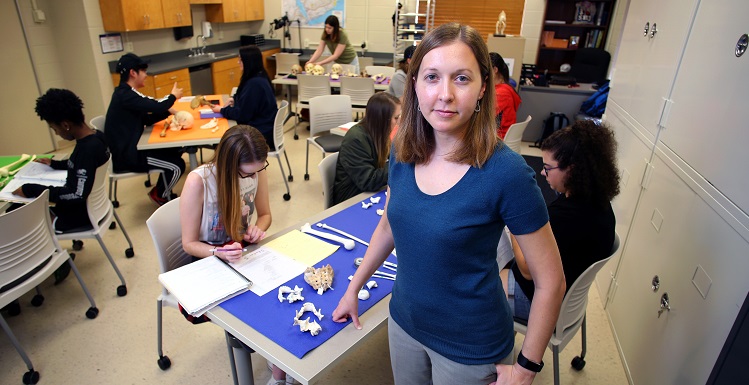 ---
University of South Alabama Associate Professor Dr. Lesley Gregoricka is a bioarchaeologist in the department of sociology, anthropology, and social work and a skeletal biogeochemistry research specialist. Dr. Gregoricka currently co-directs a bioarchaeology research program funded by the National Science Foundation with Dr. Jaime Ullinger of Quinnipiac University.
In summer 2019, eight undergraduates from around the country came to South to learn how to conduct bioarchaeological research with Gregoricka using Bronze Age bones from the United Arab Emirates. The students were selected from a competitive pool of 93 applicants and represented two- and four-year colleges around the country - including California, Nevada, Louisiana, Michigan, Indiana, Virginia, Connecticut, and Alabama.
"The experience I received this summer was truly unforgettable, and I learned an extensive amount about the field of bioarchaeology in only eight weeks," said Victoria Calvin, who is currently pursuing a bachelor's degree in anthropology from South. "Dr. Gregoricka's passion for bioarchaeology radiates to her students through her teaching, and I could not imagine getting a better first hands-on research experience. I plan to attend graduate school in the Fall of 2020, and I look forward to one day working alongside Dr. Gregoricka as one of her peers."
The summer research students examined thousands of ancient human skeletal fragments with Gregoricka in order to understand how humans from the past lived, died, and adapted to their environments. Students examined bones from two large communal tombs to assess whether the number of individuals buried in these structures changed over time, as well whether as the ratio of adult females to males changed in response to enhanced social stratification among the living. Students also examined bone color to investigate cremation practices, in order to evaluate whether sex estimation techniques were affected by cremation temperatures.
"It was incredible to see these students transform into competent researchers over the course of just eight weeks," Gregoricka said. "All of the students were fantastic, enthusiastic, and dedicated to an intensive research agenda."
Understanding migration and social complexity in the ancient Near East and Arabia—which can be linked to finding food, to trade, or even pilgrimage—are particularly important to Gregoricka's research.
"We are currently working on assessing how mortuary practices (in other words, how we treat our dead) may have changed during the Bronze Age (3100-1600 BCE) in southeastern Arabia through evaluating who was permitted to be interred in large, monumental tombs, each of which held hundreds of people," Gregoricka said.
Gregoricka joined USA in August 2012 after receiving her Ph.D. (2007-2011) in anthropology from The Ohio State University.
Gregoricka balances her passion for research with her passion for teaching. Her favorite classes are the ones where students get hands-on experience with bones. In her "Forensic Anthropology" and "Human Osteology" courses, students spend most of their class time examining human bones and applying the ideas they have been discussing in class to their evaluation of the bones they have been inspecting. Gregoricka also enjoys teaching study abroad courses, which, she said, "primarily focus on the archaeology of death."
Being an archaeologist was always Gregoricka's goal in life. She recalls giving a "when I grow up" speech in third grade about her wish to be an archaeologist. Later, when Gregoricka started college at Notre Dame in 2001, she declared her anthropology major immediately. Her undergraduate research experiences only reinforced the soundness of her decision, particularly for her emphasis on bioarchaeology, because of the unique opportunities to do fieldwork in the Near East.
"It's difficult for me to imagine doing anything else outside of anthropology," Gregoricka said.
Gregoricka seeks to share her passion for anthropology as she talks with students today about why they might want to consider anthropology as their major.
"Anthropology is a wonderful major because of the practical and life-long tools students gain—particularly in critical thinking, analytical reading, and writing—marketable and desirable skills that can be applied to any career," Gregoricka said. "Anthropology has been referred to as 'the best major to change your life,' and epitomizes a liberal arts education."
Gregoricka also co-directs the forensic studies minor in the College of Arts and Sciences with Dr. Sarah Koon-Magnin, Associate Professor of Political Science and Criminal Justice. In January 2014, they inaugurated their minor, which has grown steadily in popularity.
"Dr. Gregoricka is a fantastic colleague and co-directing the forensic science minor with her is a delight," Dr. Koon-Magnin said. "She gives our students the opportunity for hands-on forensic applications by taking trained undergraduates along with her on cases. Her specialized knowledge and excellent pedagogy give our students a foundation for further study and future careers in forensic science."
When asked about her future research plans, Gregoricka said she intends to expand her "current research program in southeastern Arabia and will continue working with Bronze Age skeletons from the region in order to learn more about changing lifeways and social identity alongside shifts in interregional interaction and climate change. Specific research questions will be focused on mobility, activity patterns, and cremation practices." She adds that she has also "recently started working on a project in Sudan, exploring temporal shifts in mobility among pastoral populations in ancient Nubia."
As you might imagine, travel is something that Gregoricka enjoys—whether for research at Middle East excavation sites, museum visits, labs for data collection, or for Study Abroad. Her recent travel has taken her to Oman, Belize, Morocco, and the Orkney Islands. In summer 2020, Gregoricka will travel to Gibraltar and Andalusia in the south of Spain. When she is not researching or teaching, Gregoricka likes to relax by reading novels or watching television. Some of her favorite shows are "Breaking Bad," "Luther," and "Parks & Recreation." In addition, Gregoricka likes listening to true crime podcasts and watching college football, particularly Notre Dame.
---
---