South Mourns the Loss of Dr. Larry E. Holmes
---
Posted on December 12, 2022 by Zoe Blair
Zoe Blair
---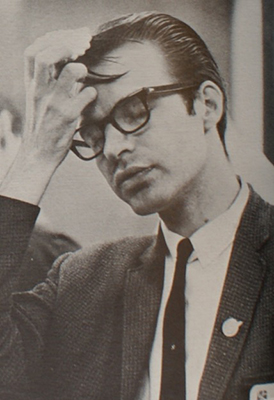 Larry E. Holmes, c. 1970 University of South Alabama Yearbook
We are deeply saddened to share the news of the passing of Dr. Larry E. Holmes, who served as a professor emeritus in the Department of History at the University of South Alabama. He passed away on Nov. 30 in Kirov, Russia.
Holmes spent 37 years as a member of the College of Arts and Sciences faculty, and upon retirement, he maintained active ties with the University.
"Dr. Holmes was the ideal historian," said Dr. David Messenger, chair of the Department of History."He was always committed to exploring tough questions dealing with Russia and Russian history, and he was always committed to being a professional."
During his tenure, Holmes served as chair of the faculty senate in 1977, 1978, 1991 and 1992. He also published multiple books and articles, which can be found in the McCall Archives.
Holmes received several awards from South, including the Frederick P. Whiddon Award (1973) for "Outstanding Achievement in the Academic and Civic Community," the Arts and Sciences "Distinguished Lecture Award" (1983-84), the Alumni Association Outstanding Scholar Award (1986) and Scholar of the Year, Phi Kappa Phi (2000).
Outside of his work at South, Holmes served as a visiting professor of history at Rostov State University in Russia (1992-93). He also held many roles as a member of the Southern Conference on Slavic Studies and the American Association for the Advancement of Slavic Studies.
Most of Holmes' work covered topics such as education in the Soviet Union, the Russian experience of the Second World War, the Purges, regional governance, as well as his favorite football (soccer) team in Kirov, Dinamo. He received several grants during his career to support his research, and he continued working into his retirement.
"Dr. Holmes had a tremendous reputation in the field of Russian Studies; his work on Soviet education was ground-breaking," said Dr. Mara Kozelsky, a professor in the Department of History. "His interests in Russian history were boundless. Recently, Dr. Holmes had turned his attention to local connections with the Soviet Union. He wrote a fascinating article about misadventures of Fairhope Single-Taxers who traveled to the USSR only to get caught up in the Stalinist Purges. I first became aware of his work as a graduate student, and have looked forward to each of his new books ever since. Dr. Holmes generously mentored many junior scholars, myself included. He graciously shared research advice, and was always ready with encouragement in the face of setbacks. He made a difference in so many lives, and will be missed."
Aside from his research topics, Holmes also enjoyed sports and fitness. He played on his college's baseball team as a pitcher, ran a marathon in under three hours, and wrote a sports column under the pseudonym "Baseballs" for the USA alternative student newspaper Rearguard.
"He relished his time in retirement," Messenger said. "It allowed him to pursue his research in Russia without delay, and that was where he was when he passed away. He was a great person to know, always full of energy for his work."
The University of South Alabama Digital History Lab recently posted a piece in memory of Holmes and others were encouraged to share their experiences. Here's what a few students and colleagues had to say:
"Dr. Holmes was one of my all time favorite professors at South Alabama! He was a great mentor for me." - Sylvia Rogers
"Petra and I were stunned and saddened upon learning of Larry's passing. It was like a bolt out of the blue. If anything in this world was stable for me it was Larry Holmes and his enduring research and love of Russia. I remember when Larry told me he was retiring and I asked him what he was going to do with his time. He looked at me perplexed and said, 'I'm finally going to get some work done. No more testing and grading, no more committees, and a lot more time in Russia.'" - Dr. Joseph Mozur
"Dr. Holmes inspired me. He took me and other 70s-era students to an entirely new and unfamiliar world of ideas, scholarship and erudition." - Ken Simon
"Larry was the perfect teacher-scholar role model for younger (and older) faculty in the field of Russian history, society and culture." - Theo Prousis
"First a human being and second a professor, Larry was one of the most approachable, inspiring, challenging and lovable of my colleagues. May the earth receive him gently. A prince among men." - Dr. Bonnie C. Marshall
---
---