Independent Music Collective Offers Opportunities for Students to Express Creativity
---
Posted on October 14, 2022 by Hadyn Henderson
Hadyn Henderson
---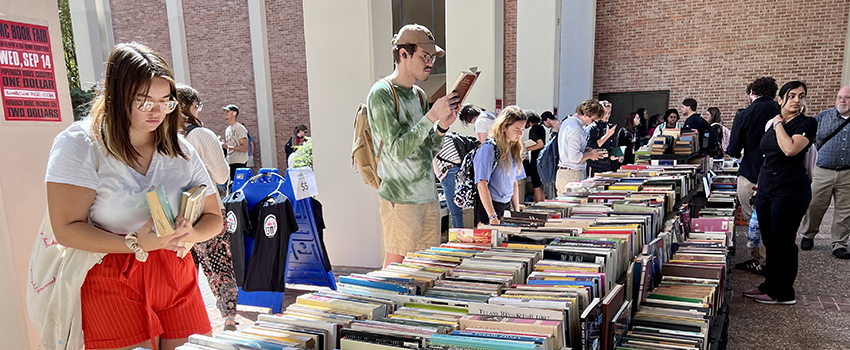 ---
The Independent Music Collective, a student organization at the University of South Alabama, works closely with alumni, students, staff and various members of the Mobile, Alabama, community. IMC is more than just a music organization – it is an open opportunity for anyone to express their creativity.
The organization was founded in 2009 by Dr. Justin St. Clair, an English professor in the College of Arts and Sciences, with the goal to enhance the community's music scene. IMC sponsors a listening-room concert series that features roots and Americana music.
"IMC was founded with the idea that students with various interests could find a niche within the organization, all the while growing the local music scene," St. Clair said.
St. Clair has been a professional music photographer for nearly 20 years, which allows him to be quite insightful about music-related topics and events. After he began teaching at South, musicians reached out to St. Clair in search of musical venues around Mobile. At the time, there were limited venues near campus for music-related activities, so St. Clair began working with students who shared his interests and formed IMC.
IMC works with several local organizations and venues to further promote Mobile's music scene. Satori Coffee House is now a local favorite, and it partners with IMC to promote touring musicians and bands. Mobile's convenient location between I-65 and I-10 makes IMC a popular stop for musicians who are touring the Southeast. IMC has hosted numerous acclaimed artists at Satori, such as Dan Bern, Malcolm Holcombe, and Otis Gibbs. The organization has also helped bring some major acts to campus, including John Darnielle of the Mountain Goats, Josh Ritter, and Patterson Hood of Drive-By Truckers."
Since its creation, IMC's concert series has grown into a nationally recognized program. One unique feature of their concerts is that cell phones and talking are restricted. Both the audience and the band or musician gets to experience the concerts with no distractions. St. Clair said the whole experience is changed when the focus is on the music.
"They can pay a totally different kind of attention to what's happening on stage," St. Clair said. "No matter where you are in the room, you're in the middle of the music."
Every month, IMC holds a book fair event in the Humanities courtyard on the University's campus. Books are donated from various people in the community and are available in packages as well as in singles. The donations gathered from the book fair help IMC fund their concerts and events.
IMC is always open to students who are looking for a diverse group to join. The organization has a place for everyone who has an interest in cultural and creative arts. Involvement includes more than one specific interest or skill – students can help run the book fairs, advertise, design art, run social media, run the sound systems at concerts and so much more.
"That's why it's called the Independent Music 'Collective' – it's a collective of people with different skills, interests and things that they can bring to the table," St. Clair said.
IMC has an upcoming show on Friday, Nov. 4 at Satori Coffee House. Wild Ponies, a husband-and-wife duo from Nashville, will be performing at 8:00 p.m. Admission is free for all South students and a $5 donation is suggested for all others.
Upcoming book fair events will be held in the Humanities courtyard at South on Wednesday, Oct. 19 and Nov. 9.
To join the IMC, students can send a membership request through InvolveSouth or simply reach out to any existing member during a book fair or concert.
---
---