USA Historian Dr. Mara Kozelsky an Expert on Crimea and Ukraine
---
Posted on May 4, 2016 by Arts and Sciences
Arts and Sciences
---
Dr. Mara Kozelsky, Associate Professor of History, is an expert on Ukrainian and Russian history. The author of a book on the history of the Crimea, Dr. Kozelsky's knowledge of this complex and contested part of the word has recently been in demand by news agencies and others seeking a better understanding of the current situation. Read Dr. Kozelsky's recent contribution in the Washington Post.
Dr. Kozelsky's research provides needed historical context for understanding the crisis in Ukraine and Russian (re)annexation of Crimea. Her first book, Christianizing Crimea, shows how Russians came to consider Crimea a holy place in the 19th century. Dr. Kozelsky observes that even after seventy years of atheism under the Soviet Union, many Russians still consider Islamic Crimea to be the Cradle of Christianity; it was in Crimea that the tenth century Russian saint, Vladimir, converted to Christianity and spread the faith northward among the Rus. In different publications, she has explored the long-term consequences of Russian imperial conquest of Crimea, including the subsequent out-migration of Crimea's native Muslim inhabitants, Crimean Tatars. Dr. Kozelsky currently has a manuscript in progress, War and Recovery, which examines the civilian experience of the Crimean War (1853-1856).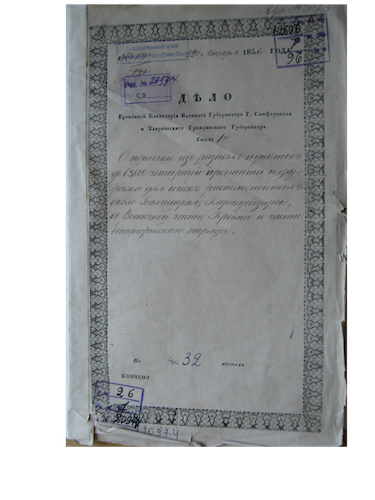 "As an historian, I rely on 19th Russian government documents as my chief source of evidence" says Dr. Kozelsky. "I have been traveling to Russian, Ukrainian and Crimean archives for fifteen years. I was in Ukraine for the Orange Revolution, and have witnessed numerous protests by Russians, Ukrainians and Tatars in Crimea. The study of Russian history, culture and politics, as we can see from the news, is more important than ever."
Left: An 1856 file from the Military Governor of Simferopol about the transport of provisions for military dispersed in Crimean towns. An example of the evidence used in Dr. Kozelsky's research.
---
---