Students Earn Critiques From Legendary 'Tonight Show' Bandleader
---
Posted on February 12, 2018 by Alice Jackson
Alice Jackson
---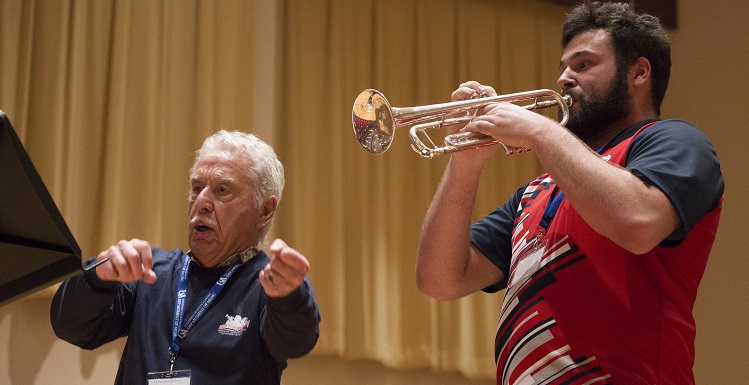 Erick Wricklund, right, a junior music major at the University of South Alabama, plays under the direction of Doc Severinsen, the longtime 'Tonight Show' bandleader. "The man is a legend," Wricklund said. "I learned a lot from it."
---
Erick Wricklund, a junior music major at the University of South Alabama, admitted he was "very intimidated" Saturday as music legend Doc Severinsen began critiquing his trumpet skills on the stage of South's Laidlaw Performing Arts Center.
Severinsen, who became a household name as bandleader on "The Tonight Show" with Johnny Carson as well as an international performer and conductor, headlined the 2018 South Alabama Trumpet Day. Joining him was Dr. Cathy Leach, president of the International Trumpet Guild and professor of trumpet at the University of Tennessee.
"I think you have to examine if you really want to play this piece," Severinsen told Wricklund, encouraging him to relax and interpret the composition as he felt it. "You are going to have to make something out of it."
As Wricklund began the piece again, Severinsen nodded his head. "Now, you're making sense of it. Keep playing!"
Afterward, the 20-year-old music education major from Gautier, Miss., described the session as "very surreal. … The man is a legend. It was a great experience. I learned a lot from it," he said.
Eighty-five participants, mainly college and high school students from Alabama, Mississippi, Florida and Arkansas attended the day-long camp, said Dr. Peter Wood, professor of music. Wood is also a board member of the International Trumpet Guild and editor of its journal.
"We hit it out of the ball park with this event today because everyone has talked about how much they've enjoyed the day," Wood said. "They are enjoying Doc's critiques because they welcome honesty."
Earlier in the afternoon, Severinsen and Leach taught a master class, which gave students the opportunity to question him about his experiences, including his audition with another music legend — Tommy Dorsett — when he was only 14-years-old, and his later years in Hollywood. Saturday evening, Severinsen, Leach, Wood and the students performed a finale benefit concert.
"I don't call what I do anymore working, other than having to travel to get someplace," said the 90-year-old Severinsen. "Today, I enjoy working more in education, working with young people, sharing what I know."
He and Leach live in Maryville, Tenn., with their two dogs. He works out at a local gym several days a week, cooks most of the couple's meals and "occasionally cleans" their house. He also practices his music every day.
"The longer you do it, the more you need to practice," Severinsen said.
Leach added: "Around the house, we listen to each other practice and make recommendations."
Severinsen has also worked with the S.E. Shires Co. to develop the Distino III Trumpet, based on his own design.
"My mother lived to 101, and my doctor tells me that I'm fit," Severinsen said. "I don't plan to slow down."
---
---