Léonard Launches New Book on Racial Diversity in France
---
Posted on January 11, 2023 by Hadyn Henderson
Hadyn Henderson
---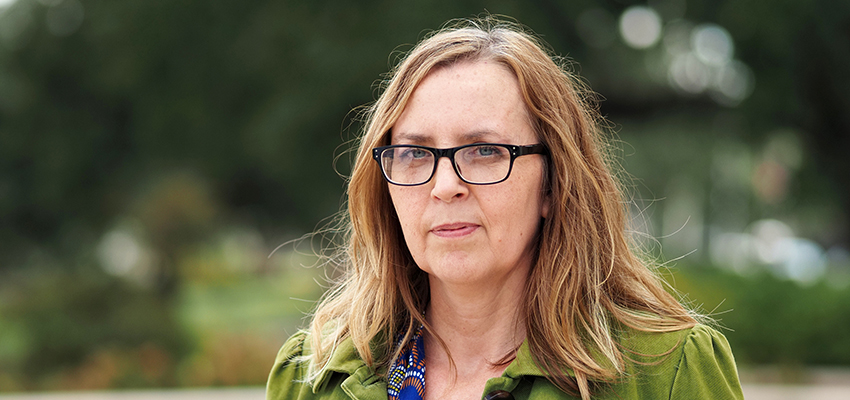 ---
The University of South Alabama welcomes Dr. Marie Neiges Léonard as an instructor of sociology in the Department of Sociology, Anthropology and Social Work. She recently published a book titled "Racial Diversity in Contemporary France: The Case of Colorblindness," which offers a sociological analysis of race in France. Léonard's professional journey began in central France, and she's excited to share her knowledge with students at South.
"I'm so glad I got the job," Léonard said. "I really love it here. The campus is beautiful, my colleagues are really nice, and the students have been very supportive."
Léonard is both a French and American citizen. Born in central France, she came to the United States 25 years ago as a graduate student. She earned a Ph.D. in Sociology from Texas A&M University in College Station, Texas, and has taught at universities in Mississippi, Paris and now Alabama.
Léonard's initial passion was journalism. During her first year in college in France, she interned for a local newspaper. After spending time interviewing and observing a variety of people, she discovered that her true passion was sociology.
"I liked doing interviews. I liked studying the behavior of people," she said. "I liked understanding the structures – how things work, why they work this way, what is the process, etc."
Léonard's fluidity in both French and English gives her a unique vantage point that aids in her research. Because of her connection with France, her research is focused on the country's racial politics. Her new book highlights the features of race, diversity and identity in French society.
"Everything was about race," she said. "Everything was about racial inequalities, and yet nobody was talking about this."
Léonard writes about existing French laws that prohibit the press from mentioning race or ethnicity. She states that France does not acknowledge race in their census and writing about race or ethnicity is not allowed in France. Léonard's book emphasizes that simply not talking about race and racial injustice will not erase the issue.
"These are racial minorities," she said regarding protests. "They are protesting for a reason."
More information about Léonard's new book.
Léonard is also a photographer, and she plans to host an art exhibit at the University of South Alabama's Marx Library next year.
---
---