South Grad Working to Turn Slums into 'Microcities'
---
Posted on , by Arts and Sciences
Arts and Sciences
---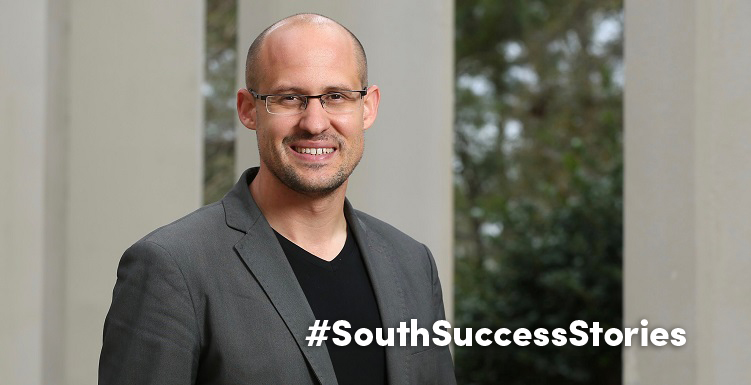 Jonathan Hursh, '04, founded Utopia, a design and urban planning firm, to help the world's biggest cities harness the power of their most downtrodden inhabitants. "It's a radically different world that's coming our way," he said.
---
#SouthSuccessStories is an ongoing series featuring University of South Alabama alumni who are life-savers, innovators, game-changers, music-makers and creative-thinkers, successful in their careers and supportive of their communities.
Jonathan Hursh was leaving the USA — both the University of South Alabama and the United States itself — and he was wondering, "What have I done?"
He was flying halfway around the world to study in China for his final college semester. He had sold or given away all of his possessions except his suitcase and its contents. He remembers sitting in the airplane, looking out over the Pacific Ocean and thinking, "You're ruining your life. You've walked away from everything, cut all ties."
In retrospect, "I think that was necessary, because as soon as I landed it was almost like an entirely new life," Hursh said. "I embraced an entirely new mindset and didn't look back." That new mindset led him to look at squalor and chaos and see a resource. It inspired him to create a career that he couldn't have foreseen while growing up in Atmore, Ala.: helping the world's biggest cities to harness the power of their most downtrodden inhabitants.
Hursh stayed in China for that semester, and a lot longer: 11 years altogether. In 2006, he founded INCLUDED, a nonprofit organization that helps migrant children and their families who live in urban slums, primarily through community centers that offer training and other services. Nearly 1 billion people live in slums, and the number is growing. In developing countries, 30 percent of the urban population lives in slums. "So we have all this informal growth, right?" Hursh said. "How do we deal with that? It's a radically different world that's coming our way."
"It's a radically different world that's coming our way."
Slums are growing, he said, because "the countrysides are literally emptying of their people." If you live in a rural village, "you hoe your plot of land, looking down at your 3-year-old daughter, and you realize she's being left behind as the rest of the world progresses. And so you end up moving into the city."
If you have no money or connections, you cobble together a living space in one of the slums that spread on the edges of "urban agglomerations," as the United Nations calls the world's metropolitan areas. The U.N. defines slums as "informal settlements … characterized by housing that is nondurable or overcrowded, or that lacks access to improved water and sanitation or security against eviction."
Visiting some of Asia's slums, Hursh saw energy and potential. Migrants to slums, he said, "have this eager appreciation for the opportunity. They work really hard, they push their kids to study really hard, and they are greatly contributing and participating members where they land."
Hursh is something of a migrant himself. His childhood home in Atmore, population about 10,000, lies an hour northeast of the USA campus. At South, he majored in international studies. In 2004, with the help of Dr. Harry Miller, professor of history, and Dr. Mir Zohair Husain, professor of political science, he won what turned out to be a life-changing Boren Scholarship to finish his studies in China.
"I think I have a personality to go all in," Hursh said. So after he founded INCLUDED, he decided "I want to commit the core of my life energy to this issue of slums." The more he learned, the more he realized that slums have lessons to teach the companion cities that often disdain them. Cities become rigid over time. Slums grow haphazardly, informally, vibrantly, based on the needs of their inhabitants.
That insight led him, in 2016, to return to the United States and found another organization, the San Francisco-based Utopia. Its designers and urban planners hope to convert slums into, as the Utopia website puts it, "microcities that are more livable, more human scale, more lightweight. Microcities that are a better fit for this century. Microcities that are a place for everyone to thrive."
"Microcities that are more livable, more human scale, more lightweight. Microcities that are a place for everyone to thrive."
His work has received high-level recognition. He is member of the advisory boards of the Harvard Graduate School of Design's Master in Design Engineering program and the World Economic Forum's Urbanization Initiative. In 2013, the forum, a foundation best known for its annual meeting of international business and political leaders in Davos, Switzerland named him one of its Schwab Social Entrepreneurs of the Year.
Hursh maintains ties to USA and Mobile. In 2016, he received the USA National Alumni Association's Distinguished Alumni Award. He supports a Mobile-based organization called BELONG, founded by his old friend and USA roommate Juan Torres. It offers tutoring and other services to immigrants, especially children.
Overall, Hursh said, "Our hope is that cities can have more honest conversations about those who are living in their infamous slums, about the asset that they are to the city, about the fact that they are enabling the literal growth of the city, economically and otherwise."
He is now 39 and a single father of a 5-year-old boy. He feels a strong responsibility to make the world better before he hands it over to his child. Cities, he thinks, are "one of our best innovations ever." But urbanization accelerates change. For some, that can feel terrifying.
So those conversations must address the anger of those who see migrants (both internal, domestic migrants and international migrants) as a threat, Hursh said. "So much of it comes from fear of change," he said. "So maybe we can provoke more of that honesty in each other by proactively sharing some of our fears that are driving us and the things that we're concerned about."
Hursh understands fear. It once gripped him in an airplane thousands of feet above an ocean. He had embarked on a journey of unknown duration and uncertain destination, without a map. And it led him to soul-deep satisfaction. "I love creating and building," he said, "and I find it incredibly meaningful."
He tells his story "to help encourage people the way that I was encouraged as a student at South by different people that chose different pathways. I hope that this in a small way can give a few people confidence to push them over the edge into doing what they're thinking about perhaps doing."
20 Largest Cities in 2030
A United Nations report estimates that 30 percent of the population of the developing world lives in slums, and Jonathan Hursh, founder of urban innovation firm Utopia, expects slums to grow as rural residents move to cities. "It's a radically different world that's coming our way," Hursh said.
Here the United Nations projects the world's 20 largest cities and their populations in 2030, just 12 years away:
Tokyo, 37.19 million people
Delhi, India, 36.06 million
Shanghai, 30.75 million
Mumbai, India, 27.80 million
Beijing, 27.71 million
Dhaka, Bangladesh, 27.37 million
Karachi, Pakistan, 24.84 million
Cairo, 24.50 million
Lagos, Nigeria, 24.24 million
Mexico City, 23.87 million
Sao Paulo, Brazil, 23.44 million
Kinshasa, Congo, 20.00 million
Osaka, Japan, 19.98 million
New York-Newark, New Jersey, 19.89 million
Kolkata, India, 19.09 million
Guangzhou, China, 17.57 million
Chongqing, China, 17.38 million
Buenos Aires, Argentina, 16.96 million
Manila, Philippines, 16.76 million
Istanbul, 16.69 million
Source: "World Urbanization Prospects: The 2014 Revision," United Nations
---
---