Making a Dent in One Species' Recovery
---
Posted on November 3, 2017 by Alice Jackson
Alice Jackson
---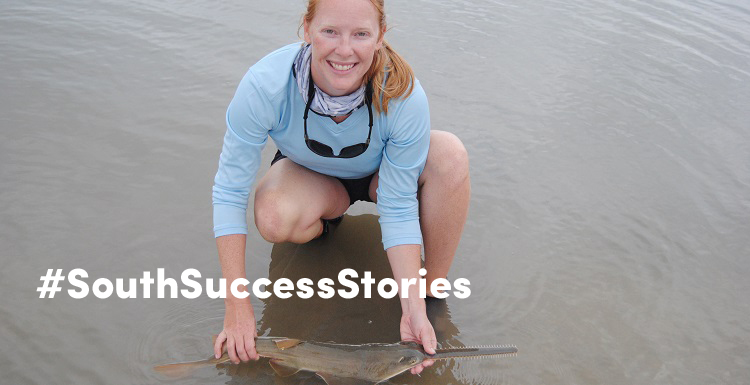 Dr. Andrea Kroetz with a smalltooth sawfish, a species whose population has declined as a result of fishing mortality. The fish is found today mainly in south Florida and the Bahamas. Photo courtesy NOAA Fisheries Service. Homepage photo courtesy Desirée Gardner Photography.
---
#SouthSuccessStories is an ongoing series featuring University of South Alabama alumni who are life-savers, innovators, game-changers, music-makers and creative-thinkers, successful in their careers and supportive of their communities.
If you watched a smalltooth sawfish give birth during the Discovery Channel's "Shark Week" this summer, you also saw University of South Alabama alum Dr. Andrea Kroetz at work.
The 33-year-old marine scientist was part of a research team that made history by capturing on video for the first time a smalltooth sawfish giving birth in the wild.
It was a dream come true for someone who studies smalltooth sawfish, a ray that is critically endangered. Its numbers were much greater 100 years ago, inhabiting the Gulf of Mexico from Texas around into the Atlantic and seasonally as far north as New York. Today, the U.S. population of smalltooth sawfish are found mainly in south Florida and the Bahamas.
"It was certainly my most interesting encounter with a sawfish. It happened last December in Andros, Bahamas, when we were sampling for larger adult sawfish," Kroetz explained. "We'd captured a very large female, and we rolled her over while taking measurements and preparing to tag her before release. That's when we discovered she was pregnant and starting to give birth right there."
The sawfish delivered, with the team's help, a total of five pups.
"When pups are born, they have fully developed teeth on their rostrum and have a thick gelatinous material that covers the teeth so they won't harm the mother as they are pupped," Kroetz explained. "We also verified that sawfish are born rostrum first."
Kroetz holds the distinction, to her and her team's knowledge, of being the first person to internally implant an acoustic tag, for tracking purposes, in an endangered smalltooth sawfish. That also occurred during a research trip to Andros.
"It was truly a humbling and exhilarating experience, and I am so fortunate to have been able to be a part of the research team," she added.
The excitement of learning new things and the diversity of the world's marine environment led Kroetz, a native of Mt. Vernon, Ill., to select marine science for her life's work.
"During my undergraduate studies, I took a field marine course at a marine lab in Jamaica, where I had my first contact with a shark. I was struck by the diversity of the marine environment. Afterward, I moved to the Turks and Caicos Islands, where I did an internship for a year," she said. "I was a waterfront research intern. I took study abroad students on dives and assisted several professors with teaching, labs and research. It was really great."
The next stop on the journey to her doctorate led to South and the Dauphin Island Sea Lab, where she studied under Dr. Sean Powers, chair of marine sciences.
"To study and live in that environment on Dauphin Island and getting to work with fish firsthand was just amazing, and South Alabama's campus was so close to all that," Kroetz said. "That's exactly why I picked South."
After receiving her doctorate in 2015, Kroetz began a post-doctoral fellowship with the National Research Council, an affiliate of the National Oceanic and Atmospheric Administration. Located in Panama City, Fla., she is researching predictive models to identify habitats and environmental conditions that are important for smalltooth sawfish, especially juvenile sawfish, to survive. Her work will be an important component of the sawfish recovery plan initiated by the National Marine Fisheries Service.
The smalltooth sawfish population declined as a result of fishing mortality, primarily as by-catch from shrimp trawlers, and as real estate development overtook the mangrove swamps, their primary juvenile habitat. Every other month, Kroetz and fellow researchers travel to Everglades National Park to monitor sawfish populations and take samples.
"That's part of the great thing about marine science. There's so much diversity in what you can study and research – everything from water movement to the algae – and all the components work together," she said. "There's so much to be discovered in our oceans. I just want to try to make a dent in it."
All research in accordance with the guidelines of permits ESA 17787 and EVER-2017-SCI-0022.
---
---