Dr. Matthew Pettway Publishes "Cuban Literature in the Age of Black Insurrection: Manzano, Plácido and Afro-Latin Religion"
---
Posted on March 11, 2020 by Arts and Sciences
Arts and Sciences
---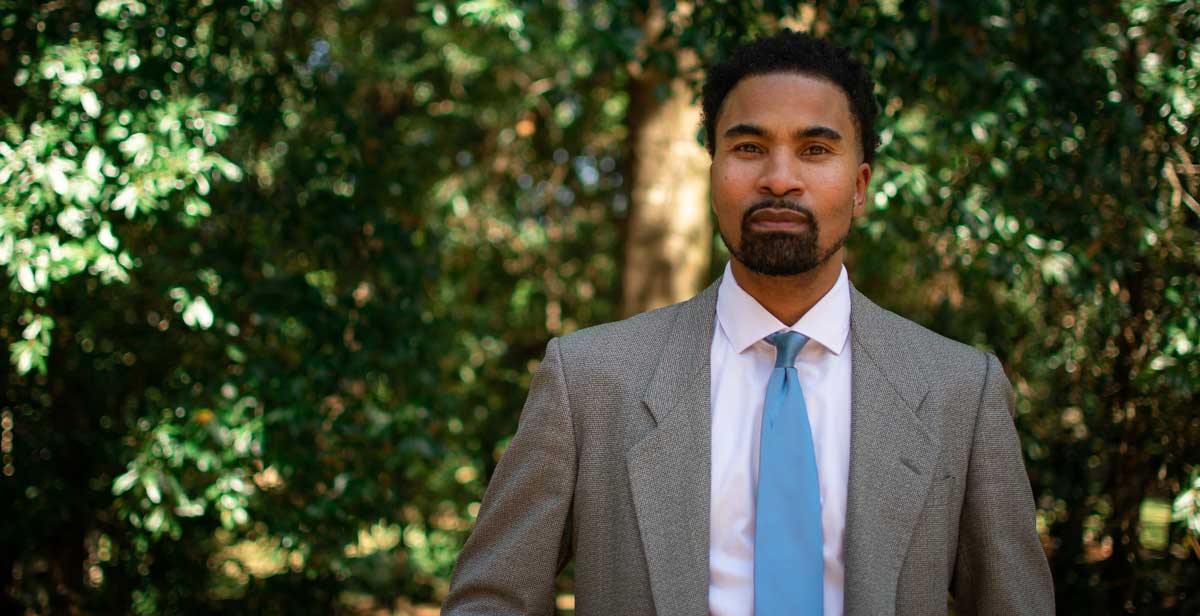 ---
Dr. Matthew Pettway is an assistant professor of Spanish in the Department of Modern and Classical Languages and Literature at the University of South Alabama. Dr. Pettway's book titled Cuban Literature in the Age of Insurrection: Manzano, Plácido and Afro-Latino Religion was published in December 2019 by the University Press of Mississippi and engages the larger debate about literacy as a conduit of knowledge for African Diasporic colonial authors.
"The book represents a paradigm shift in our thinking about black writers in colonial Latin America and encourages other scholars to examine Africa in America through an engagement with Bakongo- and Yoruba-inspired spirituality," said Pettway, a native of Detroit, Michigan.
Since his arrival at the University in fall 2018, Pettway has taught lower- and upper-level courses and particularly enjoys "Intermediate Spanish," "Intro to Textual Analysis," and "Hispanic Civilizations." In the future, he would like to teach a course on African Diasporic intellectual traditions. Such a course would link early modern West African authors with nineteenth-century black Caribbean and Latin American writers.
Pettway earned a bachelor's in business Spanish and media production at Eastern Michigan University. He earned both his master's in Spanish and Latin American literatures and Ph.D. in Hispanic cultural studies from Michigan State University. Pettway has taught at Bates College, the University of Kansas and the College of Charleston in Spanish and Latin American studies.
According to Pettway, while he was an undergraduate student, he particularly connected with the poetry of Nicolás Guillén.
"Although certainly not African-American, Guillén's poetry somehow resonated with the historical specificity of the black American experience," Pettway said. "My undergraduate education afforded me but one reading of Afro-Latino literature, but it was that exposure to a distinctively afro and Hispanic text that convinced me to pursue graduate studies."
In addition to his research on Cuban literature, Pettway is also very interested in literature and culture in Brazil. He studied Portuguese and Afro-Brazilian culture as a foreign language area studies scholar in Salvador, Brazil, in June and July 2005 as part of UCLA's study abroad program.
Pettway returned to Brazil in fall 2019 at the invitation of professor Yuri Brunello, director of the comparative literature program at the Federal University of Ceará, to teach a graduate course on his then-forthcoming book "Cuban Literature in the Age of Black Insurrection." Brunello also invited Pettway to deliver the keynote address at the XVI Encontro Interdisciplinar de Estudos Literários (XVI Interdisciplinary Conference) that his university organized.
Now that his first book has been published, Pettway has no plans to rest on his laurels.
"I hope to continue excavating the virtually-unknown black Cuban literary texts, some which are deep within the archives," Pettway said. "In addition, my research will emphasize gender, homoeroticism and black masculinity in colonial Latin America."
Moving his research forward in this direction, Pettway said his next book will "examine the vicissitudes of same-gender desire among men of African descent in colonial Cuba and Brazil."
Pettway has given several invited lectures based on his research. The University of Kansas awarded Pettway the Langston Hughes Visiting Professorship for fall 2013. He designed a new course on gender and race in post-Soviet Cuba, a graduate seminar on blacks in Cuban literature and gave a public lecture on his book research.
Pettway has also given lectures at the University of Kentucky, Maine Humanities Council, the University of Maine at Farmington, the College of Charleston, and the Halsey Institute at the College of Charleston.
In reflecting on his experiences so far at USA, Pettway said, "What I love about teaching at South is seeing students make discoveries about their love for the Spanish language and how brilliantly they engage texts that they had never come across before," Pettway said.
Click here to watch one of Pettway's virtual readings of a passage from his book Cuban Literature in the Age of Black Insurrection.
---
---