---
Posted on October 18, 2023 by Amber Day
Amber Day
---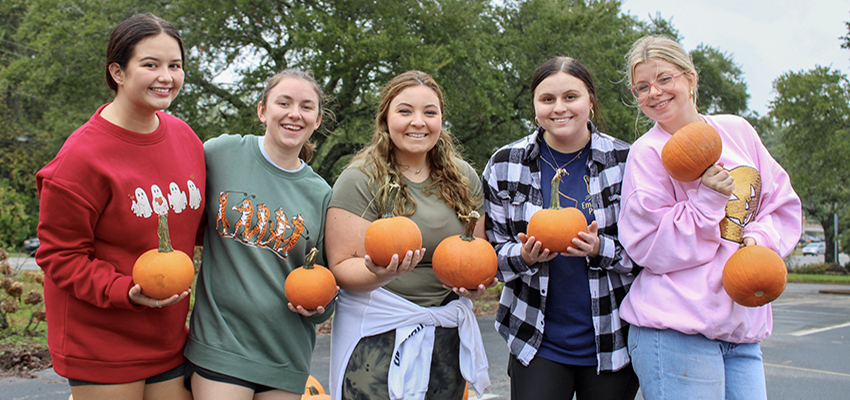 ---
The University of South Alabama Department of Psychology is partnering with South's Comparative Cognition and Communication Laboratory, the USA Psychology Club and the USA Honors College to host a Pumpkin Patch in the University Commons parking lot with a series of family-fun activities through Oct. 31.
"We are selling pumpkins of all shapes and sizes between Oct. 16-31 from 10 a.m. to 6 p.m., seven days a week," said Dr. Heidi Lyn, associate professor of psychology at the University of South Alabama. "We have pumpkin painting, pumpkin smashing and a photo stop this year. We will also feature a drawing for more than $1,000 in prizes at our big event on October 28, where we'll also have story time, games, a food truck, and tons of fun. Come support research and our psychology club."
Events are free and open to the public. Pumpkins range in price, starting at $1 and up based on size. Profits from the pumpkin sales will be used to fund undergraduate student travel to conferences and for research data collection.
Questions? Contact Lyn at hlyn@southalabama.edu. The physical address for the University Commons is 75 S. University Blvd. Mobile, AL, 36688.
The Comparative Cognition and Communication Laboratory is looking for faculty, staff and student volunteers for the Pumpkin Patch. Volunteers will receive service hours for participating. Volunteers will be responsible for managing pumpkin sales, cleaning the patch and interacting with customers. Shifts are two hours between 10 a.m. and 6 p.m. and require at least one supervisory individual. Larger events will occur on the weekends, so more volunteers may be needed for those days. For more details, email info@c3polab.org.
---
---