South Climatologist Brews Up Plan to Support Burgeoning Beer Scene
---
Posted on December 1, 2017 by Alice Jackson
Alice Jackson
---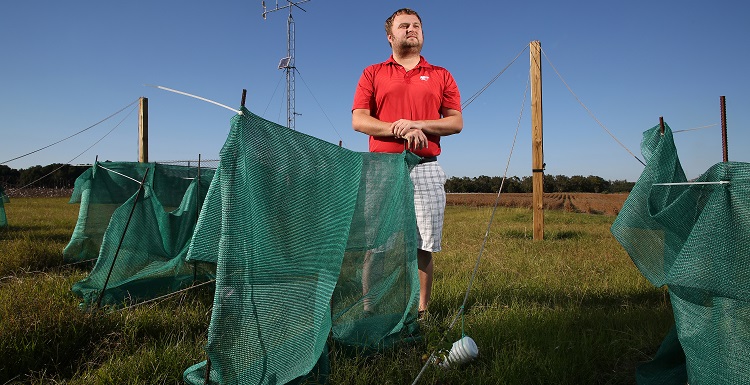 Dr. Steve Schultze, a climatologist at the University of South Alabama, talks about the crop of hops he's cultivating in Baldwin County. The green nets are a necessary protection against the afternoon sun. Schultze hopes to harvest his first hops crop next year. If successful, the plants could mean a new economic crop for coastal Alabama.
---
Growing up in south Florida, Dr. Steven Schultze's family always planted a garden. A climatologist, he researches the effects of microclimates on satsuma crops. Now, the assistant professor at the University of South Alabama is combining his knowledge and experiences from both worlds to grow hops.
If Schultze is successful — and he believes he will be — hops grown on the Gulf Coast could expand into a new agricultural industry for the region with local microbreweries being the top customers. The hops project mimics efforts during the 1970s to establish vineyards in the Deep South, which led to a variety of wine vineyards across Alabama and surrounding states.
"A number of local microbrewery owners have told me they would love to have all the hops we can grow, and we're hoping to be able to brew our first harvest next fall," Schultze said.
He and Bryan Wilkins, a research associate at Auburn's Gulf Coast Research and Extension Center near Fairhope, believe they are hoeing new ground. No one has successfully grown hops this far south along the coast. Likely, that's because the biggest producers of hops in the United States are located in Michigan, Oregon and Washington where temperatures are considerably cooler and less humid.
"There's definitely no book to read on how to do it here. If someone had tried it, the facts on how to do it would be out there," Wilkins said. "That's how new crops get started in an area. Someone wonders if they can grow it, then they figure out how to do it here."
In mid-April, the two planted 15 hops plants, each about an inch and one-half tall, they ordered from a Michigan nursery. June 5, the Monday after Memorial Day, is a day the pair refers to as Black Monday. That's when they returned to the field to discover that rising temperatures and humidity had killed 13 of the plants.
"That was a tough day," Schultze recalled. "Black Monday killed off our vines right at the time they were supposed to be going through their biggest growth phase. Unfortunately, that was when we needed to start over. So, our goal became survival."
Geography major Wayne Williams, who worked alongside Schultze as a Summer Undergraduate Research Fellow, was also there.
"We were expecting really heavy rain in that area, so we'd shut off the irrigation system for the weekend. Well, we didn't get the rain there that Mobile got," Williams said. "The biggest thing I learned in this research is that plants are finicky."
Still, Schultze ordered more plants — varieties named Chinook and Cascade — then added daily irrigation and shade nets to shield them against the afternoon sun. As the slender vines emerged, ropes were strung for them to climb. They had a slight problem with some pests, mainly thrips, a common garden pest, but an insecticide dusting eliminated them. Mildew from the summer rains appeared, but it was quickly handled as well.
To the layman, the vines of about 18 to 24 inches look a bit skimpy, but Schultze and Wilkins are buoyed by what they have learned.
"This is what you do in order to begin growing a plant in a different area. The plants have responded to the changes we've already made, so we know more about what not to do now," Schultze said. "We've been sending photos to the nursery in Michigan, and they say it is a tough climate, but we just have to figure out how to do it here."
For the winter months, the vines will be cut away, and a layer of mulch applied to the plants. When the hops appear next year, they will look somewhat like small green pine cones. Each vine is expected to produce about one pound of hops. Three ounces of hops are needed to make five gallons of beer. Schultze and Wilkins equate that to a lot of locally brewed beer being made from next year's harvest.
In a nearby field, Schultze is researching the effects of temperature, humidity and dew point on a grove of satsuma trees. Once a week, a student assistant, like Williams, takes readings for research purposes. As the student adds field research skills to his knowledge, the research will eventually help local satsuma growers produce better crops.
Williams, who will graduate in either December 2018 or May 2019, hopes to help with next year's crop of hops.
"I want to see it through," Williams said. "If the climate here can produce hops in a significant way, it will be important for the area."
Schultze and Wilkins are certain they can make it work.
"I like to grow things, and I can't think of anything better than growing something that either helps area growers or helps them start a new industry," Schultze said. "If we don't get what we expect next year, we'll keep trying. Eventually, we'll figure it out."
---
---