South Professor's Artwork on Display at LeMieux Galleries in New Orleans
---
Posted on February 11, 2022 by Arts and Sciences
Arts and Sciences
---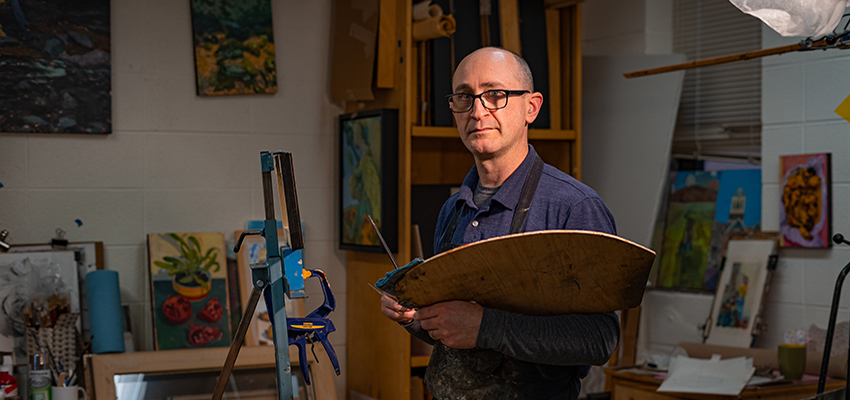 ---
Benjamin Shamback, a professor in the Department of Art and Art History at the University of South Alabama, currently has artwork on display in an exhibit titled "Comfort Food: Still Life Paintings" at the LeMieux Galleries in New Orleans, La. Open through February 28, Shamback's collection of recent oil-on-copper paintings explore the use of historical techniques with the use of copper, a material common in 16th and 17th century European painting.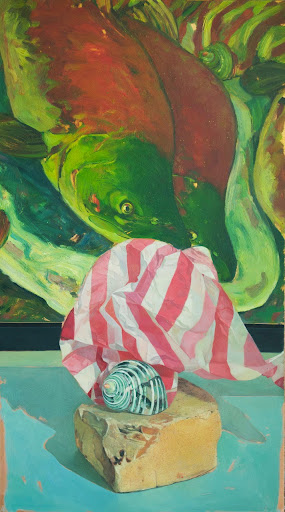 "The Comfort Food exhibition at LeMieux Galleries features paintings designed to focus the viewer on the beauty of the things we eat," Shamback said. "The translucent effect of light passing through the filling in a jelly donut or oily, vinegar tinged chicken wings supply the viewer with complex and familiar images. The painter, meanwhile, uses those subjects as an excuse to develop painterly solutions that hopefully transcend the imagery and delve into what is possible with paint."
Shamback is a still life and landscape painter residing in Mobile, Ala. His work has been included in more than 150 national and regional competitions receiving awards in competitive exhibitions throughout the U.S., including the Faber Birren Color Award in 2003 and the Gold Medal of Honor for Oil Painting from the Allied Artists of America in 2004. Realist painter Philip Pearlstein also honored Shamback with a Realism Award at the 2002 Biennial Exhibition in Newport News, Va. In addition, Shamback had 22 solo exhibitions in the last 20 years across the U.S., from New Orleans to Connecticut. He has also exhibited at the Salmagundi and National Arts Club in New York City four times each.
Shamback has received his Bachelor of Arts in Illustration from Central Connecticut State University and his Master of Fine Arts in Painting at Fontbonne University. As a professor at South, Shamback's emphases are painting, drawing, color and associated pedagogy.
To learn more about the exhibit, click here to visit the LeMieux Galleries website.
---
---