South Communication Alumna's Career Pivots During Pandemic for the Greater Good
---
Posted on May 19, 2021 by Gabrielle Ducote
Gabrielle Ducote
---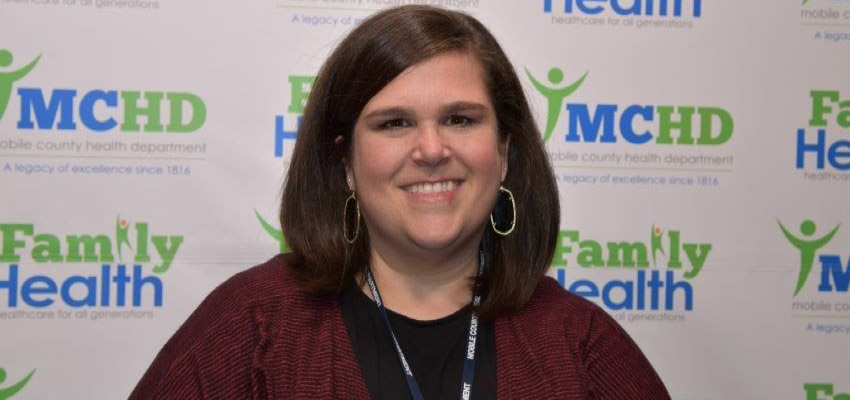 ---
Katy Stembridge graduated from South in 2009 with a bachelor's in communication and minor in sociology. Stembridge now works as a vaccine coordinator for the Mobile County Health Department.
"I definitely never thought about going into public health," Stembridge said. "When I initially started college, I originally wanted to major in nursing. It is kind of funny that I have made full circle with working in health, but I am working on the administrative side."
Stembridge was working in the human resources department at hotel in Mobile when the pandemic began.
"I was furloughed, and I remember going home and being like 'oh, this will be over soon, and in three months, I will go back to work,'" Stembridge said. "I was home until July, and received a call from the director of human resources to let me know it would be an official layoff."
Not long after, Stembridge began looking for a new job, eventually finding a listing on Facebook.
"I was on there, and I thought 'well they always have rentals and other advertisements on Marketplace, let me see what I have on the jobs tab,'" Stembridge said. "They had a listing for an administrative support specialist and I clicked on it, but it did not say anything about being for the Covid Response Team. I read the job description and thought 'I could do it' based off my previous professional experience and skills."
Stembridge originally began her work at the Mobile County Health Department on the COVID-19 Response Team as the program administrative support specialist for the Long Term Care Team and coordinated COVID testing and outreach events in Mobile County, before being promoted to the Vaccine Team in December.
"During the beginning stages of my role as vaccine coordinator, I learned how each station of our vaccine clinics operated," Stembridge said. "I would make rounds during clinics to make sure each station had everything they needed and would help out if there was a backup. I would do a different job and task at each clinic."
"While I still assist with clinical operations, I'm also one of the point of contacts for the non clinical side of the vaccine team and I coordinate vaccine clinics for faith-based organizations, geriatric facilities and other speciality groups."
Stembridge said that while she is not sure what the future holds, she hopes that she has found her home with public health and the health department.
"I am very fortunate that I have been mentored and supported by an amazing group of health professionals and leadership who have taught me the ins and outs of the public health industry and never left me to fail," Stembridge said. "This group consists of epidemiologists, nurses, coordinators and other administrative professionals who were with the Mobile County Health Department when COVID began and created our initial plan of action to take on the pandemic head first. I work alongside the best of the best in my opinion, and I am glad these are the people who I am learning from."
Stembridge is glad her future turned a corner and she finally found something she's passionate about.
"I am ready to fully plant some roots," Stembridge said. "In my previous job, I thought that I had finally found my industry, but now that I look back on it, I definitely see what I was not supposed to do."
Since December, Stembridge has coordinated vaccine efforts at multiple locations across Mobile County. Some of those efforts included serving as a non-clinical support staff member at public health clinics at the Mobile Alabama Cruise Terminal and drive-thru clinics throughout Mobile County. Stembridge also worked with faith-based organizations in Prichard, downtown Mobile, and Grand Bay and served on Strike Teams, which are teams consisting of COVID vaccinators traveling to facilities and offering onsite vaccinations to residents, faculty and staff.
"I hope that after COVID I'm able to continue my career path with the Mobile County Health Department in a support role leading community outreach and community education," Stembridge said. "I like being out in the community. I like seeing the difference that we are making in Mobile County and how we are making it a better, safer and healthier place for people to live."
While a student at South, Stembridge's focus in communication was public relations. The Department of Communication currently offers four tracks of undergraduate study for students pursuing a bachelor's in communication, including communication studies, digital cinema and television production, journalism (broadcast and multimedia), and strategic communication (advertising and public relations). Additionally, the department offers a master's degree in communication.
For more information about undergraduate and graduate programs in the USA Department of Communications, visit southalabama.edu/colleges/artsandsci/communication/.
---
---