Dr. Armin Straub Shares Passion for Research in Number Theory and Combinatorics
---
Posted on March 11, 2020 by Arts and Sciences
Arts and Sciences
---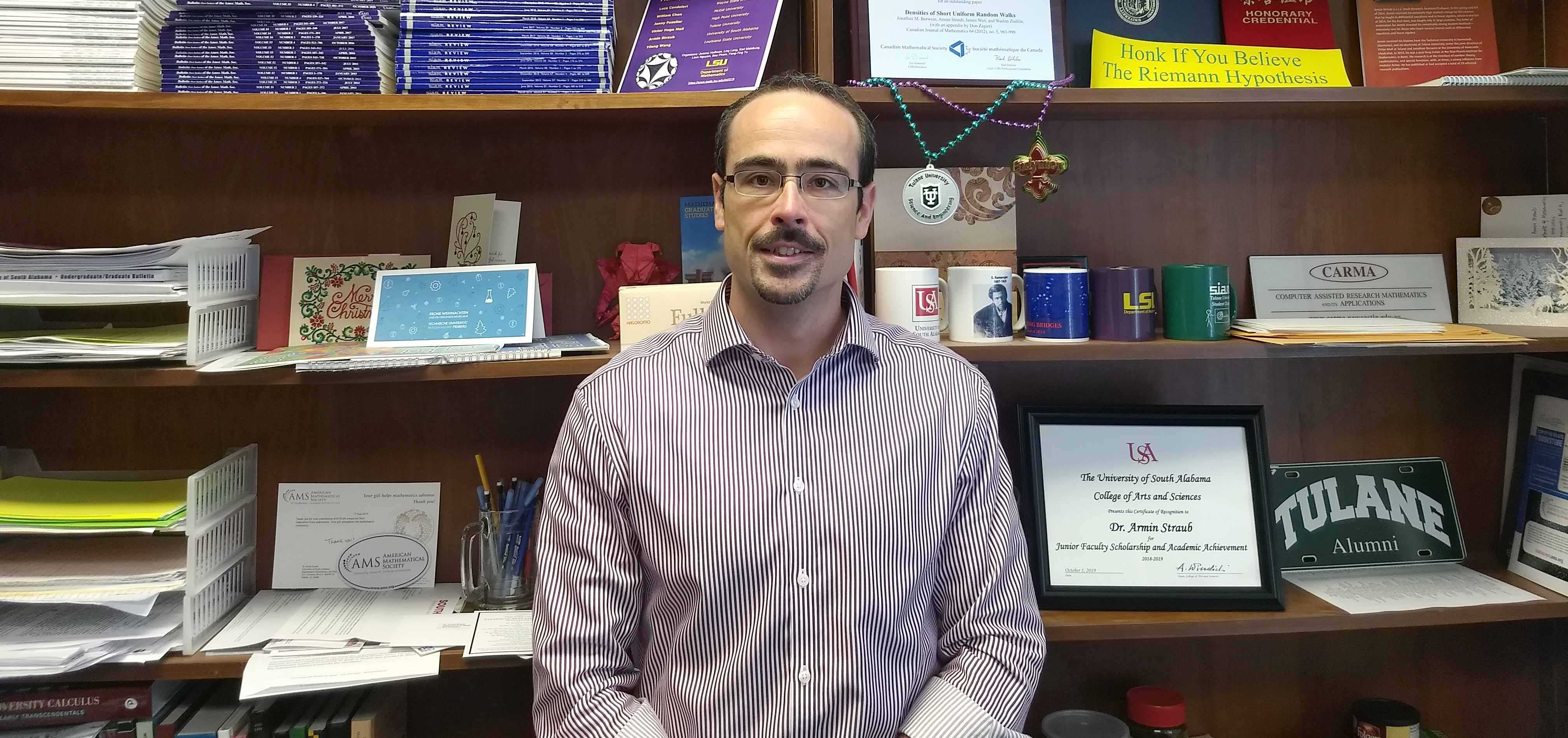 ---
Dr. Armin Straub, an assistant professor in the department of mathematics and statistics at the University of South Alabama, received the Junior Faculty Research Award at the College of Arts and Sciences 2019 Dean's Lecture for his research in number theory and combinatorics.
"While combinatorics is concerned with developing tools for counting interesting structures, a goal of number theory is to understand the nature of numbers, such as fundamental constants like pi." Straub said. "Every calculus student learns about the numbers e and pi, as well as their importance, but we rarely admit how embarrassingly incomplete our knowledge is of even these most basic quantities."
In 2006, Straub moved from Germany to New Orleans to start working on his master's in mathematics at Tulane University. He only expected to be in the U.S. for one year. Straub enjoyed research with his mentor Dr. Victor H. Moll at Tulane so much that he decided to rethink his career. After earning his Ph.D. from Tulane in 2012, Straub accepted a three-year postdoctoral position at the University of Illinois at Urbana-Champaign. He also held a one-year research position at the Max-Planck Institute for Mathematics in Bonn, Germany.
A career in mathematics was not Straub's focus when he first entered college in Germany at the Technical University (TU) of Darmstadt. He double majored in mathematics and computer science and expected that his career would be in the latter.
Straub had a strong attraction to the power of abstract ideas in mathematics. This attraction was particularly spurred by one of his professors, Dr. Karl H. Hofmann, who Straub had for a topology class while he was a sophomore at TU Darmstadt. Hofmann was instrumental in directing Straub to Tulane. Hofmann was a professor at both Darmstadt and Tulane, and he had started an exchange program between the two schools.
"Dr. Hofmann's topology class was my first truly abstract mathematics class," Straub said. "Dr. Hofmann really made the elegance and clarity of the mathematics stand out."
"I am very much attracted to the inevitability and beauty of mathematics. There is very little random or man-made, and it is fun to speculate that, to some degree, any intelligent life form would eventually think about the same mathematical structures."
In 2015, Straub accepted a position at the University of South Alabama and has taught a variety of mathematics courses since then. Straub's favorite class to teach is "Cryptography," which introduces students to a fascinating modern application of number theory.
"This field of mathematics was long regarded to not have any 'real world' applications," Straub said. "Mathematician G. H. Hardy was famously proud that his field, number theory, had no application, and therefore, could not possibly be used for military purposes."
One of Straub's goals beyond tenure and promotion is to develop a class in experimental mathematics.
"This class would introduce students to a variety of mathematical topics, and students would explore using computational experiments that they design and implement," Straub said. "Along the way, I would teach students the basics of coding with a mathematical perspective."
Straub shared a secret to his research success and productivity.
"In order to make progress on problems I had been otherwise stuck on, I like to get away from the office," Straub said. "It might sound silly, but I have had much success working outdoors, in particular at the beach."
When Straub is not teaching and focusing on research, he enjoys being in the sun, working out and kayaking. He spends many weekends in New Orleans with his girlfriend, who is a primary care physician and introduced Straub to classical music and gardening.
Straub does not mind the Mobile summer heat and said, "It continues to boggle my mind that so few people concur with my assessment that the location of the University of South Alabama is pretty ideal: warm and sunny but not dry, plenty of beautiful green nature, close to the coast as well as stunning creeks, bayous and rivers."
---
---