Theatre USA to Present 'She Kills Monsters'
---
Posted on February 16, 2018 by Alice Jackson
Alice Jackson
---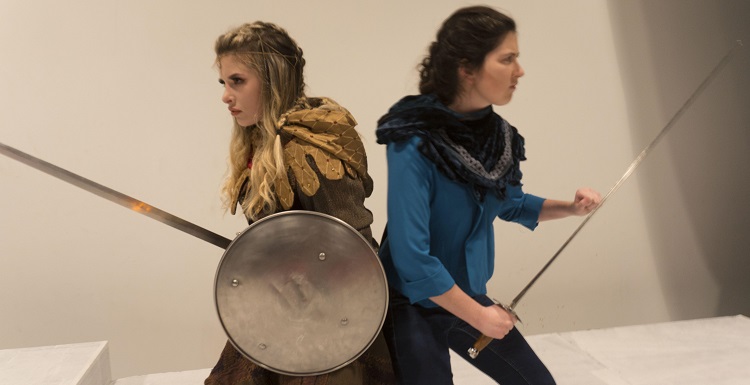 Tilly, left, played by Emily Ericson, and Agnes, played by Abigail St. John, perform in the Theatre USA production of 'She Kills Monsters.'
---
Theatre USA will present the opening performance of the contemporary comedy ""She Kills Monsters," the third production of its 2017-2018 season, at 7:30 p.m. Feb. 16 in the Laidlaw Performing Arts Center on the University of South Alabama Campus.
Written by award-winning playwright Qui Nguyen, the story depicts the adventures of Agnes Evans in the world of fantasy role-playing games. As she attempts to connect with her lost sister, Tilly, she encounters homicidal fairies, nasty demons and a five-headed dragon in the production, which is suitable for teens.
The production repeats at 7:30 p.m. on Saturday, Feb. 17, and at 2 p.m. on Sunday, Feb. 18. Performances will continue at 7:30 p.m., Feb. 22-24.
Performers include students Abigail St. John, Emily Ericson, Josh Alter, Matthew Cochrane, Zachary Gibson, Emily Byars, Lily Webb, Malcolm Hayden, Dakota Holcombe, Hadley Diforni, Caitlyn Bodiford, Martin Cicco and Katlyn Eller.
Matthew Davis of New York is the guest director. Lyle Miller, professor of technical theatre and stage design, oversees scenic and lighting designs, and Rebecca Britton, associate professor costume design and technology, designed the costumes.
For ticket information, call the USA Box Office at (251) 460-6305, or visit it in the lobby of the Laidlaw, 9 a.m.-4:30 p.m., Monday through Friday. The Box Office will open for ticket sales one hour before each performance.
---
---