South Biologist Researches Unique Shell Shapes of Famed Galapagos Tortoises
---
Posted on December 4, 2017 by Alice Jackson
Alice Jackson
---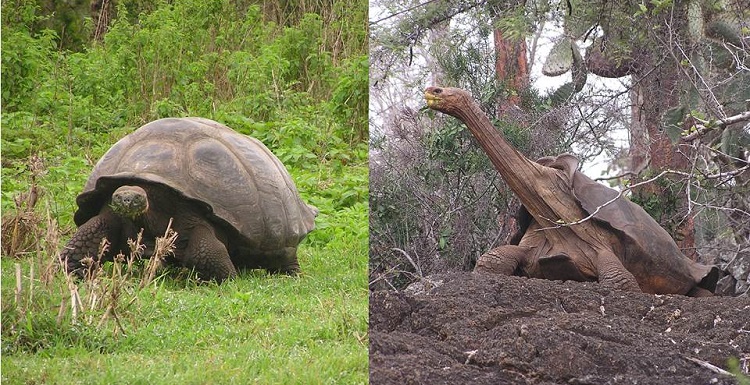 Galapagos Islands tortoises evolved with predominately two different type shells, "domed," left, and "saddleback." Dr. Ylenia Chiari's research suggests the energy exerted by the tortoises as they righted themselves may have led to the differences. Photos courtesy of Dr. Ylenia Chiari.
---
Dr. Ylenia Chiari, assistant professor of biological sciences at the University of South Alabama, has received international media attention with publication of her innovative research into how the different shells of the famed Galapagos Islands tortoises may have evolved.
The New York Times published a story last week about Chiari's lengthy research into why Galapagos Islands tortoises evolved with predominately two different type shells, despite the species being related to each other. Also, on Thursday, the academic publication "Scientific Reports" published Chiari's research paper.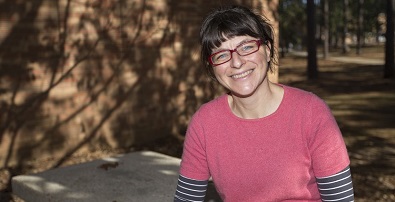 Dr. Ylenia Chiari
---
Chiari's ground-breaking research is capturing attention because it is the first such study on why the two main shell types may have evolved. The tortoises on the island chain near Ecuador have intrigued scientists and the public since Charles Darwin studied their ancestors as he developed his theory of natural selection in 1835. Today, the huge and endangered tortoises, often weighing as much as 90 pounds, remain frequent subjects of scientific research and environmental concerns.
Her research has introduced the idea that energy exerted by the tortoises may have led to additional answers about their evolution.
"You have these variations in the shells of Galapagos tortoises, and people have wondered for a long time why they are so different. The shells are grossly different. It's really fascinating," said Chiari.
The shape of their shells has led to them being called "domed tortoises," or "saddleback tortoises." The dome shells are more rounded while the saddleback shells are flatter with raised neck openings. The most popular theories surmised the differences occurred to make it easier for the tortoises to upright themselves after flipping, a frequent hazard, or because they occupied different elevation habitats, or each type adapted for distinct feeding niches.
Chiari, who became interested in the shell shapes while on Galapagos in 2006 for a different research project, thought it would be interesting to simply begin scientific groundwork to explain the differences.
"There have been all these theories, but no one had ever tested them," Chiari said. "Now, this study is the first body of evidence to produce some data showing that maybe it contributes to the evolution."
She and colleagues created 3-D animated images of 89 of the tortoises. Then, she needed to determine the center of mass for each type tortoise to compare self-righting potential. That led to measurements being made of Galapagos tortoises at the Rotterdam Zoo.
Each of two turtles at the zoo was placed on a platform with three load sensor and was photographed to be reconstructed in 3-D. Once the center of mass was estimated for the two tortoises, using the 3-D reconstructions, its position was calculated for each of the 89 reconstructed shells. That permitted the scientists to calculate how much energy a tortoise used to self-right once it is on its back.
Before studying her data, Chiari suspected, like many others, that the shape of the saddleback shells may have evolved to make it easier for them to right themselves. To her surprise, she discovered that energy exerted by the tortoises as they righted themselves may have led to the differences.
"Saddleback tortoises require a higher energy input than domed species to successfully self-right. Saddleback tortoises self-right by pushing their head on the ground and then using their feet to flip over," Chiari said. "Domed tortoises rely on moving their feet and head to gain sufficient momentum to self-right. These traits could have evolved to facilitate self-righting."
Chiari's research found that not only the higher opening of the saddleback shells provides higher range of motion for the neck, but the neck of saddleback tortoises is also longer than in domed.
The second author of Chiari's research paper produced a video that illustrates the difference between the two shell types and summarizes their findings.
Chiari said she isn't completely surprised by the publicity her study has attracted, but she hopes it will lead to more research.
"People like to read and watch things about the Galapagos tortoises," Chiari said. "Plus, the methodology we used was so cool. And, then when you find out that the results aren't exactly what you'd been expecting, that's really interesting."
---
---