Harmless to Fish, Poisonous to Humans: USA Marine Scientist to Lead International Research Study
---
Posted on October 20, 2017 by Angela Levins
Angela Levins
---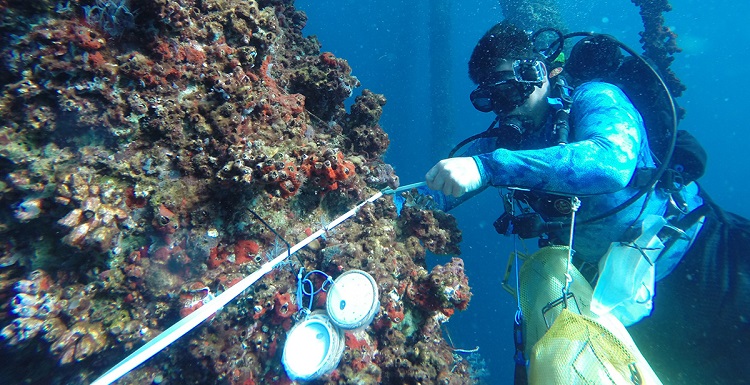 University of South Alabama doctoral student Grant Lockridge uses passive samplers in monitoring studies being done along the northern Gulf of Mexico. Photo courtesy of the Dauphin Island Sea Lab.
---
A University of South Alabama marine scientist will lead a $5 million, multi-year investigation funded by the National Science Foundation into how certain toxins that accumulate in coral reef fish may threaten food ecosystems.
Dr. Alison Robertson, research assistant professor of marine sciences, will collaborate as lead investigator with an international team of educators and scientists from across the United States, Australia, Canada, Hong Kong, Cuba, Norway and the United Kingdom on the NSF's Partnerships for International Research and Education study titled "Advancing Global Strategies and Understanding on the Origin of Ciguatera Fish Poisoning in Tropical Oceans."
"We have assembled an incredible team of scientists from around the United States and the globe to work together on this project, so we are all excited about the opportunity and synergistic research that we will pursue," said Robertson, who is internationally recognized in the study of fish toxins and is a senior marine scientist at the Dauphin Island Sea Lab. "Each investigator involved brings a unique expertise and perspective such that we can approach this important public health issue in a manner that has never been possible before."
Ciguatera toxin is often found concentrated in large reef fish, such as barracuda, grouper, red snapper, eel, amberjack, sea bass and Spanish mackerel, which live in coral reef waters. The fish accumulate the toxin when they eat smaller reef fish that consume toxin-producing algae, which also live in coral reef waters. The toxin, which is harmless to fish, is poisonous for humans.
Although they rarely cause death, about 50,000 poisonings are reported worldwide annually. There are currently no effective treatments or diagnostic tests, but symptoms include gastrointestinal distress, neurological dysfunction and cardiovascular abnormalities for the rapid-onset illness that often lasts six to eight weeks.
Although most cases of ciguatera fish poisoning are reported among low socioeconomic groups in remote island communities that rely on local seafood – specifically the Caribbean Sea, Hawaii and coastal Central America – there is concern that increased international shipping of seafood will lead to more frequent cases worldwide.
Under Robertson's direction, the grant will also allow her research team to build an education experience with field and laboratory activities for students from middle school to undergraduate and graduate programs.
"We hope to foster unique and lasting education experiences for students that will develop the next generation of scientists in the marine environmental sciences," Robertson said.
---
---