Working Among the Wild Things
---
Posted on October 23, 2017 by Marketing and Communications
Marketing and Communications
---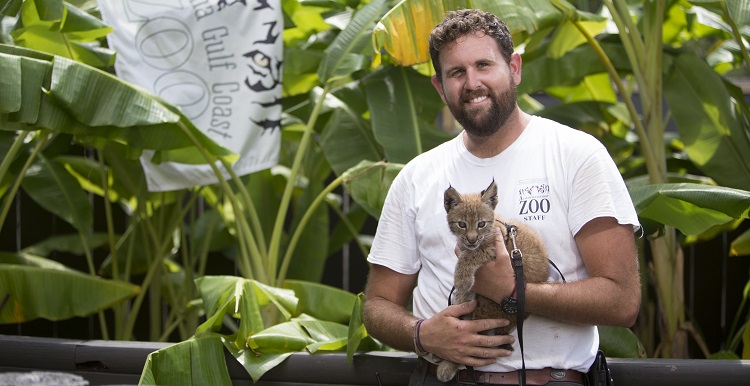 Austin Everett, a South biology graduate, said he uses his education every day in his job at the Alabama Gulf Coast Zoo. "With the deeper parts of the job, like knowing your animal's background and physiology, it helps out a huge amount, especially in talking to guests," he said.
---
Six years ago, while studying at the University of South Alabama, Austin Everett found his dream job. When he shows up each morning, he is greeted with unbridled enthusiasm. "Every day I wake up and I'm excited to go to work," he said. "It's awesome."
Two of his colleagues, he confesses, have "stolen my heart" — Salt, a Siberian tiger, and Cindybara, a capybara. They reside at the Alabama Gulf Coast Zoo, in Gulf Shores, where Everett is a zookeeper.
Capybaras, the world's largest rodents, come from South America. Sometimes called giant hamsters, they're the size of a medium dog (but stockier) and love to swim. Cindybara weighs 120 pounds. "She's got a wonderful personality," Everett said. "She's always happy."
As for Salt, "She just gets excited to see me every day. We have a really good relationship. She's 16 years old, so she's an old girl, but she doesn't act like it. She's still young at heart.
Everett, 26 years old, is head keeper for hoof stock (hoofed animals). He's also a carnivore keeper. He has loved animals as far back as he can remember. Growing up in Grove Hill, Ala., 75 miles north of Mobile, he had dogs, cats and horses. "My dad is in the forestry business," he said, "so he always would find a turtle or a snake or something, and he'd show them to me."
As a child, Everett told everybody he wanted to be a zookeeper. Adults told him he should instead be a veterinarian, to make more money.
"So I was intending on being a vet," he said. "I was going to go to South and get my biology degree because it's nice and close to home and to the beach." Then, on a cruise to Mexico, he saw an episode of "The Little Zoo That Could," an Animal Planet TV series. It documented the Alabama Gulf Coast Zoo's evacuation of its animals during several hurricanes. He applied for a job. He started at the zoo in 2012, working summers until he graduated in 2014, then full time.
Everett uses what he learned at South every day. "With the deeper parts of the job, like knowing your animal's background and physiology, it helps out a huge amount, especially in talking to guests," he said.
He remembers biology Professor John McCreadie with particular fondness. "He was a great guy," Everett said. "He was good to talk to, and he really cared. I really learned a lot."
The Gulf Coast Zoo is a small, intimate facility that emphasizes personal contact with animals. For an extra $5 to $10, visitors can have "Encounters" with lemurs, kangaroos, sloths, anteaters and various reptiles, including turtles, lizards and alligators. Everett said it's a treat for the animals as well as the humans. "They love the interaction," he said, "especially the lemurs."
The Encounters have a deeper purpose: inspiring wildlife conservation. When children (or adults) feel the muscles rippling beneath a snake's smooth skin or giggle as inquisitive lemurs climb up to perch on their heads, "that is something they'll live with forever," Everett said. "And then they can pass down their love for animals and their love for conserving these animals to others. Instead of just seeing one at a distance and not really caring about it, you touch one. You feel it. You have a connection with it."
Everett spends a lot of time with visitors. "Most zookeepers would say they're animal people, not people people," he said. "But I really enjoy talking to people. I love educating people about what we do. I love talking to them about animals, especially my animals — the ones I take care of that I know personally."
He speaks passionately about the role of zoos in saving species from extinction and building support for habitat preservation and anti-poaching measures. Only 3,000 to 4,500 tigers still exist in the wild. Poachers kill 100 elephants a day for their tusks. On the other hand, zoos have played a major part in breeding and reintroducing to the wild such animals as the black-footed ferret, once thought to be extinct. The Gulf Coast Zoo itself has hatched and released into the wild several gopher tortoises, which have decreased sharply in numbers because of habitat loss.
Some losses are more personal. Everett said tigers typically live 10 years in the wild, 20 years in captivity. Salt is 16. Cindybara is 12, and the average lifespan of a capybara is seven to 10 years. When a beloved animal dies, "it's gut-wrenching," Everett said. "Also, though, it's part of the job. You can't let that affect your care for the other animals."
Even after their passing, Salt and Cindybara will always remain in his heart. And he can comfort himself with the knowledge that they played a part in the worldwide effort of zoos to educate and preserve habitat for wild animals, help them thrive in their natural environments and even bring them back from the brink of oblivion.
"We devote our whole lives to these animals," he said. "Everything we do is in regard to our job." He wouldn't have it any other way.
---
---