Other Alabama Towns Photograph Sources at The McCall Library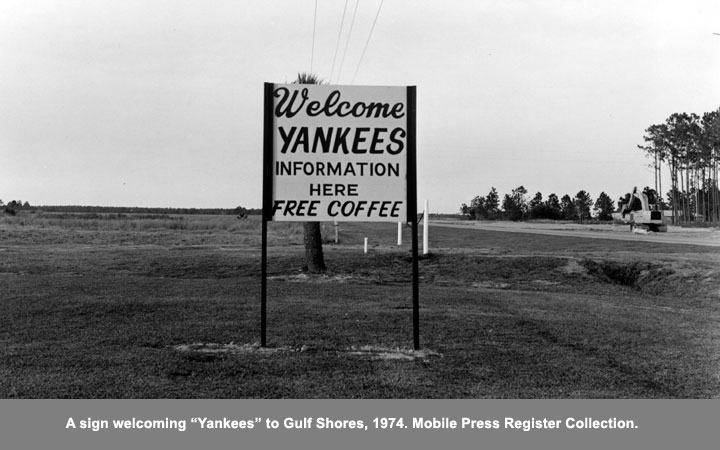 A sign welcoming "Yankees" to Gulf Shores, 1974. Mobile Press Register Collection
---
The McCall Library's photographic collections are listed alphabetically in this guide. The name of the collection may be that of a person, business, organization, institution, location, subject, or donor.
For more information about these collections please email us at mccalllib@southalabama.edu.
---
Important Disclaimer: Warning concerning copyright restrictions. The copyright law of the United States (Title 17, United States Code) governs the making of photocopies or other reproductions of copyrighted material. Under certain conditions specified in the law, archives are authorized to furnish a photocopy or other reproduction. One of these specified conditions is that the photocopy or reproduction is not to be "used for any purpose other than private study, scholarship or research." If a user makes a request for, or later uses, a photocopy or reproduction for purposes in excess of "fair use," that user may be liable for copyright infringement. It is up to the user to comply with all copyright laws of the United States.
---
AERO SERVICE CORPORATION (91-02-230)
This collection contains 58 nitrate negatives (8 x 10 and 9 x 9). Thirty-two of the negatives are of a blast furnace in Fairfield, Alabama, and Barret's Fairfield Plant in Birmingham, Alabama. They were taken between August 24, and October 5, 1940. The remaining 26 negatives are not dated but show an area near Talladega, Alabama. None of the negatives have been printed.
ASHDOWN, SPAN (99-07-345)
This collection is made up of 30 black and white photographs (8 x 10), 2 copy negatives (4 x 5), and 13 postcards of bay boats, hurricane damage, and Selma, Alabama, defenses during the Civil War.
CLARK, GAYLORD LEE (10-07-526)
Contains 27 original black and white prints of various sizes. Most of the images show scenes from the Dallas County plantation of Judge John Starke Hunter, including several of former Hunter Plantation slaves. There are also scenes taken in Montgomery, Alabama, including the inauguration of Jefferson Davis, as well as images of flooding in Mobile, Alabama, after the 1906 hurricane. John Starke Hunter was a businessman born in Pleasant Hill, Alabama, near Troy in 1848. Hunter was the son of Ransom Davis Hunter and Martha Famariah Hunter, and the grandson of Henry Larence (or Lawrence) Hunter and Mary Howard Hunter. There are no negatives but all of the images have been digitized.
COCHRANE, MRS. JOHN T., JR. (80-07-42)
This photo album contains scenes of Magnolia Springs, Alabama, the Mobile waterfront, and the Eastern Shore of Mobile Bay. The 133 photographs were made by Mrs. Cochrane's grandfather, William A. Gates, between 1890 and 1904. Some of the images are cyanotypes. Some are in excellent condition; others have become extremely faded. There are no negatives.
EDGAR, GEORGE (92-10-257)
Consists of 92 slides of postcards, the majority of which are of the Mobile area but there are also scenes from Brewton, Clanton, Eutaw, Florence, Linden, and Phenix City. Most of the postcards date to the early 20th century.
EICHOLD, SAMUEL
Contains 131 color slides and 99 black and white copy negatives (35mm) of Dr. Eichold's postcard collection. The postcards date from the early 1900s to the 1930s and show primarily Mobile and Fairhope scenes. An inventory of the postcards and contact prints are available.
FAIRHOPE PUBLIC LIBRARY (85-01-82)
Consists of 3 glass plate negatives of a view of the Fairhope Pier around 1900, a lumber mill belonging to Frank Brown (circa 1897), and a man working construction.
FORT, RAY (89-03-186)
Contains 88 black and white copy negatives of photographs from albums of early Grand Bay, Alabama, taken from around 1900 to 1930. The best images have been printed and are identified. The collection may not be used for any commercial purpose, but is otherwise available to researchers.
FRUITDALE NEGATIVE COLLECTION (11-01-550)
Consists of 12 glass plate negatives of the Fruitdale, Alabama, area, an unincorporated community in Washington County, Alabama. The photos include the Fruitdale railroad station, cattle being driven by men on horseback, men standing on a railroad track above flood waters, a milk delivery wagon, and men in a canoe on the Dog River. All of the images have been digitized.
GASTON, GARY R. (99-12-355)
Contains 70 color slides of landmarks, people, and activities at Dauphin Island, Bayou La Batre, Grand Bay, Fairhope, and other locations in Baldwin and Mobile counties, taken by Dr. Gaston in the 1970s, both before and after Hurricane Frederic. Some of the structures photographed were destroyed by that storm. These slides may not be used commercially but an inventory is available.
HAMILTON, LARRY AND VIRGINIA V. (86-12-138)
This collection consists of 739 color slides (35mm) of over 300 historic sites in Alabama taken by Larry Hamilton (a few commercial slides are included). The slides are well identified and an inventory is available. There are restrictions on the commercial use of material in this collection.
HIGHTOWER, D. L. (97-03-323)
This collection consists of approximately 5,000 black and white negatives (mostly 120mm) made by Draffus Lamar Hightower and depicting various scenes in Barbour County, Alabama, from 1930 to 1965. Most of the images feature the everyday people and ordinary events of the county but some do show George Wallace campaigning for governor. The photographer's work is examined in Michael Thomason's book To Remember a Vanishing World (1997).
HUMPHREY, DOROTHY L. (94-02-283)
Made up of 35 nitrate negatives (3 1/2 x 6 and 3 x 5) showing views of the Seacliffe, Coden, and Leinkauf areas. The negatives were made between 1910 and 1924. All of them have been printed. Also contains 1 photo (8 x10), taken about 1910, of people unloading mahogany from a schooner.
KNOWLES, COLIN S. (07-08-464)
Contains 219 color postcards, 99 of which are of the Mobile area. Scenes include USS Alabama (BB-60), the Azalea Trail, and the Bragg-Mitchell home. There are also views of Dauphin Island, Gulf Shores, and Bellingrath Gardens, as well as shots of the old police building on Government Street and the docks. The remaining postcards are of other Alabama cities and counties, including the Peanut Festival in Dothan, and views of Birmingham, Montgomery, and Tuscaloosa. The postcards range from the 1930s (a couple) to the 1960s and 1970s (more frequently). The cards were collected by the donor's great-grandmother and organized by his grandmother and parents. They were donated to The Doy Leale McCall Rare Book and Manuscript Library in 2007.
MASON, I. P. (89-01-183)
The 67 glass plate negatives in this collection were taken c. 1900. Subjects include picnic scenes at Shelby Springs, Alabama, a Sigma Alpha Epsilon fraternity group photo, and portraits of unidentified groups and individuals. Twenty of the best images have been printed.
MCGILL STUDIO (89-02-192)
Max P. McGill Sr. (1892-1956), was a commercial photographer in Mobile and Fairhope, Alabama, ca. 1926-1942. Unfortunately, only a small portion of his work has survived due to a fire. There are 123 safety and nitrate negatives (5 x 7 and 8 x 10) and 53 glass plate negatives (5 x 7) in his collection. The nitrate and safety negatives include aerial views and street scenes in Mobile and Fairhope. The glass plates are primarily portraits of individuals, including Mr. and Mrs. E. B. Gaston and McGill family members. A number of the images have been printed.
PIKE COUNTY (85-01-88)
Contains 23 glass plate negatives (5 x 7) of rural blacks near Troy, Alabama, made about 1915. Some individuals have been identified. All the negatives have been printed.
RICH, DORIS (85-07-115)
Doris Rich wrote regular feature stories on local history for many years. Her collection contains 286 black and white photographs illustrating south Baldwin County's early development. The Foley and Magnolia Springs areas are particularly well documented. Some of the photographs have appeared in newspapers articles and books on local history written by Mrs. Rich. These published materials are also included in the collection.
SCHNEIDER, HENRY A. / STEBBINS, MRS. WARREN (81-01-47)
These 24 glass plate negatives (4 x 5) depict rural and small town life in north Mobile County, near Citronelle, c. 1910. The collection has been printed.
STAFFORD, ADELE H. (99-08-352)
Made up of 24 various-sized photographs of Apache Indians at the U.S. Arsenal at Mount Vernon, Alabama, and at Fort Sill in Oklahoma. The images appear to have been taken around 1900. Included are shots of Geronimo. Some copy negatives (4 x 5) have been made.
SUNDBERG, LOIS SLOSSON (88-10-168)
Made up of copy negatives (4 x 5) of 44 postcards and 4 prints. The postcards show scenes on the Eastern Shore, particularly Fairhope. A few of the postcards show bay boats, and a number were made by Frank Stewart. The prints show the laying of trolley tracks on Dauphin Street and a group in Mardi Gras costumes.
THOMPSON, PAUL (97-03-332)
Consists of 773 black and white negatives (120mm and 35mm) and 185 photographs (8 x 10) most likely taken in the 1980s and 1990s of buildings in Mobile, Demopolis, Eufaula, New Orleans, Vicksburg, and other cities. There are contact sheets for all of the negatives. Most of them were made by Thompson and used to help illustrate a book by Elizabeth B. Gould, From Builders to Architects: The Hobart-Hutchisson Six (1997).
WALTERS, DAVID (96-02-313)
Consists of 136 black and white nitrate negatives (3 1/2 x 6) of street scenes and people of Andalusia, Alabama, around 1931. They are believed to have been taken by an itinerant photographer for a special edition of the Andalusia Star. The negatives have been printed but no identification is available.