Racing Start: Broadcast Graduate Begins Career at Fox Sports 1
---
Posted on July 13, 2021 by Thomas Becnel
Thomas Becnel
---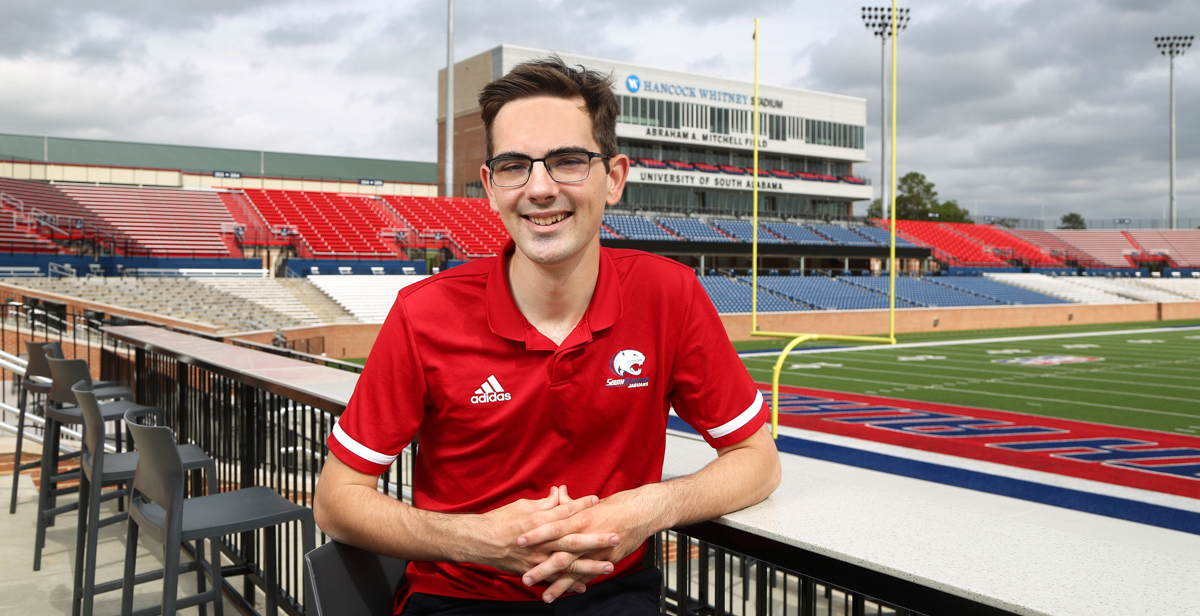 Kyle Samuel gained a great deal of sports broadcasting experience, working on Jag TV and ESPN+ productions, while a student at the University of South Alabama.
---
#MyFirstJob is a series focused on University of South Alabama graduates who are beginning their careers.
Just weeks after graduating from the University of South Alabama, Kyle Samuel raced to his first job in sports broadcasting.
In Charlotte, North Carolina, he works as a broadcast associate for NASCAR coverage on the FOX Sports 1 channel. For the "Race Hub" program, which airs at 5 p.m. Central Standard Time, he does graphics and video editing. That means long hours in the control room.
"Most of the time, I'm in the studio all weekend," Samuel said. "But I've been working weekends for as long as I've been doing sports."
As a new hire at Fox, the 22-year-old fills in wherever he's needed. Sometimes he gets sent out for court records. Sometimes he gets called to the track for a NASCAR race.
"One day, my job was driving Jay Leno and Christian McCaffrey around in a golf cart," he said. "It was pretty funny. Leno was the one who went out there and said, 'Drivers, start your engines,' so he was practicing all day."
Samuel gained a great deal of sports experience at South, working on Jag TV and ESPN+ productions, but now he's working on a national broadcast of a lucrative sport by a major corporation.
"The difference is that Fox has a lot of money, a big studio and a big crew, things I haven't seen before," he said. "You can tell there's a lot of talent in this office. When I go to them with an idea, they can do anything. The speed they can come up with things is just crazy."
At the same time, producers will invest time to increase production values. A weekend "winner's glitz" package will feature dozens of elements, including graphics, music, interviews and footage from 70 cameras at a race.
"It's just 20 seconds, but it might take half a day," Samuel said. "And it's going to be the best 20 seconds you see on TV."
Because he's been busy with work, he hasn't had a chance to see much of North Carolina. He has a brother who lives in Charlotte, which made his move easier.
The Fox Sports studios are north of the city off I-85 in the heart of NASCAR country. Samuel found an apartment close to work. Very close.
"I live a minute away, and I did that on purpose," he said, laughing. "It takes me two right turns to get here, and that's good for me."
Army Reserves
Samuel is from Enterprise, Alabama, near Dothan. He started out studying criminal justice at South. After taking a semester off to join the Army Reserves, he returned to Mobile and became a broadcast journalism student.
Samuel served on the First Year Council and joined the Tau Kappa Epsilon fraternity, but he began spending more and more of his time in sports TV production.
The fourth-floor studio at Hancock Whitney Stadium became his home away from home.
"I probably spent more time in that stadium than anyone else," he said. "When we had the first game at Hancock Whitney, working with ESPN, I was there until 3 in the morning the night before, and then got back at 6 in the morning, and the game wasn't until 12 hours later.
"I sacrificed a social life and a lot of things to work more, but that's the reason I've been successful. That experience was the most valuable thing I ever could have done. Without that, I would not be at this job at all."
He and his family are big football fans. He played soccer in high school. He's still earning some of the finer points of NASCAR racing and strategy.
These days, all of the Samuels watch "Race Hub" to see how he's doing.
The Fox Sports studio in Charlotte is nothing but an empty room surrounded by a big green screen. The hosts just stand there. All of the action, information and background are added in production.
The control room, though, features an impressive array of video monitors, computers and sound boards. Sometimes he's editing video. Other times he's doing graphics.
"We have a rotation," Samuel said. "It's to keep it fresh, so you're not doing the same thing every day."
When he first studied broadcasting, he thought about appearing on camera. Now he's comfortable behind the scenes. He's happy with the first month of his professional career.
"I feel like I got pretty lucky going out to Charlotte," Samuel said. "My boss says one day I'll probably have to go out to Los Angeles or somewhere to move up. I don't know where I'll end up. I just want to be in the control room. If I'm watching sports for a living, that's good for me."
---
---