Graduate Admissions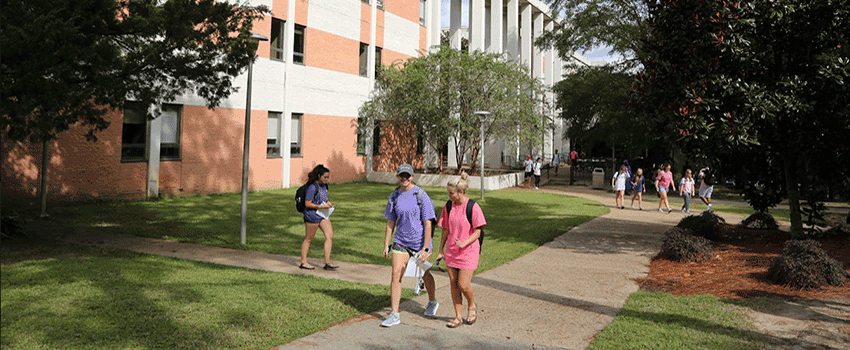 The Master of Arts in English graduate program welcomes applications for its concentrations in the areas of creative writing and literature.
Graduate Admissions Deadlines
Fall Semester: July 15
Spring Semester: December 1
Summer Semester: May 1
The admissions criteria below supplement those of the Graduate School, which can be found in the Bulletin. Please note, Current and former University of South Alabama students applying to our graduate program can request that their transcripts be included with their electronic applications by completing the USA Registrar's Transcript Request Form. In the Name/Organization field, write "USA Graduate School."
▼ Admission Requirements
For the Literature Concentration, applicants normally have an undergraduate major or minor in English or at least 21 semester hours of coursework in English beyond the freshman level, at least 12 of these hours in upper-division literature courses. For the Creative Writing Concentration, applicants normally have 15 semester hours of coursework in English beyond the freshman level. Students lacking prior coursework can complete additional upper-division courses in English to strengthen their applications.





Applicants to graduate programs in Arts and Sciences typically have a minimum GPA of at least a 3.0 on all undergraduate work. In exceptional cases, applicants may be considered with at least a 2.5 GPA on all undergraduate work, or at least a 2.75 GPA on the last 60 hours of undergraduate work. The English Department normally requires a minimum GPA of 3.0 in junior- and senior-level courses presented in fulfillment of requirement 1.





All applicants should submit a personal statement of no more than 500 words, a writing sample of 5-15 pages in the area of concentration (creative writing or literature) and three letters of recommendation.* If possible, ask for letters from former professors or instructors.





All applicants for whom English is a second language should submit a TOEFL IBT score of at least 79 or IELTS score of at least 6.5. (Note that ESL applicants must apply through the

International Admissions Office

at USA.)
*Students must specify their concentration at the time of application and may not thereafter change concentrations without the specific approval of the English Department's Graduate Committee.