Undergraduate Minors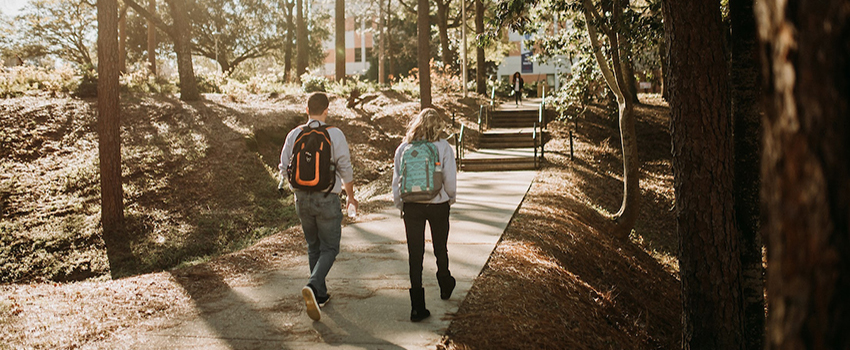 Let your writing skills enhance your career options! Minors in English offer South students sustained experience in reading, writing, and communication skills that build your portfolio and opportunities moving forward. Choose from minors in English, Creative Writing, and Professional Writing.
---
The English Minor
What comes after college? Employers and graduate schools love applicants who minor in English, because they know such students write well and think critically. The flexible English minor is a great way to feed your love for literature and help you find your future career. It doesn't matter if you're heading to grad school or the business world, this minor will give you a leg up on the competition.
▼ Requirements for the English Minor
English

In the minor in English, students can opt for an array of literature and English classes across periods and genres to develop their critical reading skills, focus on interpretation and analysis, and become stronger writers and researchers. An English minor allows students to demonstrate critical skills in writing and communication that enhance the work they are doing in other disciplines.
Requirements
To minor in English, a student must earn a minimum of 21 semester hours in English, exclusive of freshman composition (EH 101, EH 102, and EH 105). The minor requires at least four courses at the 300 level or above, two of which must be literature courses.
---
Creative Writing Minor
Do you write stories or poems? Do you have ambitions to write a screenplay or a memoir one day? For those who want a more sustained pursuit of craft, substantial feedback, and a community of support, the creative writing minor is for you. Learn from faculty who are actively publishing and dedicated to providing a space for creative expression. A creative writing minor also signals to potential employers that you possess a unique skill set including the ability to creatively communicate ideas.
▼ Requirements for the Creative Writing Minor
Creative Writing
The minor in creative writing invites students from any major to explore literature and creative writing. While there are many ways to pursue creative writing, this minor provides those who want more sustained work in creative writing, a structure for that work, and a community of support. In addition, the creative writing minor fosters skills that employers have come to expect of students who study literature, such as the ability to comprehend complex material, analyze subtext, and communicate their ideas clearly.
Requirements

To achieve a minor in creative writing, a student will need a minimum of 21 semester hours in English, exclusive of freshman composition (EH 101, EH 102, and EH 105). The other details and requirements are:
(A) 9 credits in the following required CW courses:
EH 200 (Intro to Creative Writing)
EH 391 (Fiction Writing: Crafting the Short Story)
EH 395 (Poetry Writing: Spoken Word and Other Forms)
(B) 3 credits: One additional creative writing course.
(C) 9 credits: Three additional EH courses, one of which must be a literature course higher than EH 300.
---
---
Professional Writing Minor
Science major? Business student? Planning to go into any career in which writing effectively is part of the job? The professional writing minor provides the written communication skills you need. Employers want new industry experts with professional writing and editing experience. If writing effectively is key to your career path, the professional writing minor has your back!
▼ Requirements for the Professional Writing Minor
Professional Writing
The minor in professional writing provides students with the conceptual foundations and hands-on practice necessary for communicating and writing proficiently in technical and professional contexts. The minor is intended to prepare students for producing the forms of writing they will encounter in the workplace (feasibility studies, technical reports, business letters, and grants, for example), and to provide a broad understanding of the rhetorical dimensions of written communication, especially nonacademic texts.
General Requirements
The minor requires 21 hours, which is typical of minors at USA. Students must take 9 hours in a core consisting of the following: a writing course in either technical or professional writing (EH 372 or EH 373); a more theoretical course examining ancient and modern approaches to rhetoric as they apply to written communication (EH 402); and a specific topic in writing or rhetoric (EH 481).
Students will also select one of six courses in English that deal with non-fiction writing.
To complete the 21 hours, students must take three additional English courses.
Course Requirements
I. Core courses (9 credits):
EH 372: Technical Writing (W) or EH 373: Writing in the Professions (W)
EH 402: Rhetoric: Ancient & Modern (W)
EH 481: Studies in Composition/Rhetoric (W)
II. One of the following (3 credits):
EH 371: Approaches to English Grammar (W)
EH 372: Technical Writing (W)*
EH 373: Writing in the Professions (W)*
EH 401: Theory & Practice in Composition (W)
EH 403: Art of the Essay
EH 496: Professional Studies Internship
III. Three additional English courses (9 credits):
Including but not limited to courses in the second section above.
*If not taken already taken to satisfy the core requirement.
---