Freshman Composition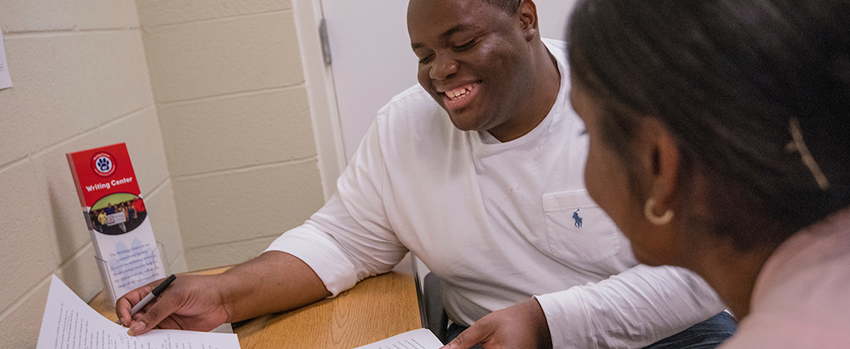 Comp I (EH 101) and Comp II (EH 102) are committed to preparing students to write effectively in diverse situations. Because academic writing should reflect students' best thinking and should promote learning, EH 101 and 102 help students by enhancing thinking skills as well as the ability to put ideas into words.
---
English Composition at South
The English Composition Program at South consists of the two Freshman English classes, EH 101 and EH 102, which are offered every semester and are required of all USA students.
▼ More on the Composition Program
Overview
EH 101 and EH 102 are not only required of all USA students but also prerequisites for all subsequent English courses. The courses are taught by full-time professors as well as staff and graduate assistants. Some students with certain ACT scores may be exempt from taking EH 101. To find more about exemption and scores as well as to see the CLEP requirements for being exempt from EH 102 see the Bulletin. For further information about the English Composition Program, please contact program director, Dr. Patrick Shaw.
Composition Goals
EH 101 and 102 should prepare students, first and foremost, for the academic writing they will do at USA and, second, for the writing they will do in their careers and personal lives.
To achieve Goal 1, EH 101 and 102 should train students in rhetoric.
EH 101 and 102 should focus students' attention on the writing process as well as the written product.
---
Composition Contest
Each academic year, the Freshman Composition Program within the USA English Department hosts a best paper contest for all Comp I and Comp II students. Winners receive a cash prize and a certificate of honor. Our Contest Release Form for Students includes instructions on how to enter!
---
USA Writing Center
The USA Writing Center is part of the USA Center for Academic Excellence and offers free one-on-one consulting to all USA students wishing to improve their writing. Schedule an appointment with a consultant via the CAE web portal.
---