Anthropology Major Named IDEAS Scholar
---
Posted on February 26, 2018 by Alice Jackson
Alice Jackson
---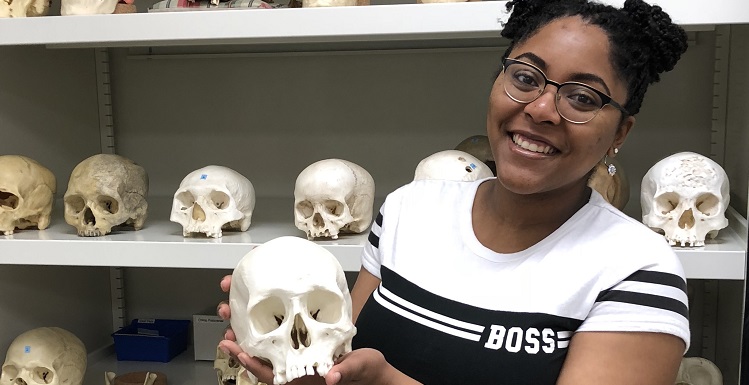 Antonio Carter, an anthropology major, has been selected as an IDEAS scholar by the American Association of Physical Anthropologists.
---
University of South Alabama anthropology major Antonia Carter has been named a 2018 IDEAS (Increasing Diversity in Evolutionary Anthropological Sciences) Scholar by the American Association of Physical Anthropologists.
Carter, a 21-year-old senior from Louisiana, will join other talented minority undergraduate and graduate students in Austin, Texas, for the April conference where she will learn about cutting-edge research in biological anthropology and participate in professional development and networking opportunities.
The IDEAS Program provides support for underrepresented minority and/or first generation college students engaged in or interested in pursuing careers in biological anthropology.
Last year, Carter, several fellow students and Dr. Lesley Gregoricka, assistant professor of anthropology, made history during a research trip to the Arabian Gulf where they were part of the first all-female team of bioarchaeologists to work in the Emirate of Ras al-Khaimah as they began studies on bones from the Early Bronze Age, which was 4,200 years ago. The bones were later shipped to South, which is only the second American university approved for long-term research on the remains. Studies of the bones are projected to last for at least 15 years.
During the past year, Gregoricka and her students have labored to process, clean and label the immense number of bones, including the ones that Carter is using in research for her senior thesis.
"Her project focuses on cremation practices during the Bronze Age and in particular whether or not bodies were cremated while they still had soft tissue, or after their bodies decomposed," said Gregoricka, who will attend the conference and present research with Carter. "We have bones from two tombs, and she is examining and comparing how cremation practices have changed over time."
Gregoricka said Carter's award will include payment of all her expenses for the conference.
---
---