Minor Added in Jewish and Holocaust Studies
---
Posted on April 12, 2018 by Joy Washington
Joy Washington
---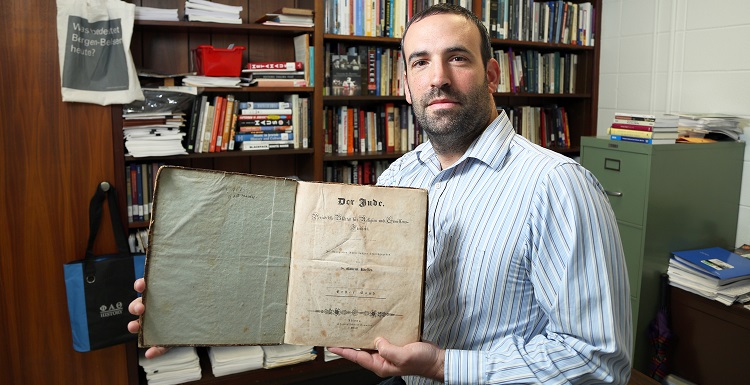 Dr. David Meola, assistant professor of history, holds the journal "Der Jude," created by Dr. Gabriel Riesser and published in the 1830s to advance Jewish emancipation throughout the German states.
---
In launching a new minor in Jewish and Holocaust Studies in the College of Arts and Sciences at the University of South Alabama, there's hope that undergraduate students from across the curriculum will engage and learn about the lives of the Jewish people and religion along with the atrocities that the Jews endured. The new minor, which will be administered by the department of history, will begin this fall.
"The new minor has been approved because of the requests from students and the support of the Jewish community in Mobile," said Dr. David Meola, who holds the Fanny and Bert Meisler Endowed Professorship in Jewish Studies. An assistant professor of history, Meola is also director of Jewish and Holocaust Studies at South.
"The minor will be part of a rich, multidisciplinary curriculum, offering students an opportunity to study the Nazi Holocaust and all aspects of Jewish culture, history and religion in Europe and America," he added.
Meola said it's very timely to have this program. "With the rise of numerous hate crimes of antisemitism in America and the world, students will study present-day conflicts and compare it to what has occurred in history," said Meola. "We are protecting the memory and history of Jews, sharing the innovative and vibrant culture alongside the more well-known stories of atrocities committed against the Jewish people over time and across the globe."
He said speakers will be invited into the classroom to share, discuss and explore, while enhancing close interaction between students, faculty and community members. Students will also take part in research and study abroad opportunities.
According to Meola, all students who are interested in taking the minor will be required to complete 18 hours of courses, including the following three core courses, which will be offered regularly in Arts and Sciences:
JHS 101-Introduction to Jewish and Holocaust Studies
REL 200-Introduction to the Hebrew Bible
HY 347-History of the Holocaust
Meola will also present Jewish artifacts during class discussions. He recently received the Jewish historical journal "Der Jude," which means "The Jew," published in the early 1830s. It includes the writings of Gabriel Riesser, who was a lawyer and champion of Jewish emancipation in Germany.

The document was in the care of Rabbi Felix Aber, a native of Bremen, Germany. Aber fled the Nazis in the early 1930s and moved to Ithaca, N.Y. The journal was passed down several times prior to Meola recently receiving it as a gift from his college adviser.
For more information about the additional courses needed for the Jewish and Holocaust Studies minor, visit the website or contact Meola at dameola@southalabama.edu.
---
---