Message from the Dean: Summer 2019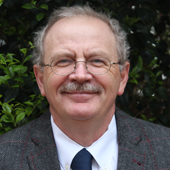 Dear A&S Alumni:
The College of Arts & Sciences is a vibrant intellectual space at the University of South Alabama. This Alumni Newsletter highlights some of the great people and great things in the College. In this Newsletter you will find informative articles about current and former faculty members. After reading the Newsletter, I think you will agree that the work that goes on here makes the College a special place at USA.
The first article focuses on a major award recently received by Dr. David Meola. Dr.
Meola is the Bert and Fanny Meisler Assistant Professor of History and Jewish Studies. Dr. Meola has been awarded a Fulbright to study German Jewish history of the early and mid-Nineteenth Century. Fulbright Scholarships, such as Dr. Meola are highly competitive, and we are very excited about Dr. Meola's award.
Tornadoes are on the minds of many in Alabama, and our second article describes the VORTEX project that our Meteorology majors participate in, under the guidance Dr. Wes Terwey, an Assistant Professor of Meteorology. VORTEX is a NOAA project that collects data from around the country, and it's terrific to see our students contributing to it.
Arts and Sciences has always been very competitive in winning grants and other external funding, as illustrated by Dr. Kelly Dorgan's recent award of a National Science Foundation CAREER grant. Dr. Dorgan is an Assistant Professor of Marine Sciences and a Senior Marine Scientist at Dauphin Island Sea Lab. The CAREER grants are aimed at highly promising young scientists, and this is the second time in recent years that a young A&S researcher has won this prestigious award. Congratulations Kelly!
If you were an Anthropology major at South in the last 30-odd years, you almost certainly studied with Dr. Greg Waselkov, and possibly worked with him in the field. Dr. Waselkov is now an Emeritus Professor at USA, and still very active, as our next article describes. Currently, Dr. Waselkov is at work in southern Baldwin County, where he has identified a canal dug around 600 AD by Middle Woodland-period Native Americans, making it one of the oldest canals of its size.
Dr. Lesley Gregoricka, associate professor of anthropology and co-director, Forensic Science Program, has also received a National Science Foundation grant. This award will support her latest project, entitled "REU Site: Bioarchaeology of Bronze Age Social Systems."

I hope you enjoy reading the A&S Alumni Newsletter, and please share it with friends.

Sincerely,
Dr. Andrzej Wierzbicki
Dean, College of Arts & Sciences