USA Double Reed Day
USA Double Reed Day
This year's USA Double Reed Day will be on Saturday, March 21st, 2020 here at the Laidlaw Performing Arts Center! We are looking forward to having Dr. Kristin Leitterman from Arkansas State University and Dr. Doug Owens from the University of Tennessee-Martin out as this year's guest artists, and can't wait to yet again see the building full of double reed players! Registration will be open on February 1st. Stay tuned!
Our featured guest artists will lead master classes, reed making workshops, and gave a shared guest artist recital. All participants make reeds, play double reed chamber music together, and get the opportunity to meet and work with other double reed players throughout the Gulf Coast region. This event is a great chance to get to spend time with other oboists and bassoonists (since we are so often few and far between), to learn from each other, commiserate about our reeds, and to further enrich and strengthen our skills and our musicianship. All ages and ability levels are welcome to attend!
If you have any questions, please contact the event host, Dr. Mindock!


About the Artists
Dr. Kristin Leitterman, oboe guest artist
Dr. Kristin Leitterman defies modern convention as a solo artist of oboe and voice, bringing exciting and unusual programs to audiences. She makes it her responsibility to commission works for oboe/voice, with works by Michael-Thomas Foumai, Whitney George, and Lyle Davidson. She has participated in numerous summer festivals and competitions including Bowdoin International Music Festival, New Music on the Point, Eastern Music Festival, Hot Springs Music Festival, and the Banff Center for the Arts. She was also a semi-finalist in the Concert Artist Guild's annual competition in New York City.
In addition to performing, Dr. Leitterman is dedicated to bringing music to the younger generations. She is currently the Instructor of Oboe at Arkansas State University. Her duties also include Double Reed Techniques, Fundamentals of Music, and coaching small chamber ensembles.
Dr. Leitterman is the Director of the Lucarelli Oboe Master Class, a weeklong immersive oboe master class founded by Bert Lucarelli. She has also presented master classes at Manhattan School of Music, New York University, and the Hartt School. Additionally she has presented lecture recitals at The Juilliard School, the CUNY Graduate Center, and the Brazilian Double Reed Society's annual conference in João Pessoa, Paraíba, Brazil.
She holds degrees from the City University of New York's Graduate Center, the Hartt School, New England Conservatory, and the University of Missouri Kansas City Conservatory of Music and Dance. Her teachers include Humbert Lucarelli, Mark McEwen, Barbara Bishop, and Amy Burton.
Dr. Doug Owens, bassoon guest artist
Dr. Douglas Owens, Associate Professor of Music, teaches applied double reeds and saxophone at the University of Tennessee-Martin. He holds the BME from Furman University, the MM in Performance from the University of South Carolina and the DMA in Performance from the University of Georgia. Dr. Owens has held previous teaching positions at Presbyterian College and at Fort Lewis College. He has also served as adjunct instructor of bassoon at Union University.
As a woodwind specialist, Dr. Owens has performed extensively on all five members of the woodwind family. Owens performed the premiere of Alta Graham's Modal Suite for Baritone Saxophone and Piano at the North American Saxophone Alliance conference in Athens, GA. He has performed with the Georgia Double Reed Ensemble at International Double Reed Society conferences in Muncie, IN and in Provo, UT. He has been involved in recent commissioning projects for the composers Daniel Baldwin and Bill Douglas.
Dr. Owens is an active orchestral musician, performing regularly on oboe, bassoon and saxophone with the Paducah (KY) and Jackson (TN) Symphony Orchestras. He is also an active chamber musician, performing alongside UTM faculty members Elizabeth Aleksander and Charles Lewis with the LCD Wind Trio.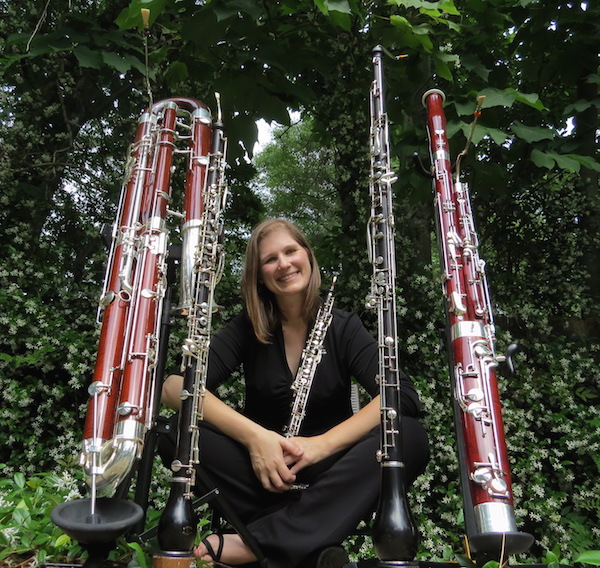 Dr. Rebecca Mindock, event host
Dr. Mindock's bio can be found on her faculty page here. She's been hosting Double Reed Days annually at USA since she joined the faculty in 2010, and is greatly looking forward to having all of you on campus for what should be another fun and enriching event!
Follow us on Facebook to stay up to date on all of our USA Double Reed Studio activities!