Sports & Recreation History Sources at The McCall Library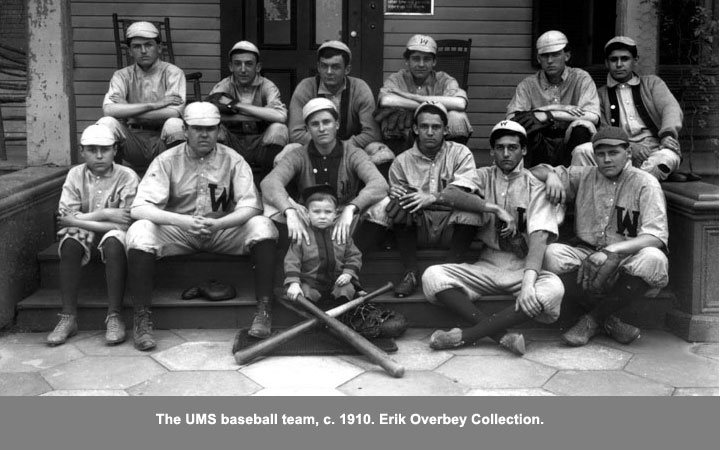 The UMS baseball team, c. 1910. Erik Overbey Collection.
---
For more information about these collections please email us at mccalllib@southalabama.edu.
---
Important Disclaimer: Warning concerning copyright restrictions. The copyright law of the United States (Title 17, United States Code) governs the making of photocopies or other reproductions of copyrighted material. Under certain conditions specified in the law, archives are authorized to furnish a photocopy or other reproduction. One of these specified conditions is that the photocopy or reproduction is not to be "used for any purpose other than private study, scholarship or research." If a user makes a request for, or later uses, a photocopy or reproduction for purposes in excess of "fair use," that user may be liable for copyright infringement. It is up to the user to comply with all copyright laws of the United States.
---
AS YOU LIKE IT CLUB
Founded on October 10, 1914, this women's group met to study literature and the arts. It was at one point affiliated with the Federation of Women's Clubs. This small collection consists of the group's year-long programs from 1973 through 1987. The programs include organizational histories as well as its constitution and by-laws. .5 linear foot.
AZALEA CITY QUILTERS GUILD
Established in 1980 by a small group of local women, the Azalea City Quilters Guild has held quilt shows since its second year. The group also holds workshops and donates quilts for fundraising to various local charities, including the Ronald McDonald House and Project Linus. This collection consists of organizational records, photographs, scrapbooks, newspaper clippings, quilt show programs, quilt patterns, correspondence, and other memorabilia collected by members of the group. 10.5 linear feet.
CONSULAR CORPS OF MOBILE
Mobile was at one time home to many consulates from around the world. Around 1953 the group established as a social organization the Consular Corps of Mobile. Beginning in the mid-1950s and continuing into the early 1970s, members of the corps used their influence to encourage growth of the Port of Mobile. After the 1970s the corps reverted back to its original design. The papers consists of primarily documents relating to the group's annual receptions, including invitations, proposed guest lists, and RSVPs. Other files pertain to the corps itself and include membership lists, annual dues, and financial information. There are also news articles and press releases. 1.25 linear feet.
CROOM, STEPHENS G.
This collection focuses on material associated with USS Alabama (BB-60), the Battleship Commission, and Battleship Park. Stephens Croom was instrumental in the acquisition and establishment of Battleship Memorial Park and served as the first secretary of the USS Alabama Battleship Commission. 1 linear foot.
DICKSON, CHARLES
Charles Dickson was an amateur historian who spent many hours researching the history of this area. His collection contains microfilmed copies of his handwritten three-ring notebooks. Included within the notebooks are histories of the Mobile theater, Mobile sports, Mobile military, Mobile baseball, Mobile settlers, as well as retrospectives on wars throughout American history, studies of the colonial powers and Indians of Mobile, and a look back at the Reconstruction period. 4 reels.
DOWNING, MAURICE A. "CASEY"
These papers contain correspondence, printed matter, notes, and newspaper clippings relating to Downing's legislative career in the Alabama House of Representatives from 1962 to 1974. During those years he introduced legislation in support of the Mobile Greyhound Park, the East and West Fowl River connection, and the University of South Alabama Health Service Foundation. Includes materials through 1984. Other portions of the collection focus on mental health, conservation, and wildlife, as well as the Alabama State Docks, Mobile General Hospital, Brookley Air Force Base, and the Tennessee-Tombigbee Waterway. 5 linear feet.
DRAGO BAND
A small handwritten journal (ca. 1903-1908) that appears to have been kept by Dan Drago, the leader of the Drago Band. In the early twentieth century, the Drago Band was very popular. The journal documents this fact. Hardly a day passed when the band wasn't requested to play at some ball, hotel ballroom, wedding, or social club. The journal notes the days and places of concerts, lists the members of the band, and shows the amounts each member was paid. Please click here for an exhibit of material related to the band. .25 linear foot.
GERMAN RELIEF ASSOCIATION
This benevolent organization was active in Mobile from 1866 to 1941. The collection is in both German and English, with English used after 1917. Included are minutes, membership lists, correspondence, and other material relating to the organization from 1866 to 1943. Three of the more notable Mobilians who belonged to the organization were Julius Goldstein, Henry Forchheimer, and Abraham Levy. 5 linear feet.
HINES, JOHN GUS
Artist John Gus Hines worked in Mobile, ca. 1867-1921, as a set designer for various theaters. He also designed and built floats for Mardi Gras parades and other occasions in Mobile and other cities. The collection contains 36 diaries with brief notations of daily activities including remarks about construction of floats, theatrical sets, and other projects. It also contains 126 pen and pencil drawings of Mardi Gras Floats for various organizations. 1 linear foot.
HOWARD LODGE
The Howard Lodge, both an AF&AM and an F&AM Masonic organization, was founded in 1846. This collection consists of xerox copies of a history of the lodge, a master's report from 1946-1947, a centennial anniversary celebration, and membership rolls from 1845 to 1964. Also contains 14 black and white photos (8 x 10) of groups and individuals, some of which are identified and dated. 2 linear feet.
JUNIOR LEAGUE OF MOBILE
The Junior League of Mobile was originally founded in 1925 as the Mobile Charity League. In 1932 it was incorporated into the Association of Junior Leagues International (AJLI). The Junior League is committed to promoting volunteerism, developing the potential of women, and improving communities through effective action and leadership. The Junior League of Mobile Records contain correspondence, minutes, publications, photographs, scrapbooks, and subject files detailing the operations of the organization from its founding through 2009. The subject files contain a great deal of information about volunteerism in post-World War II Mobile, particularly in the areas of children's health and education. 44 linear feet.
KIWANIS CLUB OF MOBILE
Consists of two scrapbooks (June 1944 to November 1967) containing photographs, annual reports, newspaper clippings, ads, correspondence (some), announcements, flyers, and thank you cards. The fifty-five black-and-white photographs depict special events and a variety of Kiwanis Club functions. They include some prominent Mobilians such as Frederick P. Whiddon and Albert J. Tully. Many of the images were used in publications. The clippings highlight various club activities and the works and achievements of various Kiwanis members.
MAYGARDEN, JEANETTE
Twenty-one videotaped interviews, 1994-1995, with various Mobilians including Charles Boyle, Caldwell Delaney, Jack Edwards, William J. and Emily Staples Hearin, Paulette Horton, Joseph Langan, Lionel Noonan, Jack Stallworth, Eugene Walter, Frederick Whiddon, and Caldwell Whistler. Also includes interviews with members of Murphy High School Class of 1943 at their 50th reunion, and with Frances Sibley on the history of Murphy. The interviewer, Jeanette Maygarden, worked as Woman's Editor at the Mobile Press Register after graduating from Murphy and pursued a career in public relations.
MOBILE AREA CHAMBER OF COMMERCE
This Mobile organization was the first in the state, chartered by the Alabama Legislature in 1854. The materials in this collection relate primarily to the development of Dauphin Island and include brochures, photographs, scrapbooks, and news clippings. The collection also includes, however, two scrapbooks dedicated to the 1971 visit of President Richard Nixon. 2.75 linear feet.
MOBILE TRICENTENNIAL, INC.
In 2002 Mobile celebrated the 300th anniversary of its founding by the French. This collection consists of the records generated by the non-profit agency established to direct / coordinate events related to the year-long tricentennial celebrations. Most of the records were accumulated by tricentennial office staff. They consist of general office files as well as the files of the president of the committee, meeting minutes, budgetary material, public relations files, banners, posters, and photographs, as well as various other documents. Of interest within the collection are a proposed time capsule, a copy of a 1902 poem about Mobile, plans for the development of Africatown, a proposed documentary on Cudjo Lewis, material related to the visit of the two-masted schooner Amistad, a reunion at Brookley Field, a bibliography of the history of Baldwin County, a report on the economic effect of the celebration, correspondence to/from Governor Don Siegelman, documents about Sail Mobile, material related to the greening of the city, and a variety of other material on a myriad of subjects. 26 linear feet.
PBX TELECOMMUNICATIONS CLUB SCRAPBOOKS
Five scrapbooks belonging to the PBX Telecommunications Club. They cover the period from 1974 to 1976 and 1984 to 1988. 1 linear foot.
ROTARY CLUB OF MOBILE
The Rotary Club of Mobile, an affiliation of the Rotary International, was organized on May 14, 1914. This small collection consists of two of the club's rosters. One is undated but provides an image of each member and gives the member's birthday, date of affiliation with the local club, and the member's place of employment. The second roster, dated, 1979, lists the same information, but it also gives the member's birthplace, spouse's name, and address. .25 linear foot.
SIENA VISTA GARDEN CLUB
Newspaper articles, art magazine clippings, magazine articles, ads, postcards, and photographs related to the Sienna Vista Garden Club and its mission to promote beautification in their neighborhood. The Garden Club was founded in 1948. As part of their beautification efforts, homeowners on Siena Vista Street agreed to decorate their homes and yards during the Christmas season, something for which they became renowned. Viewing the decorations became an annual tradition for many Mobilians. .25 linear foot.
YWCA OF MOBILE
A scrapbook containing news clippings, photographs, letters, and programs of the Mobile YWCA from 1904 to 1949 is available on microfilm. 1 reel.