---
Posted on April 25, 2023 by Thomas Becnel
Thomas Becnel
---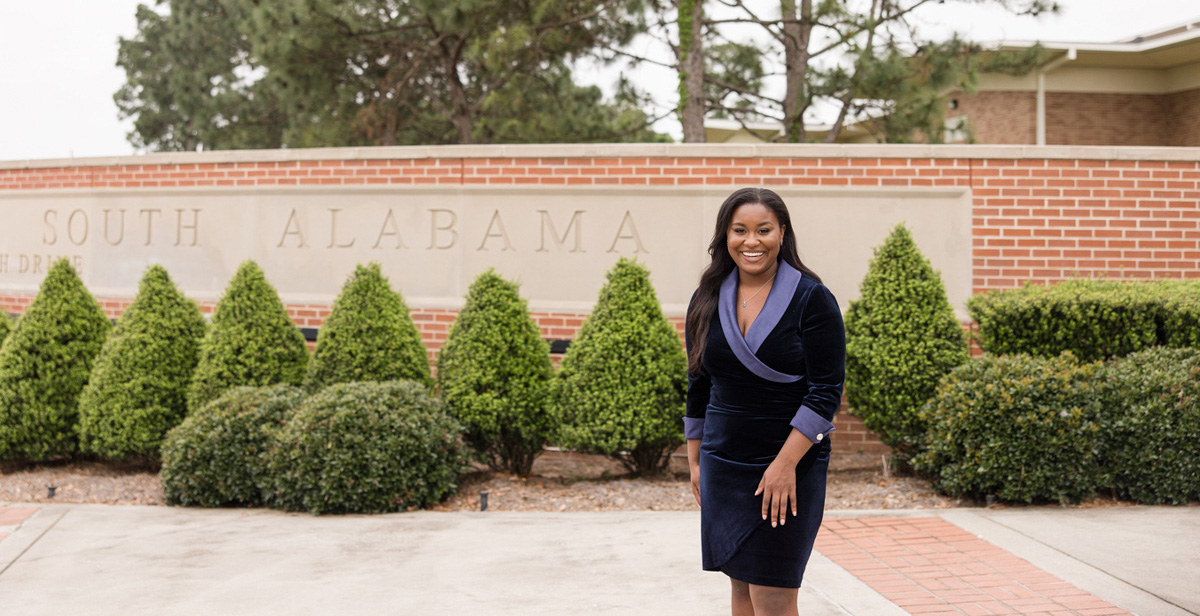 Amya Douglas got involved in student government through the First Year Council as soon as she arrived at the University of South Alabama. As a senior, she will serve as 2023-2024 president of the Student Government Association.
---
Amya Douglas grew up performing in musical theater – everything from "Legally Blonde" to "Little Shop of Horrors" – and thought about leaving the Gulf Coast to study drama in college.
Then she took a recruiting trip to the University of South Alabama.
"I remember the tour guide saying something I'll never forget," said Douglas, who graduated from St. Martin High School in Ocean Springs, Mississippi. "She said, honestly, our campus is so young that when you join any organization, you have the opportunity to make an impact. We're still developing, we're open to new ideas, and students play a big role in that."
Douglas moved to Mobile, majored in communication, and became active in the First Year Council and the Student Government Association. In high school, she had served as student council president. At South, she wanted to take advantage of her chance to make an impact.
She was elected SGA president and sworn in at this week's SGA banquet. Her new role was part of her plan from the beginning.
"Definitely," Douglas said with a broad smile. "It was a huge ambition of mine. In the end, I was unopposed, which was disappointing. I've very competitive, so I wanted to campaign."
Camille Bonura, the outgoing president of the Student Government Association, knows her successor well. She remembers Douglas wanting to shadow her as she went about her official duties. No one had ever asked her that before.
"Only Amya," Bonura said, laughing. "I was surprised, but not surprised. I'd seen the way she interacted with people in the Senate and the student body. I knew she wanted to become SGA President. I thought she'd be in this seat one day."
Dina Holland, principal of St. Martin High School, never doubted that Douglas would become a student leader at the University of South Alabama. She watched her guide classmates through some of the most difficult days of the COVID pandemic.
"Amya was amazing from the first day she stepped on our campus in the ninth grade," Holland said. "Mature beyond her years. Focused beyond her years. And absolutely the most gorgeous smile – she lights up a room."
Brooklyn to Ocean Springs
Her parents, Eon and Petal Douglas, are from the nation of Guyana in South America. Their daughter was born in Brooklyn, after they emigrated to the United States, and the family moved to Mississippi when she was 2 years old.
Amya – it's pronounced "uh-my-uh" – speaks with a neutral accent. No Brooklynese or Southern drawl. No Caribbean lilt, either.
"Only when I'm really mad, but every time I do it, my parents laugh at me," she said. "I used to joke with them about how they lived in Brooklyn and wound up in Mississippi. Looking back, I think that was a good idea. I enjoyed my upbringing, that's for sure. We were right by the beach and near downtown."
The Douglas family has always been active in the Pentecostal church. During COVID, Amya read the Bible, front to back, back to front. At South, she leads a Bible study group.
"One of the things my mom says is … well, it's two things," she said. "One, 'Pray about it.' And two, 'Be the head, not the tail.'"
In Ocean Springs, Douglas grew up in the arts community. She looked forward to the Peter Anderson Festival each year. She started painting and became active in musical theater.
"In elementary school, I was really shy," she said. "I wanted something to pull me out of my shell."
Douglas, a soprano, sang in "Legally Blonde" which remains one of her favorite musicals.
"The best part I ever got was one I never got to perform," she said. "It was Audrey in 'Little Shop of Horrors,' but because of COVID, we didn't get to do it for an audience."
Finding Her Way at South
At South, Douglas chose to concentrate on digital film and TV production in the Department of Communication. She worked as a camera operator with an ESPN+ production crew for Jaguar football games.
Douglas became a South Strong student ambassador and joined the Green Jags environmental group. She volunteered with the PASSAGE USA program for students with intellectual disabilities.
During her sophomore year, she also worked as a resident assistant in Azalea Residence Hall.
"I was like an older sister to 47 first-year students," she said. "They would text me at all hours of the night, mostly about their personal lives. But I can't complain. I know it helped a lot of them. And I've stayed in touch with all of those students."
The campaign she prepared for SGA president had a "Legally Blonde" color scheme. She printed up pink business cards. She wore three different pink outfits during her candidate video.
"People said, 'You look like Elle Woods from 'Legally Blonde,'" she said. "I said, 'Thanks, that's what I was going for.'"
As SGA President, Douglas wants to meet with students and do a lot of public outreach. She also wants to focus on accessibility for students with disabilities.
Douglas plans to graduate from South in May of 2024. Law school is one of her options. She isn't sure about practicing law, but does think she will work with public policy or enter public service.
She enjoys talking with people, listening to problems and answering questions. That's the easy part. Sitting through meetings isn't as much fun, but she has a secret for staying sharp.
"I'm a question-asker," Douglas said. "That's what gets me through meetings. I'm always interested in something."
---
---