---
Posted on October 5, 2021 by Thomas Becnel
Thomas Becnel
---
It took eight tries to shoot the intro for the South football game with the University of Louisiana at Lafayette on the ESPN+ network.
When the audio went right, the video went wrong. Or the graphics didn't sync. Or there was a technical glitch.
When the segment finally came together, a half-dozen students sighed with relief in the control room housed in a small trailer just outside Hancock Whitney Stadium.
"Roll it," said technical director Will Davis, a senior majoring in communications. "Let's roll with it."
Many colleges hire freelance crews to broadcast home football games, but the University of South Alabama relies on a team of student workers. Most of them are studying communications and gaining experience. They learn on the job and get better with each game.
"It's fun when that light comes on and they start enjoying it," said Pat Greenwood, multimedia director for the South athletic department. "I'd put our broadcast up against anyone in the Sun Belt Conference."
Before the Louisiana game, the student crew went through a checklist of pregame duties. They monitored equipment and worked around a few tech issues.
Just then, heavy rain swept across campus. You could see it on the TV monitors and hear it on the roof of the trailer.
A student camera operator burst through the door, no jacket, soaked from head to toe. He needed to know how to handle his equipment during the downpour.
"Did you go swimming?" somebody joked.
Parker Arrington, a senior majoring in computer science, was more helpful.
"Do you have a camera cover?" he asked. "Yes."
"OK," Arrington said. "Hold the camera as close as you can to the wall."
Student crew members wear matching blue T-shirts; the Jaguar logo on the front, "ESPN+ Production Crew" on the back. They share school spirit and team pride.
A little rain – OK, a lot of rain – didn't drench their enthusiasm.
"Remember the money, guys," Davis joked, as students ducked out into the weather. "Remember the money."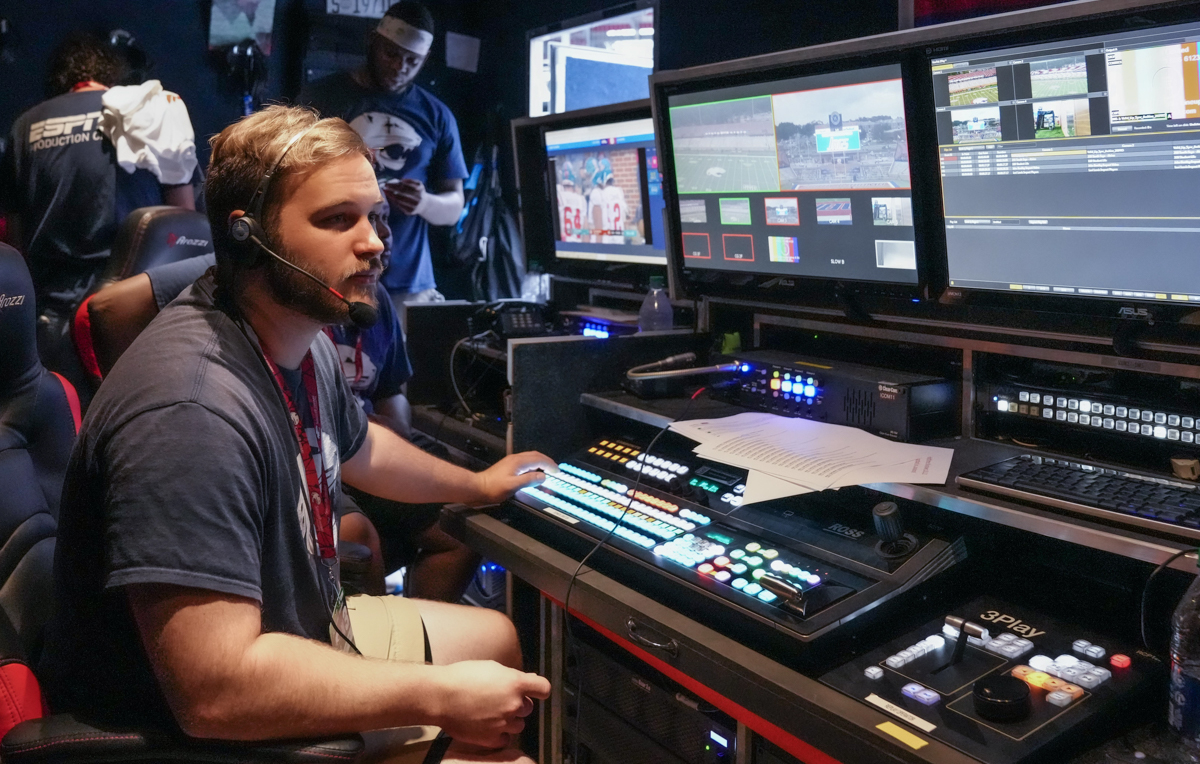 Chris Hites, a junior majoring in engineering, works as a replay operator with other members of the student ESPN+ broadcast team in the control booth during Saturday's game against the University of Louisiana at Lafayette.
Slow Down, Then Speed Up
Things got tense in the control room as the Louisiana game began. Everyone with a headset talked to camera operators and across one another. Rapid-fire cues flew back and forth.
"Everybody ready?" "Going to black." "Slow A is in. "You're queued up?" "8,7,6,5,4,3,2,1 …"
"Ready 2, Take 2." "We need the quarterback – we need the quarterback's face!" "Camera 2, to your right, to your right." "Replay, replay it." "3, can you get closer? Ready 3, take 3."
The students groaned as the Ragin' Cajuns scored three quick touchdowns on their way to a 20-0 lead. Crew members had their own problems. They missed cues and fumbled replays as they tried to get a handle on the game.
Tyler Folks, video production manager for the South athletic department, supervised the broadcast crew. He led Davis through the director's role, especially at the beginning of a game.
"That's the most chaotic part," Folks said. "That's when I tell everyone to slow down, take a deep breath. Find your routine and then we can speed up your routine."
During a timeout, Davis pulled back his headset. He enjoyed a swig of Coke and a handful of Skittles.
Folks, sounding like a coach on the sideline, asked him about the timing of a cue during the last series.
"I got nervous, I got nervous there," Davis said. "I was waiting for Pat to stop talking about the play."
Down on the field, the momentum began to change. The Jaguars scored a touchdown and started a comeback in the rain.
In the control room, Folks pulled back and Davis made more of the calls. The crew settled into the broadcast. The director encouraged his classmates.
"You're doing good, guys," he said after the halftime break. "Let's get back to football."
View From Above
Greenwood, who serves as color commentator for Jaguar games, stays in touch with the student crew on his own headset in the press box.
"I'm constantly in their ears," he said. "You know, 'Tell Julie to keep pushing in on that shot.' Or 'Hey, make sure we have the right yardage on the graphic.'"
Sometimes, students make mistakes. Often, viewers can't tell the difference. Other times, it's noticeable.
"We had a student at one of our first games, he hadn't been drinking enough water, and he passed out," Greenwood said. "We're like, 'What happened to the low end zone camera?' And they're like, 'Oh, he passed out.'"
He marvels at how quickly South students pick up the routine. Football knowledge helps. So does enthusiasm and ambition.
Kyle Samuel, a student director last season, started work for Fox Sports in Charlotte, North Carolina, just after graduation.
"He was the kind of student who took control of things," Greenwood said. "He'd come in and say, 'I want to the learn the truck,' or do this, or do that. He was ready to hit the real world when he left here."
Student Experience
Sean Starks II, a South camera operator, is a former business major from Mobile who switched to communications. He says sports broadcasting is more fun. He's worked a lot of different Jaguar games.
"It's cool to see some of the things I've done," Starks said. "During baseball season, one of my shots was all over Twitter. During basketball season, one of my shots was on ESPN's Top Ten."
Last summer, he and Davis worked on the broadcasting crew for the Blue Wahoos, a minor league baseball team in Pensacola, Florida.
"I worked a camera and I directed for them," Davis said. "I learned a lot of things. I had a lot more responsibility because our crew was smaller."
The Louisiana game was the first football broadcast for Mac Herrero, a freshman majoring in communications. He got soaking wet behind his end zone camera, but didn't seem to mind.
"You just deal with it," he said. "It's Mobile, you know?"
Herrero is a football fan and TV viewer who often knew the kind of camera shots the director wanted. He was a little nervous at first. He soon learned to focus on the job and tune out most of the chatter on his headset.
"When they say 'Camera 4,'" he said, "that's when my ears turn on."
Curious Crew Members
Several members of the South production team aren't communications students. Some were curious about broadcasting. Others answered an ad for student workers.
Kevin Zheng, a freshman from Geneva, Alabama, works on graphics in the control room. He's a computer science major with some broadcast experience.
"I did this for football games at my high school, but this is much, much bigger," Zheng said. "I just saw the opportunity and thought it'd be extremely fun."
Ava Ndongo, a sophomore from Mobile, is majoring in chemistry and plans to attend medical school. On Saturday nights, though, she shoots crowd footage to appear on the big video screen at Hancock Whitney Stadium.
This season, Ndongo has learned how heavy a 15-pound camera can be by the end of a ballgame. During the second home game, there was an hour-long delay when some of the stadium lights went out.
"It was tough on us, because it was so random," she said. "We were trying to take crowd shots and keep people entertained."
Jaguar Comeback Drama
In the second half of the rainy Louisiana game, the Jaguar football team scored a third touchdown. All of a sudden, the score was 20-18. The band played and crowd chanted "U-S-A! U-S-A!"
In the control room, students cheered good plays – "Hey, we could win this!" – while working the ESPN+ broadcast.
"Ready 1, take 1." "Quarterback eyes – get the quarterback's eyes." "Ready replay." "Late flag – get the ref, get the ref." "Pull out, 2. Take 2."
South drove for a go-ahead touchdown only to falter at the goal line. There was a fourth-down pass in the end zone. The Jaguar receiver, sliding across the wet turf, couldn't quite make a game-winning catch.
Student cameras captured the scene. More groans in the control room. Final comments and closing credits.
After the game, the production crew collected camera equipment, along with reels of cable. The trailer needed to packed up and ready to go. There's always another Jaguar game and student broadcast.
Arrington, the senior production engineer, worked through his own checklist of responsibilities.
"I'll be here until midnight, close to midnight," he said. "For the soccer game on Sunday, my call time is 9 a.m., and the game starts at noon."
---
---