A Career, and a Church, Under Construction
---
Posted on June 9, 2020 by Jeb Schrenk
Jeb Schrenk
---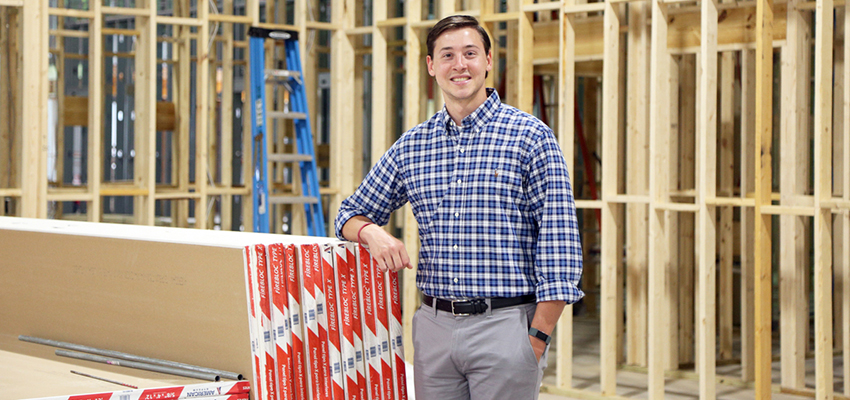 Caleb Santa Cruz, a communication studies graduate, works as a youth pastor at Summit Church, which is constructing a new church building in Foley.
---
#MyFirstJob is a series focused on University of South Alabama Class of 2020 graduates who are beginning their careers.
Caleb Santa Cruz, a Student Government Association leader at the University of South Alabama, felt called to his first job after graduation.
He's working as a youth pastor for Summit Church in Foley – his hometown – where a small congregation has big plans for the future.
Summit will move into a new building later this year, but right now the church rents a storefront on weekends. Parking is a problem. The space only seats 230 people, so members of the congregation worship in shifts at three Sunday morning services.
Santa Cruz leads Wednesday night Bible study in the home of a church member. For now, he does without elaborate equipment and facilities. That's part of the challenge and satisfaction of building a church.
"There is a sense of ownership, you know, when you're doing something for the church," he said. "In our unique situation, the congregation can feel that way as well. With the name Summit, we want to be a high point in the community that helps everyone."
Santa Cruz, 22, is from Baldwin County, where his dad is a school bus mechanic and his mom is a school bus driver. At Foley High School, he was active in the Boy Scouts. He served as a youth leader in the Order of the Arrow and became an Eagle Scout.
At South, he joined the Alpha Tau Omega fraternity and covered sports as a videographer for JagNation TV. He served in student government and became a member of the Southerners, a 20-member group of students who work in university relations.
"A lot of people don't get the opportunity to engage with the University and with community groups," he said. "I got to see a lot of the behind-the-scenes working of the University, from an administrative angle, and with a governmental aspect, and how all that ties together."
When he served as treasurer of the SGA, his fiancée, Lacey Bemis, was vice president. She's the one who encouraged him to apply for the First Year Council during his freshman year. Now she's a nursing graduate who will begin work this fall at Children & Women's Hospital in Mobile.
Santa Cruz was thinking about marine biology when he enrolled at South, but his faith drew him back to a career in the ministry. He graduated with a degree in communication studies and a minor in general business. He'd like to become pastor of own church one day.
Step one is learning the role of youth pastor. He's done church internships and has some experience dealing with teenagers. He thinks he's suited to the position.
"Communicating with students, communicating with parents, that comes relatively easy to me, but there are things you have to work for," he said. "There's a lot of work on the back end. It's crazy busy, busier than I thought it would be. The ministry is not a 9-to-5 job where you can go home and be done."
The health concerns of the coronavirus pandemic are yet another challenge for a young pastor and new church.
Summit Church was founded just last year. During the week, its Foley storefront is occupied by the Sweet Southern Scratch bakery and restaurant. On weekends, the church is open for religious services.
The new Summit building is near the Foley Beach Expressway. When it opens this year, the church will have seats for 900 people. Plenty of parking and room for growth.
Santa Cruz has room to grow, too, at the beginning of his career.
Returning to Baldwin County has given him some perspective. He visits family, friends and old high school teachers. Things have changed during his four years at South.
"I drive through the city and I see subdivision after subdivision after subdivision popping up," he said. "It feels new, but some things never change. There are some things about home that are still home."
---
---