Caleb Johnson
---
---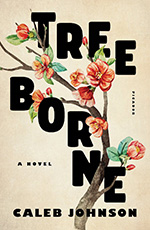 Treeborne: A Novel. Picador, 2018.
PUBLISHER USA LIBRARY
Janie Treeborne lives on an orchard at the edge of Elberta, Alabama, and in time, she has become its keeper. A place where conquistadors once walked, and where the peaches they left behind now grow, Elberta has seen fierce battles, violent storms, and frantic change—and when the town is once again threatened from without, Janie realizes it won't withstand much more. So she tells the story of its people: of Hugh, her granddaddy, determined to preserve Elberta's legacy at any cost; of his wife, Maybelle, the postmaster, whose sudden death throws the town into chaos; of her lover, Lee Malone, a black orchardist harvesting from a land where he is less than welcome; of the time when Janie kidnapped her own Hollywood-obsessed aunt and tore the wrong people apart.
Honorable Mention for the Southern Book Prize

Longlisted for The Crook's Corner Book Prize

One of Southern Living's Best New Books Coming Out Summer 2018

One of Amazon's Best Books of the Month: Literature & Fiction

One of The Philadelphia Inquirer's Recommended Books of Summer 2018
One of Library Journal's Books to Get Now
One of Deep South Magazine's Recommended Books of Summer 2018
---
Other Selected Publications
"Outer Banks Refuge,"

Garden & Gun.
"The Sisters,"

The Carolina Quarterly.
"Fishing in the Outer Banks—A Living Piece of Maritime History," The Wall Street Journal.
"Following My Grandmother's Footsteps to Loretta Lynn's Ranch," Southern Living.

"A Way Back: E.O. Wilson's Big Ideas for Saving Nature—and Humanity Along With It,"

The Bitter Southerner.

"The Stories that Helped me Embrace the Rural South,"

Electric Literature.

"What Really Killed Walt Whitman?"

The Paris Review Daily.
---