Cynthia Tucker
---
---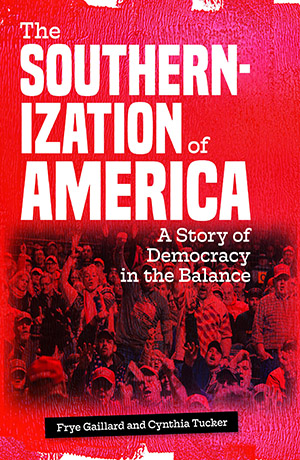 The Southernization of America: A Story of Democracy in the Balance. With Frye Gaillard. NewSouth Books, 2022.
HARDCOVER USA LIBRARY
In 1974 John Egerton published his seminal work, The Americanization of Dixie. Pulitzer Prize-winner Cynthia Tucker and award-winning author Frye Gaillard carry Egerton's thesis forward in The Southernization of America, a compelling series of linked essays considering the role of the South in shaping America's current political and cultural landscape. They dive deeper, examining the morphing of the Southern strategy of Richard Nixon and Ronald Reagan into the Republican Party of today, the racial backlash against President Obama, family separation on our southern border, the rise of the Christian right, the white supremacist riots in Charlottesville, the death of George Floyd, and the attack on our nation's capitol. They find hope in the South too, a legacy rooted in the civil rights years that might ultimately lead the nation on the path to redemption. Tucker and Gaillard bring a multiracial perspective and years of political reporting to bear on a critical moment in American history, a time of racial reckoning and democracy under siege.
---
Biography
Cynthia Tucker is a Pulitzer Prize-winning syndicated columnist. Her weekly column, which appears in newspapers around the country, focuses on political and cultural issues. Ms. Tucker has spent most of her career in newspapers, working as a reporter and editor. For seventeen years, she served as editorial page editor of The Atlanta Journal-Constitution. She also worked as a Washington-based political columnist for The Atlanta Journal-Constitution.
After leaving the newspaper, she spent three years as a visiting professor at the University of Georgia's Grady College of Journalism and Mass Communication, where she was also a Charlayne Hunter-Gault writer-in-residence. She is currently the Journalist-in-Residence at the University of South Alabama, where she specializes in political communication, media literacy, and narrative non-fiction. Ms. Tucker has faculty appointments in the Department of English and in the Department of Political Science and Criminal Justice.
Over the course of her career, Ms. Tucker has received numerous awards and honors. Her column was a finalist for the Pulitzer in the commentary category in 2004 and 2006 before winning the prestigious honor in 2007. In 2006, she was named Journalist of the Year by the National Association of Black Journalists. Ms. Tucker was inducted into the Alabama Academy of Honor in 2017.
---