Documentary "Journey to the Wilderness" to Premier at South
---
Posted on April 2, 2018 by Alice Jackson
Alice Jackson
---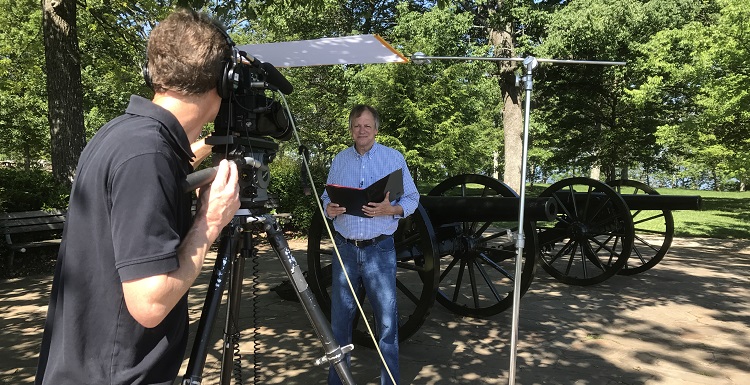 USA Writer-in-Residence Frye Gaillard, right, is filmed by Preston Sullivan in Chattanooga, Tenn., for the documentary "Journey to the Wilderness." Photo courtesy of Mike Letcher.
---
A local audience will be the first to see a new documentary based on "Journey to the Wilderness: War, Memory, and a Southern Family's Civil War Letters," a book by Frye Gaillard, writer-in-residence at the University of South Alabama.
The documentary is a first for South, the result of a collaboration among the departments of communications, English and history. It explores Gaillard's ties to the Civil War through family letters and memorabilia and how that connection related to his own journey as a civil rights reporter, editor and writer living in the South.
The showing, which is free and open to the public, will be at 6 p.m. on Thursday, April 5, in the auditorium of the Marx Library.
"It's been a really wonderful project, and it comes at a really important time in U.S. history when people are raising questions about Civil War monuments and the whole memory we're struggling with about the Civil War, and I believe this will help to generate some conversation about that," said Dr. Jim Aucoin, professor and chair of communications and an executive producer of the documentary. Other executive producers were Dr. Steve Trout, professor and chair of English and director of the USA Center for the Study of War and Memory; and Gaillard.
Mike Letcher of Dragonfly Public Media in Tuscaloosa, director of the documentary, will join Gaillard for questions and answers. Signed copies of Gaillard's book will also be available for purchase.
The film includes footage of Civil War battlefields and interviews with Gaillard, faculty members of the departments of communication, history and English as well as writer and Civil War historian Winston Groom.
Aucoin said he hopes the documentary will eventually be shown on public television as well as other venues.
The documentary was funded by grants from the Alabama Humanities Foundation, the departments of communication, English and history, the Office of the President, the Office of the Dean of the College of Arts and Sciences, the Office of Research and Economic Development, the Center for the Study of War and Memory, the Stokes Center for Creative Writing and the Mobile Bay Heritage Fund, among others.
"I'm grateful to Dr. Aucoin for this because it was his original idea, and I'm grateful to Mike Letcher and his group. This is really the culmination of one person's struggle to learn what it means to be Southern while living through the great era of civil rights," Gaillard said. "It turned out to be more personal than I originally thought, but they did a really thoughtful job, and I'm really pleased with the way it turned out. I hope other people will find it food for thought."
---
---