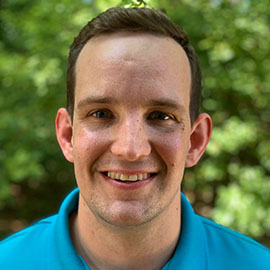 Ryan Colquhoun, PhD
Assistant Professor, Department of Health, Kinesiology, and Sport

---
Education
PhD, Health and Human Performance, Oklahoma State University, 2019
MS, Exercise Science, University of South Florida, 2015
BSE, Exercise Science and Health Promotion, Florida Atlantic University, 2013
---
Teaching Philosophy
Dr. Colquhoun's teaching philosophy revolves around not only preparing students with the necessary scientific background and foundational knowledge required for the course, but equipping them with the tools necessary to succeed beyond the course. By instilling the qualities of critical thinking, problem-solving, and practical application to real-world scenarios, the end goal of each course is for students to succeed not only in the classroom, but in their future careers.
---
Research
Dr. Colquhoun's research revolves around the function and adaptations to the nervous system and skeletal muscle following exercise, nutrition/supplement interventions, and fatigue. Dr. Colquhoun's research involves the use of many neuromuscular techniques, including motor unit decomposition, peripheral nerve stimulation, and surface EMG and MMG, among others. The goal of his research is to better understand the processes associated with the neuromuscular system in order to improve exercise prescription.
---
Outreach
Dr. Colquhoun is actively involved with a number of professional organizations in the field including the National Strength and Conditioning Association, American College of Sports Medicine, American Physiological Society, and International Society of Sports Nutrition.
---
Biography
Dr. Colquhoun is originally from Raleigh, NC, but grew up in south Florida. He obtained his BSE in Exercise Science and Health Promotion from Florida Atlantic University, his MS in Exercise Science from the University of South Florida, and his PhD in Health and Human Performance from the Oklahoma State University. Outside of his job at South, he enjoys hanging out with his wife Cristina and their dogs Penny and Sebastian, watching baseball and football, coaching powerlifters, and lifting weights.
---
Courses
KIN 380 - Kinesiology
KIN 484 - Applications in Sport Conditioning
KIN 572 - Application of Neuromuscular and Biomechanical Concepts