Exercise Science and Performance Nutrition - Doctor of Philosophy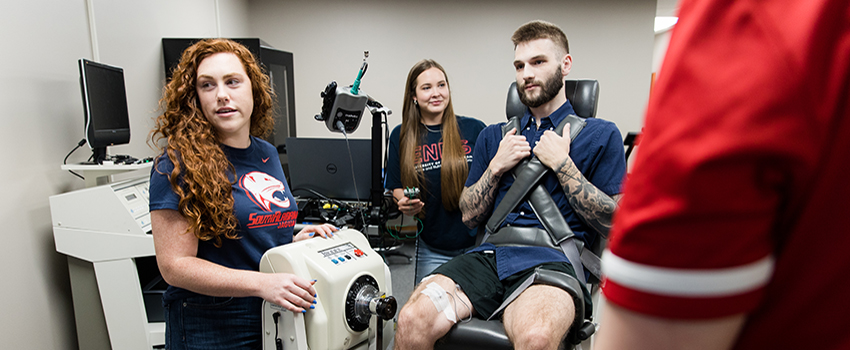 The Doctor of Philosophy (Ph.D.) Program in Exercise Science and Performance Nutrition provides trainees with a blend of formal coursework and the mastery of laboratory skills in order to design and implement high-quality research within the broad scope of exercise and nutritional sciences. The Ph.D. degree is awarded to students who demonstrate the ability to be independent researchers involving nutrition and/or exercise as they relate to human performance improvement and sport, exercise adaptations, and preventing disease.

Exercise and Nutrition Research Group
About the Program
Evaluation of candidates includes a comprehensive examination consisting of foundational knowledge of topics essential to success within the profession. Additionally, each candidate develops and completes a formal dissertation involving a research problem that contributes new knowledge to the field. The candidate serves as the principal investigator in an independent capacity with oversight from a research mentor and committee.
The Ph.D. program in Exercise Science and Performance Nutrition emphasizes experiential learning in laboratory and classroom settings to foster the development of well-rounded graduates capable of effective teaching, mentorship, and ethical research practices leading to preparation for a wide variety of positions, which may include academia, industry, and/or government entities.
Requirements for Admission
To apply to the Ph.D. in Exercise Science and Performance Nutrition degree program, please visit the University of South Alabama (USA) application management portal.
Admission is competitive and the decision is based on a review of all submitted admission materials.
Program Faculty & Research Interests