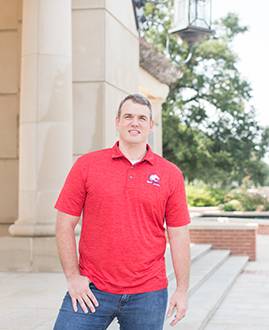 Neil A. Schwarz, Ph.D.
Associate Professor and Department Chair, Department of Health, Kinesiology and Sport Exercise Science, Strength and Conditioning Methods, Weight Management, Ergogenic Aids and Sports Performance

---
Education
B.S., Nutritional Sciences, Louisiana State University, 2007
M.S., Exercise Science, University of South Alabama, 2009
Ph.D., Exercise, Nutrition, and Preventive Health, Baylor University, 2014
---
Teaching Philosophy
My teaching philosophy is based on the transfer of "sustainable" knowledge. Learning facts should not be done just for the sake of learning facts. As the leader of the course, I must be able to determine what is important for the class to learn in order to be truly knowledgeable in the subject matter. After the class is concluded, every class member should be able to continue to explore the subject matter with a better understanding of the key concepts relative to the course of study. After completion of a course, each student should be able to decipher between key concepts that are vital to the field and have a basic foundation of knowledge that can be built upon with further self-study or future courses.
---
Research
My basic research interests include the effects of exercise and nutrition on skeletal muscle gene expression and signaling cascades; effects of exercise and nutrition on skeletal muscle growth and function; sports nutrition; dietary supplements/botanicals for disease prevention and exercise performance; effects of aging on skeletal muscle function; weight management strategies. I am also interested in the study of myokines synthesized by exercise training and their effect on skeletal muscle and whole body metabolism, disease prevention, and performance.
---
Outreach
Dr. Schwarz serves as a reviewer for the Journal of Strength and Conditioning Research and the Journal of the International Society of Sports Nutrition.
---
Biography
Dr. Schwarz received his B.S. degree in Nutritional Sciences from Louisiana State University. After LSU, he came to the University of South Alabama where he served as a graduate assistant in the Department of Health, Physical Education, and Leisure Studies (now Health, Kinesiology, and Sport). He received his M.S. in Exercise Science in 2009 with Dr. Kovaleski serving as his thesis chair. He attended Baylor University from 2010 to 2014 and received his Ph.D. in Exercise, Nutrition, and Preventative Health. Dr. Schwarz was born and raised in New Orleans, La. He is married to Sharon Schwarz whom with he has two daughters, Amelia and Rosie, and one son, Charlie.
---
Courses
KIN 100 - Concepts of Health and Fitness
HS 263 - Nutrition
KIN 381 - Evaluation and Measurement
KIN 474/574 - Sport and Fitness Conditioning
KIN 476 - Exercise Physiology
KIN 495/595 - Internship
KIN 516 - Exercise Physiology (Graduate)
KIN 571 - Exercise Management for Chronic Disease and Disabilities